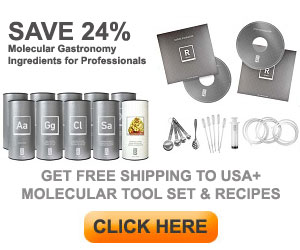 The multiple temperatures and textures and the aromatic smoked salmon powder that vaporizes in the mouth will definitely surprise your diners.  This amuse-bouche has a brittle bottom and a creamy top thanks to a molecular gastronomy equipment co-developed by Grant Achatz of Alinea and PolySience. This is an Anti-Griddle recipe but you can inexpensively do this at home with similar results. (read Anti-Griddle at Home)
This Anti-Griddle recipe is based on a recipe from Grant Achatz. "In this dish, we wanted to show how changing the texture of a familiar flavor combination (salmon and sour cream) can dramatically change the eating experience." Grant says.
Grant Achatz accomplished this by freezing a dollop of sour cream on an Anti-Griddle to obtain different textures across it. The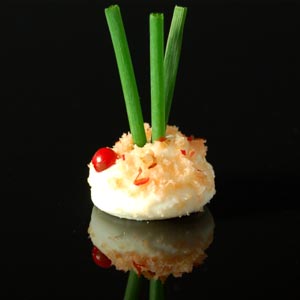 bottom is hard and cold while the top is soft and at room temperature. He then decided to dust the smoked salmon and use pink peppercorn skins to avoid interfering with the texture created by the Anti-Griddle.
Ingredients (8 servings)
- 100 g (3.5 oz) smoked salmon, in single piece, skin removed
- 125 g (4.4 oz) sour cream
- 7.5 g (0.3 oz) simple syrup
- 2 g Kosher salt
- 24 sorrel leaves (original recipe) or 8 chive stems
- 15 g (4 oz) pink peppercorns
Preparation
1- Wrap smoked salmon in plastic wrap and freeze it for 8 hours or up to overnight.
2- Whisk sour cream, simple syrup and salt thoroughly. Place it in a squeeze bottle in the fridge.
3- Place sorrel leaves in a bowl with ice water.
4- Select 8 nice pink peppercorns (skin not coming off, strong pink color) and reserve.
5- Place the rest of the pink peppercorns on a wide mesh strainer (large holes so that the broken skin passes through but the peppercorn does not). Gently press and rub the peppercorns with your fingers so that the skin comes off and passes through the strainer into a container.
Assemble and Serve
1- Squeeze a dollop of sour cream onto the Anti-Griddle (read Anti-Griddle at Home). The dollop should be about 1.9 to 2.5 cm (3/4 to 1 inch) in diameter and 1.3 cm (1/2 inch) high.
2- Plant 3 sorrel leaves or 3 chive stem sections of 3 cm (1.2 inches) in center of dollop and hold for a few seconds until bottom of dollop starts to harden and holds them upright. You can try planting dill instead.
3- Using a Microplane, grate some smoked salmon on top of the sour cream dollop to cover it in smoked salmon powder.
4- Sprinkle dollop lightly with some pink peppercorn skins.
5- Using a tweezer or with the help of a small spatula, place one peppercorn on one side of the sour cream dollop.
6- If using a "home-made Anti-Griddle", the total time the dollop should be on the cold surface is between 1 ½ -2 minutes. The bottom should be frozen hard but the center and top of the dollop should be soft and at room temperature. Try "cooking" the dollop for more or less time until you find the desired texture.
7- Transfer dollop to serving plate using a spatula. Serving plate should be cold so it gives you time to prepare all plates before serving. If using a "home-made Anti-Griddle", remember to wait several seconds before eating so you don't burn your tongue.