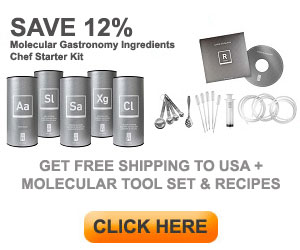 There is no doubt Grant Achatz is one of the most creative chefs in the world. The 3 hour dinner at 3 Michelin star Alinea restaurant in Chicago is a theatrical experience with exceptional attention to detail. The 20 course journey is packed with flavor and texture combinations, creativity, emotions, surprises, tension and humor.
The 3 Michelin Star Alinea restaurant is easy to miss when you walk by. Painted in dark grey, covered windows, plain black door and no sign. From the outside it feels like an empty building that someone could be using as a warehouse. When you hesitantly open the door, you are relieved to see a funky hallway with dimmed red light and curvy layered walls cleverly designed to appear much longer than it is and disorient you. "Yes! I am in the right place"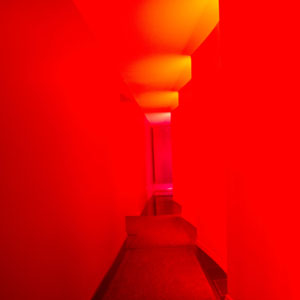 You see no door to the dining room from the hallway entrance but about half way down the hallway there is an automatic door that surprises you as it opens when you walk by. The waiting area is next to the kitchen which is easily visible through a glass wall and large door that is always open. There were lots of people in the kitchen, maybe about 30, but you could hardly hear any sound. No one was talking, maybe an occasional whisper.  No noise of a plate being placed on the working area, no mixing or whipping. All hand movements were careful and slow to maintain the silence. "Chef Achatz is keen on this and if you make any noise or drop something you are in trouble" I was told.
About 50 people work at the restaurant which seats about 50 diners in each of the two night shifts. The decoration of the restaurant is modern minimalist in black, white and grey colors. The mahogany tables are unadorned by centerpiece or tablecloth.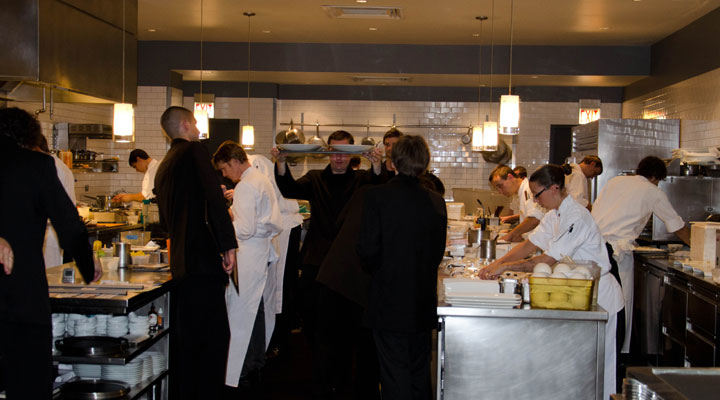 The quality of the service was outstanding but a little too stiff and rehearsed for my taste to the point that I was not too comfortable or relaxed. This improved as time went by and the waiters got to know us, relaxed as their workday was ending and the restaurant was winding down (we booked the second night shift).
The Alinea Dining Experience
Grant Achatz offers a $210 fixed menu of 20 small courses that change every season. If you have any allergies or food that you really dislike, you can mention it at the time of reservation (2 months in advance) and they will accommodate your request.  There is also an optional wine pairing. Most of the courses are really small but you definitely don't leave hungry.
Dinner at Alinea is a theatrical experience. The presentation of the dishes by Grant Achatz is not only outstanding but it is also intriguing, exciting, surprising and invites you to explore. Every dish is a work of art. The dishes are interactive, are usually designed to be eaten by hand and in a few occasions, the diner completes the preparation of the dish at the table. The serviceware is minimalist, unique to each dish and specifically designed to enhance the eating experience. One of the serving bowls is even handmade daily from wax by the canapé Chef.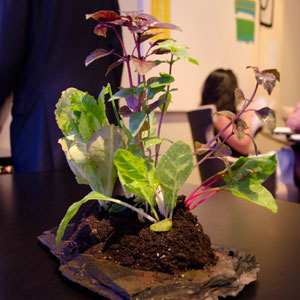 The menu is a perfect journey with incredible combinations of flavors and textures, fun and surprising. The best moment of every dish is when it is presented to the diner. The method of eating some of the courses needs to be explained by the waiters. The service piece richens the experience through creating tension, intimidation, humor and nervousness.  In terms of taste, there are some hits and misses. It sometimes feels as if the experience, surprise and originality were prioritized over taste. Some dishes or actually bites were so small that there was not enough to appreciate it. Maybe the expectations were too high. But overall, the dinner was exceptional and since you are served 20 dishes, it is still ok if a few are not that incredible.
As soon as we sat down, the server brought the table centerpiece. A flat stone with beautiful fresh greens planted on a pile of dirt. "This is real dirt, not edible dirt so don't eat it" the server said. Then our journey designed by Chef Grant Achatz began.
STEELHEAD ROE – watermelon, kaffir lime, cucumber blossom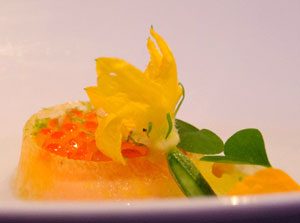 Very light and refreshing dish. A good start for a summer dinner. The roe is served on top of a watermelon mousse and kaffir lime gel surrounded by thinly sliced watermelon over a transparent and delicate watermelon consommé.
HAMACHI – west indies spices, pineapple, ginger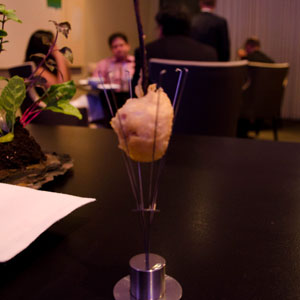 Increasing the element of surprise and originality, this small bite was well balanced and full of aromas. The tempura batter hamachi with pineapple and ginger flavors is served with a vanilla bean which has the double purpose of being the utensil of this dish and adding some aroma.
The next three courses are all served at once in a large piece of irregular natural wood (maybe some kind of root) and with some algae as decoration. We were instructed to eat in this particular order from low flavor intensity to high flavor intensity.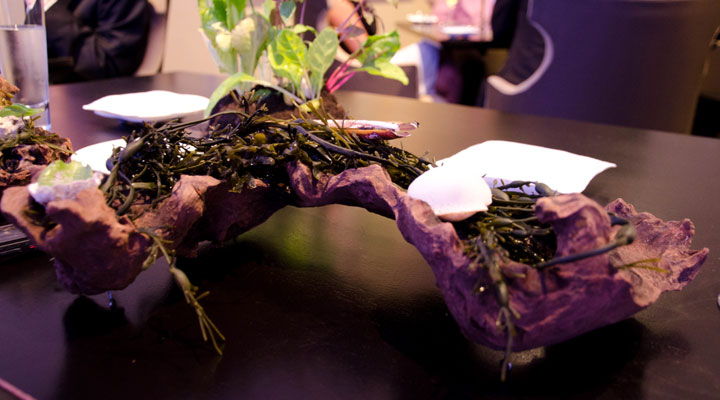 OYSTER LEAF – mignonette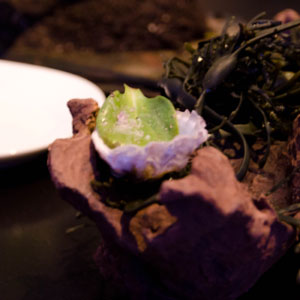 The oyster leaf is a leaf that grows wild on the coast of Scotland and tastes like oysters. The leaf is served in its natural form with just a touch of mignonette (vinegar and shallots). Very interesting.
TAYLOR BAY SCALLOP  - hitachino white ale, old bay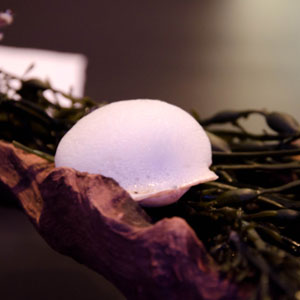 Sautéed Bay scallop with old bay oil and hitachino white ale foam on top. Great combination of flavors.
RAZOR CLAM – carrot, soy, daikon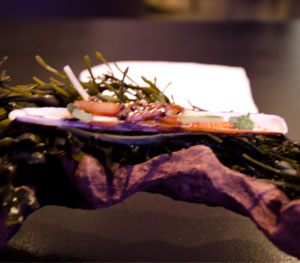 One of my favorite bites! Razor clam, tapioca pearls with ginger and carrot juice finished with salad of daikon radish and cucumber. Outstanding flavor and the best bite of this series.
YUBA – shrimp, miso, togarashi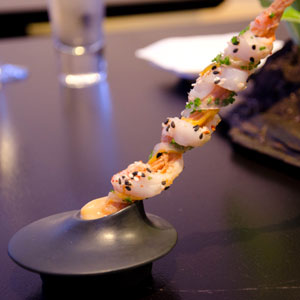 A piece of art! And absolutely delicious and packed with Asian flavor.
The yuba or tofu skin is made by drying the film that naturally forms on the surface of boiling soy milk. The stick of this dish is made of fried yuba to make it crispy and it is then surrounded with shrimp and sprinkled with sesame seeds and togarashi (chili pepper). In the base there is an emulsion of miso.
ENGLISH PEA – olive oil, chamomile, green apple

Another favorite of the night! This dish has three stages and the uniquely designed serving bowl does an awesome job at keeping you intrigued until the end. The server guides you step by step through each stage consisting of English peas in different textures, temperatures and combinations.
The top portion of the dish (on top of the sphere) is English pea puree, with an English pea chip made by dehydrating some of the same puree and some pea shoots dressed in lemon.
When you are done with the first stage, the server then removes the top portion of the sphere to reveal the second stage of the dish. English pea meringue paired with olive oil jam and chamomile jelly, whipped green grape juice (distilled grape juice and whipped with some cream), fresh peas and fried pea skins.
Lastly, the server removes the top plate to reveal the final stage in the bottom bowl. Frozen pea puree, parmesan mousse, Granny Smith apple sorbet. A great pea experience!
FARM SALAD – tomato, goat cheese, red onion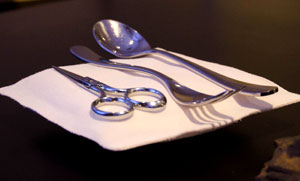 While waiting for this dish, a fork, a spoon and a pair of scissors is brought to the table. Then you have a few minutes to let your imagination fly and try to anticipate what is going to happen.
Served in a nice "flying saucer" bowl plate this is a soup, salad, vegetables and bread course. The bowl contains a tomato gazpacho with different vegetables (cucumber, tomatoes, red bell peppers, red onion), crumbled goat cheese and a thin slice of crispy bread.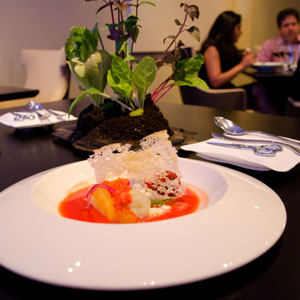 You are then instructed to harvest your selection of greens from the centerpiece that has been on the table since the beginning of the dinner using the scissors provided.  The greens just go over the soup and vegetables to create your own custom combination. The greens still have the roots so you are about to eat the freshest greens ever!
In addition to being delicious, this dish was a lot of fun and provoked several laughs. The Farm Salad and the Short Rib dishes were the most interactive, customizable and fun dishes of the night. Great examples of how Grant Achatz applies his creativity and imagination to create a unique experience beyond taste.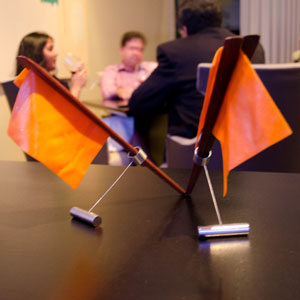 After we finished this delicious custom dish, the waiter replaced our now-destroyed centerpiece with two orange flags…
MACKEREL – mango, bergamot, flower, juniper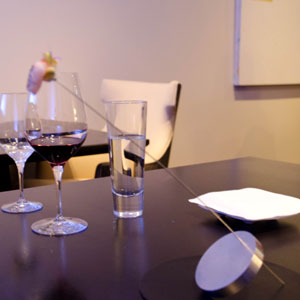 A hands-free dish that is served in an antenna; a self supporting metal skewer that rises off the table surface to mouth level. Great presentation but the bite was so small and the flavors so mild that I don't have much to say about it.
WILD MUSHROOMS – pine, sumac, ramp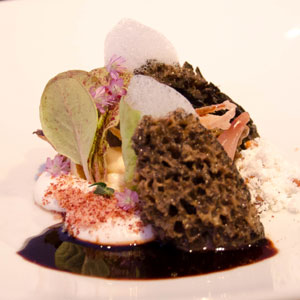 This dish was another favorite. Simple presentation (for Alinea standards!) but awesome flavor and aromas. Morel mushrooms, beach mushrooms, probably another mushroom that I can't remember, gulf shrimp at the bottom, pickled ramp, crispy leek, thyme air and a cream that carries the flavor of pine and basil. Lots of intense earthy flavors.
HOT POTATO – cold potato, black truffle, butter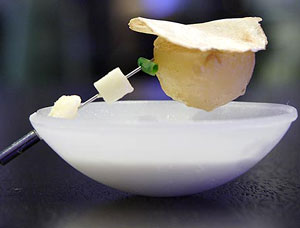 This is a perfect example of the custom and functional serviceware pieces that make the experience at Alinea so unique. Chef Grant Achatz was looking for something that would keep two temperatures separate until right before the guest consumes the bite and his designer came up with the wax bowl and pin. The canapé chef makes these bowls every day by using the designed production molds and pouring hot wax.
The instructions given by the waiter are to pick up the bowl with your hands and remove the pin which releases the garnishes (hot potato, square of parmesan cheese, chive and black truffle) into the cold potato soup. As Chef Grant Achatz says "There is the unique sensation the temperature contrast provides, and the ironic comfort derived from the rich interpretation of the common potato."
AGNEAU – sauce choron, pomme de terre noisette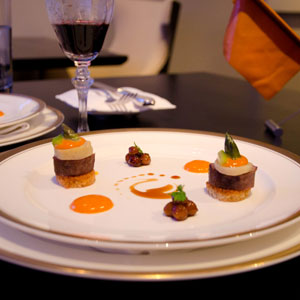 Instead of the modern serviceware we had been using so far, for this dish we were given antique silver utensils, gold plated plates and a beautiful antique crystal glass to setup the mood for a rich and elegant dish. The biggest surprise? This dish included a wine pairing of a nice red wine even though we were having a wine bottle with our dinner and were not doing the wine pairing.
Lamb on rounds of fried bread, topped with marinated artichoke hearts and grilled asparagus. Around the plate are some scoops of Yukon gold potatoes and two sauces, one béarnaise with tomato base, the other one a lamb juice.
BLACK TRUFFLE – explosion, romaine, parmesan

I was very glad to be served one of the most famous dishes from Chef Grant Achatz at Alinea. Raviolo encapsulating a black truffle broth. As your teeth pierce the delicate pasta, an explosion of earthy flavors fills your mouth. The first thought? I want more…
This dish was originally created at Trio restaurant, when Grant Achatz was Executive Chef. It took them months to get it right and only a few chefs have been given the responsibility of making this dish since then. Despite its popularity, Achatz was determined not to bring Black Truffle Explosion to Alinea and continue developing his creativity. He then changed his mind thinking that it could be an injustice to the guests who never tried it at Trio.
To make the ravioli, black truffle spheres are first made by filling half sphere molds with a mixture of truffle juice, butter, white truffle oil and gelatin. Grant Achatz makes his own black truffle juice by making a stock with fresh black truffles. After refrigerating the mold, 2 half spheres are pressed together to form a full sphere and are refrigerated again. The black truffle spheres are then placed between two thin sheets of pasta and the ravioli are cut.
SQUAB & FOIE GRAS - lavender, olive, plum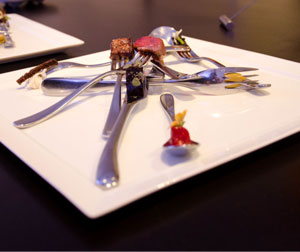 The presentation of this dish is inspired by an abstract painting from painter Joan Miro. Several forks, spoons and knives are chaotically arranged on the plate as in a pick-a-stick game. Each utensil holds a different food item. Interesting sequence of flavor combinations and definitely fun and challenging to eat.
The two main flavors are squab breast and foie gras. Instead of having several flavor combinations in one bite like in other dishes, in this one they are all kind of separated. The flavor is meant to last in the mouth and then you pair it afterwards with some other ingredients. The other ingredients include a little charred leek, lavender noodle with olive oil (awesome!), picholini olive, poached plum and vinaigrette. We were instructed to eat the squab breast and foie gras first and then follow with the rest of the items as they present themselves.
SHORT RIB – olive, fermented garlic, blackberry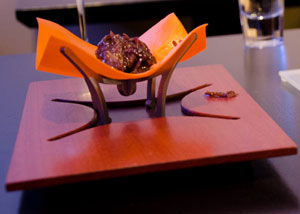 A very interactive and make-your-own dish. The waiter brought a rectangular glass plate with a wood base with small amounts of several ingredients on top. We were first instructed to remove the rectangular glass off the wood and place it at the center of the table. The wood base had two semicircular pieces of metal incrusted in it. We were then told to grab the two pieces of metal and crisscross them until they connect. Remember the orange flag centerpiece? It turned out to be tomato fermented garlic pasta that the waiter laid over the metal structure we just assembled to make a bowl of pasta. He then placed some short rib that had been braised in red wine for a long time on the pasta sheet.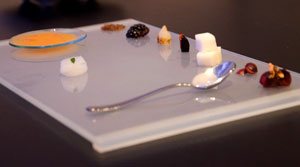 We then had to pick ingredients from the glass dish to combine with the short rib pasta. The ingredients were smoked salt, blackberry, charred pearl onion, fermented black garlic, poached pineapple cubes, slivered nicoise olives, sour dried cheery rehydrated in red wine topped with wild puffed rice, tobacco pudding in a spoon (made by blending cigars and distilling the liquid in an evaporator), parsley salad and tomato vinaigrette. Wow! An incredible assortment of flavors!
After selecting the ingredients for our custom pasta, we picked each corner of the pasta "flag" with our hands to form a bag and…oh my god! It was an awesome combination of flavors. A little messy after the first bite but delicious and a lot of fun. This was the ultimate custom Alinea serviceware! How does Grant Achatz come up with these ideas?
OCTOPUS – eggplant, coriander, red wine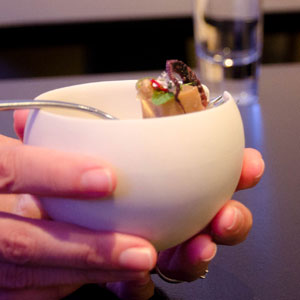 This dish comes in a bowl with round base that cannot be placed on the table or it will wobble so it is handed to you by the waiter. On top of the bowl there is a fork with eggplant custard and braised octopus. In the bowl there is a slightly warm onion soup with some wasabi foam on top. The idea is to eat the octopus bite first followed by the soup.
SNOW - yuzu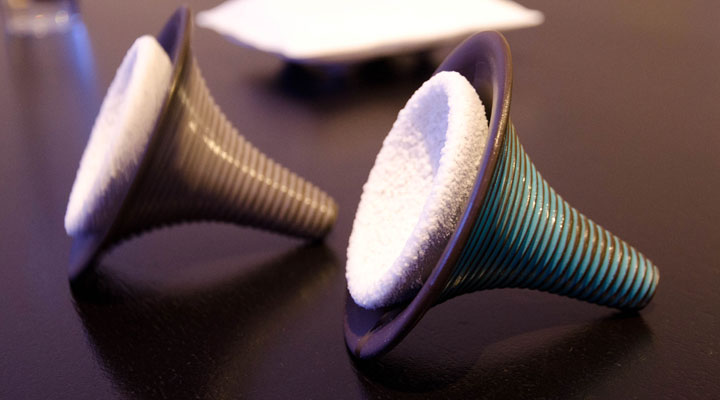 A palate cleanser served in beautiful cones with yuzu snow made by chilling the inner cone with liquid nitrogen and then spraying some yuzu juice on it. Just scrape the snow with a spoon. A molecular gastronomy snow cone!
PEACH – jasmine, basil, balsamic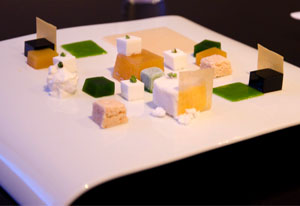 Another dish with several flavors that you can combine as you wish in every bite. It transports the diner to being a flavor explorer with plenty to try.  The dish consists of an assortment of cubes of different size, colors and flavors. The main flavors are burrata cheese and peaches. The green squares are basil, the tanned are jasmine tea, dark ones with peach chips on them are balsamic vinegar and the white ones have several flavors so you can play detective. The white squares could be crème fraiche, burrata cheese, almond or lemon. A fun food pairing experiment!
LEMONGRASS – dragonfruit, thai basil, finger lime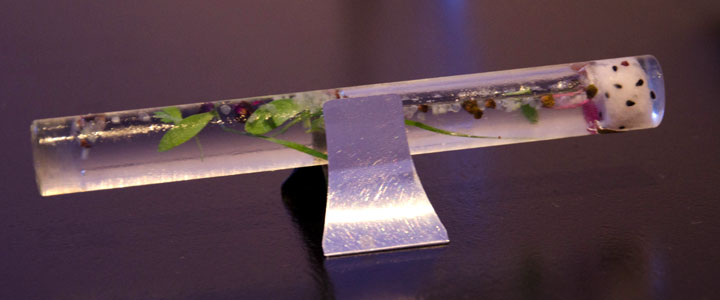 A little refresher served in a glass tube. The idea is to take it just as you would with a straw in one shot. Starting from the mouth side there is key lime gel, inside there is distilled lemongrass, cucumber and micro basil and on the other end there is some dragon fruit. The lime gel and dragon fruit on each end also serve the purpose of holding the liquid inside the tube. Great innovative presentation and a good bridge between desserts.
CHOCOLATE – red pepper, bitter orange, banana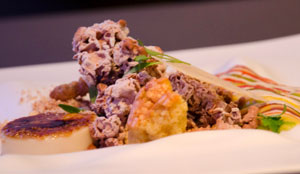 The last course…unfortunately a disappointment. Not a good ending for an amazing dinner. The worst dish of the night. I didn't like the presentation, the taste, or the texture. No Achatz magic or fun element either. The desserts were probably the weakest dishes of the night.
Chocolate mousse frozen in liquid nitrogen and then broken in parts, banana rum crème brulee disc, banana chip, ginger chip bread and the sauces are cilantro, red bell pepper and bitter orange. The only thing I liked was the banana rum crème brulee.
We left the restaurant after 12:30 am with a smile, full stomach and a nicely printed menu that we were given at the end of the dinner (you are not given a food menu during the dinner). The Alinea experience lasts a few days as you try to remember what you ate, recall different emotions and share memories with your partner and friends. Worth a trip to Chicago just to eat at Alinea and experience Grant Achatz's creations.