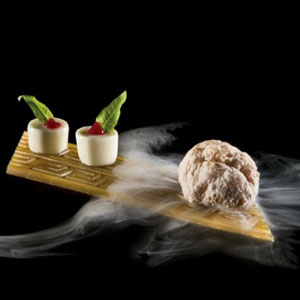 (4 votes, average: 4.25)


Loading...
Quiet, contemporary and just a little bit quirky, Apriori is hidden in the lush countryside between Aalst and Grammont. The interior is decorated fashionably in muted shades of gray but the kitchen is transparent; a reflection of Chef Coppens' cooking style. He and his wife create innovative dishes that are presented in a tasteful manner by excellent staff. If you're looking for a quiet, modern dining experience, Apriori fits the bill.
Chef: Kristof Coppens
Molecular Meter: high. Apriori offers both an ala carte menu and a tasting menu that consists of either 4 or 5 courses for 64 and 74€; with 25€ for accompanying wines.
Awards: 1 Michelin star
Address: St Gery 19,9450 Haaltert, Belgium
Reservations: +32 (0) 53 838 954
Webpage: www.a-priori.be