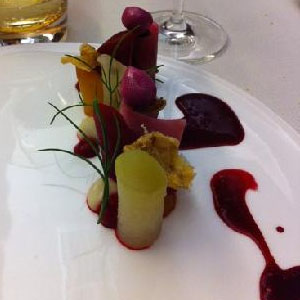 (2 votes, average: 4.50)


Loading...
If you're looking for a restaurant that pushes the boundaries of modern cuisine, then L'Air du Temps may be just the place for you. They enjoy studying the physical-chemical processes that effect food and the love to play with textures, temperatures and ingredients that create a perfectly balanced dish. Chef Degeimbre's inspiration comes from human passion and emotion and his goal is to express those via his food.
His philosophy is to use local ingredients, many from the restaurant's own garden, combined with state-of-the-art techniques and his own imagination to give his food personality and credibility. Wine is also a huge part of the experience and, even without formal training, his ability to push the boundaries of traditional Belgian and Korean cuisine are bringing L'Air du Temps critical acclaim.
Chef: Sang-Hoon Degeimbre
Molecular Meter: high
Awards: 2 Michelin stars, 18/20 in the Gault and Millau, 5th in the Best Belgian Restaurants
Address: Chaussée de Louvain 181 Noville-sur-Mehaigne, Belgium 5310
Reservations: (0 11 32) 81.81.30.48
Webpage: www.airdutemps.be