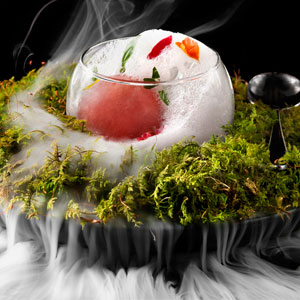 (1 votes, average: 5.00)


Loading...
BarChef is the ultimate cocktail experience. It's an adventure for the senses, providing a textual and sensual journey for the palate as well as the eyes. With more than 5,000 oz of homemade bitters aging on the shelves, they know how to bring a range of flavors to life in a cocktail glass.
Learn more about the BarChef here.
Chef: Frankie Solarik
Molecular Meter: high
Award: Food and Wine Magazine named BarChef one of the "top seven new and innovative bars in the world."
Address: 472 Queen Street West, Toronto, Ontario, Canada
Reservations: does not accept reservations; operates on a first come first served basis.
Webpage: www.barcheftoronto.com