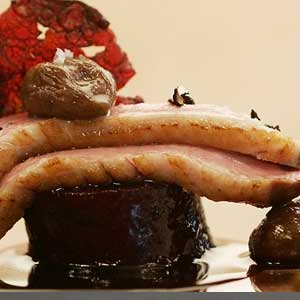 (6 votes, average: 3.83)


Loading...
*** THIS RESTAURANT IS NOW CLOSED ***
The rustic exterior and contemporary interior of Amador are reflective of the traditional German cuisine with surprising and inspiring twists of modern cooking that you'll find on the menu. Chef Juan Amador lends a bit of his Spanish heritage to his dishes in order to give you the creative, delicious dining experience that you expect from a 3-Michelin-star restaurant. If you have a few hours and the extra cash, go for the grand menu in order to get a taste of everything.
Chef: Juan Amador
Molecular Meter: high. They offer a grand menu for the weekend that offers 10 entrees and a small menu for weeknights that offers 5 entrees at 215 euros per plate.
Awards: 3 Michelin stars
Address: Vierhausergasse 1, 63225 Langen, Hesse, Germany
Reservations: 49 (621) 85 47 496
Webpage: www.restaurant-amador.de