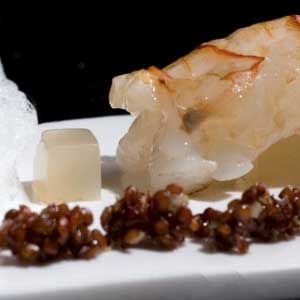 (3 votes, average: 3.67)


Loading...
*** THIS RESTAURANT IS NOW CLOSED ***
At Maremoto, the world-class restaurant offering Italian and Szechuan-oriented Metaphoric Cusine in Berlin, they want you to forget that your parents told you not to play with your food. As a matter of fact, they create each dish just to delight you and make you laugh, reflect and enjoy. They offer a "full-sensory experience" that always keeps you guessing about everything except how good it's going to taste. They also offer workshops that teach different aspects of cooking to anybody that's interested.
Chef: Cristiano Rienzner
Molecular Meter: High. A la Carte dining is available in addition to a 6-course tasting menu.
Awards: none
Address: Grolmanstr. 56 10623 Berlin / Charlottenburg
Reservations: + 49 (0) 151 700 31 867or online reservations are accepted
Webpage: http://www.maremotoberlin.de/