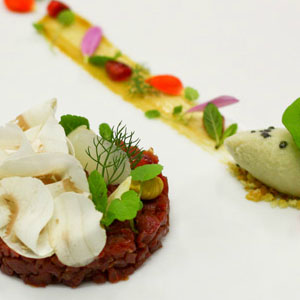 (5 votes, average: 5.00)


Loading...
At Metamorfosi, Chef Roy Caceres doesn't want you to just eat his food, he wants you to feel it. He creates his dishes from memories, sensations, ideas and concepts that flow through his mind based upon his own experiences and he wants you to share those feelings via his food. His use of fresh, seasonal ingredients elevates the quality of his food and his techniques really take his neo-Italian cuisine over the edge.
You may dine ala carte or choose from 3 different degustation tasting menus that range in price from 70-90 euros. The staff is friendly and knowledgeable and the ambiance is elegant yet cozy. Try the 65degree egg (get recipe here); it's their extremely modernist take on carbonara and well worth the trip all by itself! You can read more about Metamorfosi here.
Chef: Roy Caceres
Molecular Meter: high
Awards: 1 Michelin star
Address: Via Giovanni Antonelli, 30, 00197 Rome, Italy
Reservations: +39 06 807 6839
Webpage: www.metamorfosiroma.it