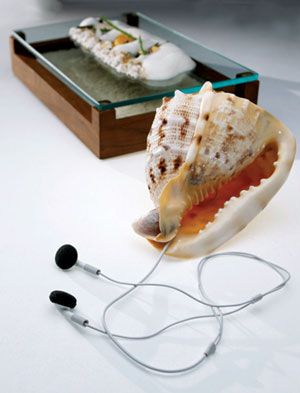 (26 votes, average: 4.23)


Loading... A self-taught chef, Heston Blumenthal's route to the top has been an unconventional one, involving rule-breaking, unusual experiments and an exploding oven. Heston was the first Chef to cook with liquid nitrogen at the table, pioneered the scientific method of food pairing based on the principal that foods combine well with one another when they have similar molecular compounds in common and has researched how sounds affect taste. Heston Blumenthal's "Sound of the Sea" dish is an excellent example of a good use of sound to influence the diner's eating experience (shown in picture).
Chef: Heston Blumenthal
Molecular Meter: high, an almost 4 hour long culinary journey.
Awards:  In 2004 the Fat Duck was awarded three Michelin Stars, and in 2005 the Harpers and Moet Best Restaurant of the Year outside London Award.
Address:  1 High Street - Bray, London, UK, SL6 2AQ, CA
Reservations: +44 01628 580333
Webpage: www.thefatduck.co.uk