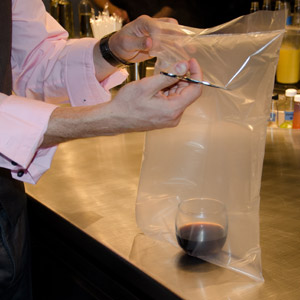 (15 votes, average: 3.60)


Loading...
The Aviary is where cocktails and service are given the same attention to detail as a four-star restaurant; where bartenders are trained as chefs; where the produce and herbs are carefully sourced and procured fresh daily; where the name and branding of the spirit mixed is less important than its actual flavor; where drinks are made quickly and consistently in a state-of-the-art drink kitchen; where innovation and tradition are both honored. The drink presentations are artistic and playful. For 2 or 4 people, The Aviary offers the Chef's Kitchen Table for a 10-course cocktail tasting menu, paired carefully crafted bites of food for $165.
Chef: Grant Achatz and Sous Chef Micah Melton.
Molecular  Meter: high.
Awards: named America's Best New Bars by Food and Wine.
Address: corner of Fulton Market and Morgan streets, Chicago.
Reservations: reservations@theaviary.com
Webpage: http://theaviary.com/