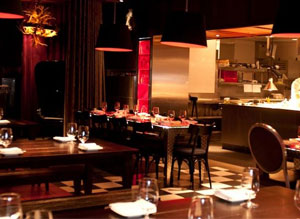 (8 votes, average: 3.38)


Loading...
Created by José Andrés under his concept: "Cooking as performance". Visiting any of The Bazaar's proposals is the molecular and luxury treat of a lifetime. Located in the trendy SLS Hotel in Beverly Hills, The Bazaar offers an informal setting with both traditional Spanish and molecular tapas. It also offers great molecular mixology drinks such as the Nitro Caipirinha made with spectacular 'smoking' liquid nitrogen at the table.
Rojo Y Blanca - Wide selection of small plates for sharing. Typical Spain's regional cuisine.  The restaurant's long food bars allow observing chefs as they create and compose.
Patisserie - Sweet delights inspired on European Patisserie. An open kitchen displays the selection of bon-bons, chocolates, candies, cookies and cakes. Intimate tables for a perfect ending to dinner at The Bazaar.  Also take away products. Reservations: Open daily for after dinner desserts at 6:00PM.
SAAM | the Chef's Tasting Room - The perfect option when only true luxury will do.  Chef José Andrés crafts a unique multi-course tasting menu First class but not pretentious service.  Reservations: (310) 246-5555.  Open Thursday to Saturday, sittings begin at 6:00PM
Available for private parties Sunday through Wednesday.
Regalo - A Twist on Luxury Shopping.  A unique "shop without walls" within The Bazaar.  A   retail experience that presents luxury brands, José Andrés' signature items including his cookbook Made in Spain, olive oils and signature Patisserie treats.  Tarot card readings  available Fridays from 9PM to close /  Saturdays from 8:30PM to close. Reservations:  Open daily from 6PM to midnight.
Chef: José Andrés
Molecular Meter: medium
Awards: Those received by José Andrés (see Minibar above).
Address: 465 South La Cienega Boulevard - Los Angeles, CA 90048 - SLS Hotel at Beverly Hills - positioned between Beverly Hills and Los Angeles.
Reservations: (310) 246-5555 - Open Daily for Dinner at 6pm.
Webpage: www.thebazaar.com