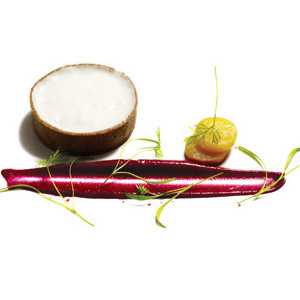 (8 votes, average: 4.00)


Loading...
Chef Daniel Patterson uses the best ingredients in the area and embraces modern techniques. His dishes are animated by flavors and textures both familiar and strange like in his cheesecake made with goat cheese, graham crackers, nasturtium, and Niabell grape sorbet. Chef Patterson describes its concept as combining haute cuisine, an emphasis on local vegetables, a modern aesthetic, and a personal approach to cooking, with "a casual, neighborhood feeling".
Chef: Daniel Patterson
Molecular Meter: high, 11 course tasting menu with wine pairing available.
Awards: Two Michelin Stars. Chef of the Year, San Francisco Magazine 2007. James Beard Foundation Best Chef Pacific (nominee) in 2009 and 2010.
Address: 373 Broadway San Francisco, CA 94133
Reservations: (415) 393-9000 info@coirestaurant.com
Webpage: http://coirestaurant.com