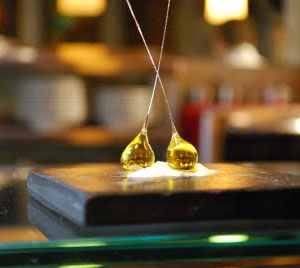 (15 votes, average: 3.40)


Loading...
Chef José Andrés combines creations based on molecular gastronomy, art and techniques, pushing the limits of our expectations. As the center of culinary research and development for ThinkFoodGroup, minibar is also the creative testing ground for all of José's concepts and projects. With only six seats and two seatings, six nights per week, a reservation at minibar is in limited supply.
Chef: José Andrés
Molecular Meter: high, molecular gastronomy tasting menu
Awards: In 2011 Chef Andres wins James Berd Foundation Award, Best Chef for Minibar by José Andrés - Minibar ranked number 1 in Washington City Paper's list of DC's 44 most powerful restaurants -  Minibar included in Bon Appétit's list of The 11 Toughest Restaurant Reservations in the USA - Capital File Magazine highlights the creativity behind minibar in the June 2011 issue - The Washington Post's review of Minibar by Tom Sietsema - Can Food Be Art? The Washington Post's art critic Blake Gopnik explores this question through the minibar experience.
Address: 405 8th Street in NW, Washington DC. – at the Penn Quarter neighborhood, the heart of DC – (It includes valet parking)
Reservations: Via telephone -202-393-0812 (shared with America Eats Tavern). Each day at 10 AM they begin accepting reservations for seatings one month away to the date.
Webpage: www.minibarbyjoseandres.com