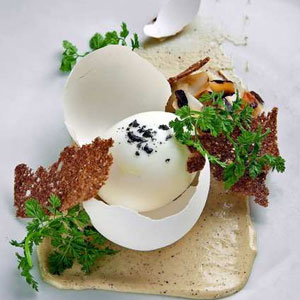 (14 votes, average: 4.50)


Loading... Opened on Manhattan's Lower East Side on April 2003.   The restaurant also offers private dining in its wine cellar for up to fourteen people.
Chef: Wylie Dufresne.  WD is chef and owner along with his partners (former employers) Jean Georges Vongerichten and Phil Suarez.
Molecular  Meter: high.  Among other proposals, WD-40 invites to enjoy its excellent nine course tasting menu and wine pairing.
Awards: March 5 2008 - Three stars from Frank Bruni of the New York Times. In 2006 the Michelin Guide's inaugural American edition gave it one star, retained through 2011.
Address: 50 Clinton Street, between Rivington and Stanton – New York, NY  10002
Reservations: 212.477.2900. Also reservations through www.opentable.com
Webpage: www.wd-50.com