A Visit to Modernist Cuisine Kitchen
Last week I had the pleasure to visit one of the best equipped kitchens in the world, the Modernist Cuisine kitchen laboratory at Intellectual Ventures, the company owned by Dr. Nathan Myhrvold, former CTO of Microsoft. Scott Heimendinger, Director of Applied Research, first gave me a tour of the facility, followed by a tasting of a few signature dishes from the Modernist Cuisine cookbook and finally I took a peek at the new book "Modernist Cuisine at Home" to be released on October 8th.
Beyond Food
The Modernist Cuisine kitchen is located in a warehouse and I was surprised to find out that it houses a lot more than the kitchen laboratory. There is also a biological and chemistry lab,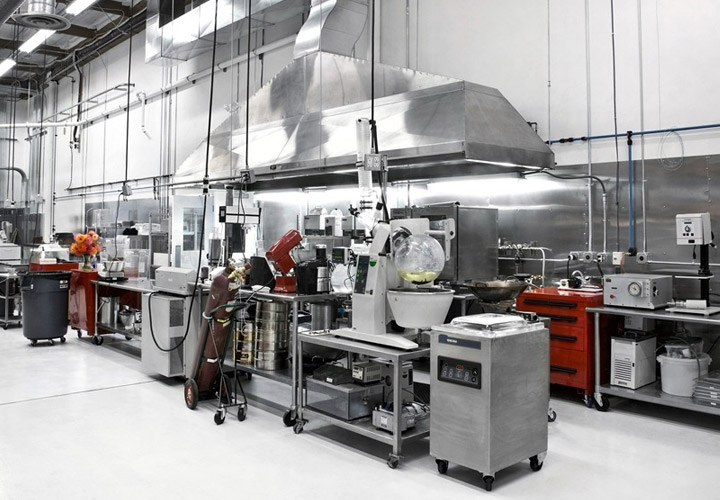 a mosquito hatchery, a photo studio and a huge machine shop with 3D printers, a wire electrical discharge machine and several other equipment. The size of the place and variety of equipment is incredible but that is not all of it. There is also a 30,000 square foot warehouse packed with equipment and materials that are not being used at the time! Most of the equipment outside the kitchen is not being used for anything related to food or in the modernist cuisine but to combat malaria, keep vaccines refrigerated for months without power or to build a safer passive nuclear reactor among many other projects.
Unique Photography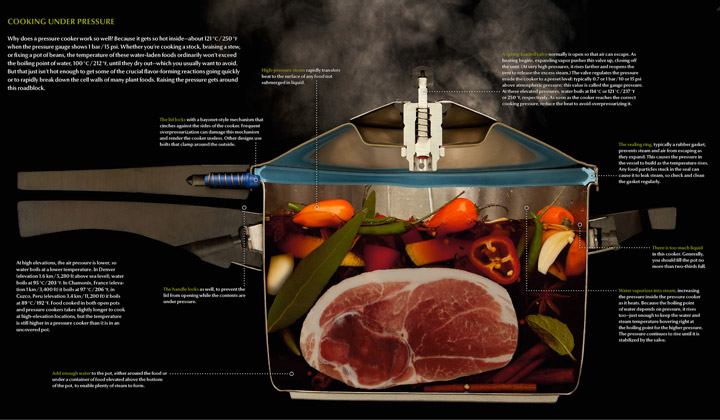 In the photography studio there is a lot of kitchen equipment sliced in half that was used for the unique and famous photos of the Modernist Cuisine book. The cross-sectional photos of kitchen equipment allows the Modernist Cuisine team to show what happens during cooking and how some appliances work. There are several sliced pans, a blender, a pressure cooker, an ISI Whip, a microwave and even a Viking cooking range! The current setup was mimicking a home kitchen that was used to shot the photos of the upcoming Modernist Cuisine at Home book.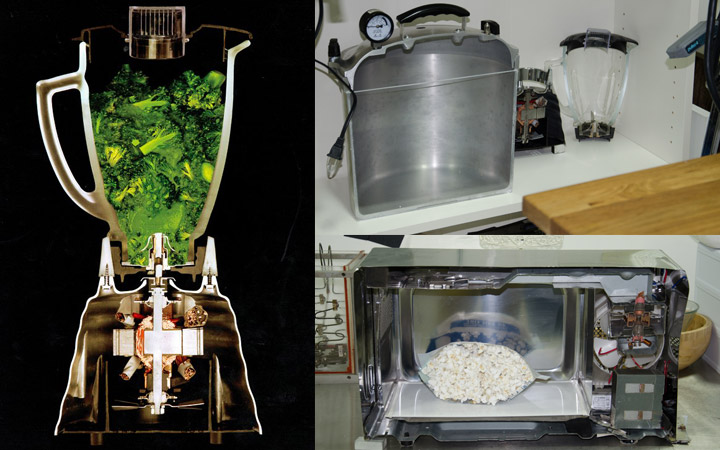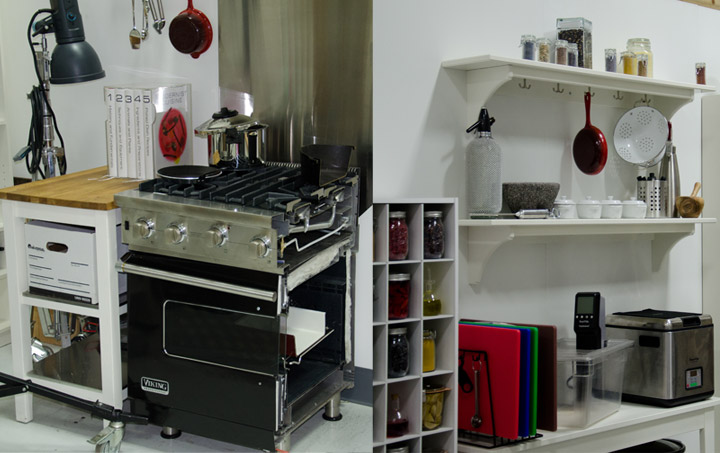 The Best Equipped Kitchen
The Modernist Cuisine kitchen laboratory is a large open space with, as you would expect, any possible equipment you could imagine. I was first stunned by the biggest rotary evaporator I have ever seen! The rotary evaporator is mainly used to vacuum reduce liquids at low temperature to keep the aromatics, to make extracts, essential oils and alcohols.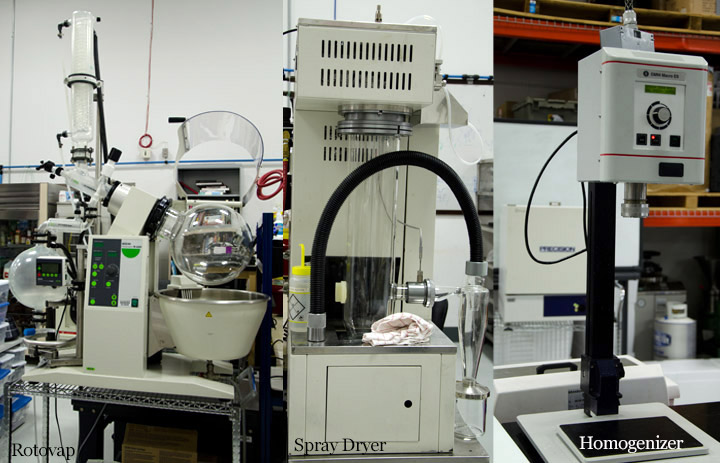 We then took a look at the ultrasonic bath. A device usually used by jewelers and dentists, it emits high frequency vibrations through a water bath, cleaning whatever is in the bath by a process called high-energy cavitation. One of the uses of the ultrasonic bath at Modernist Cuisine is to make perfect fries that are soft inside and really crunchy outside. The russet potatoes are peeled, cut and cook sous vide in a simple brine of water, salt and a little baking soda to obtain a light and fluffy interior. The cooked potatoes, still in the sous vide bag, are submerged in the ultrasonic bath for a few hours to create tiny fissures on their surface. This process creates an expanded surface area on the potato which, when the potatoes are fried, results in a much crispier exterior.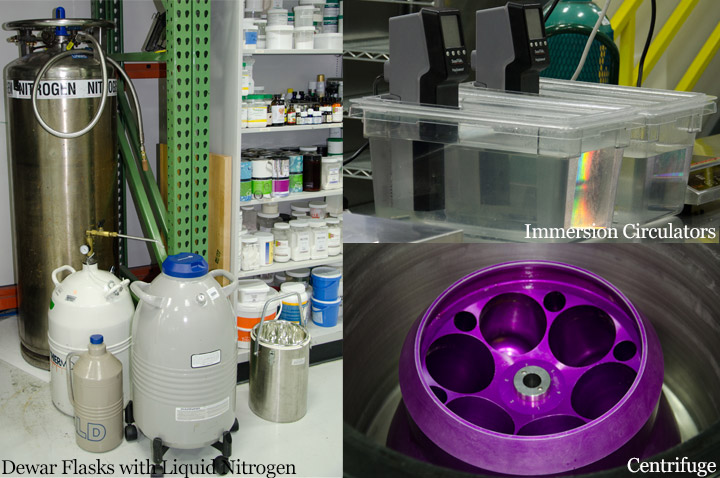 From the ultrasonic bath we proceeded to other modernist cuisine equipment including the chamber vacuum sealer, high-pressure homogenizer, rotor-stator homogenizer, freeze dryer, spray drier, centrifuge, CVap water-vapor oven, liquid nitrogen flasks and obviously several sous vide baths.
Mouthwatering Dishes
After being fascinated by all the modernist cuisine equipment, it was time to experience how all that technology can be applied to improve a classic dish or create a unique one.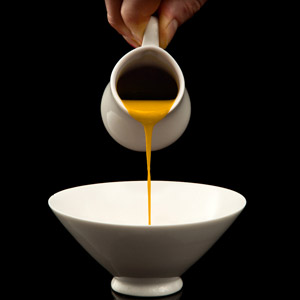 The first modernist dish was caramelized carrot soup with chaat masala. Simply put, the best carrot soup I ever had. The soup is made by first cooking the carrots in a pressure cooker with some baking soda to reduce the PH and facilitate the Maillard reaction. The carrots are then pureed and mixed with carrot juice that has been reduced and clarified. Some butter, spices and herbs are added and it is finally sprinkled with chaat masala.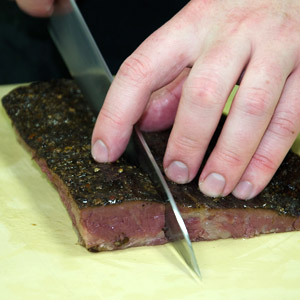 The second modernist dish was pastrami. After trying this, I don't think I can ever eat any other pastrami! Made with brined Kobe short rib, dry rubbed, smoked for 4 hours then cooked sous vide for 72 hours with bones. The pastrami was served over sauerkraut made at the modernist cuisine lab and garnished with pressured cooked mustard seeds with a little cognac and mustard.  The pastrami melts in your mouth and has an incredible flavor!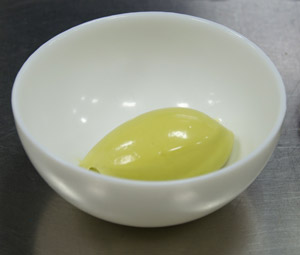 Finally, I was thrilled to see that the last modernist dish was the famous pistachio "ice cream". Just by looking at it you can start appreciating how smooth and creamy it is. It has a wonderful aroma and taste of fresh pistachios and it is the silkiest bite you could ever imagine. The pistachio "ice cream" is made with pistachio butter, pistachio oil, sugar, water, a little salt and the emulsifiers locust bean gum and lambda carrageenan. There is no cream, milk or eggs in it! But you need a Pacojet to make it.
Modernist Cuisine at Home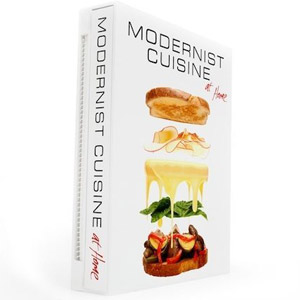 The new Modernist Cuisine at Home book, to be released on October 8 2012, is the same size and print quality of one of the volumes of the first Modernist Cuisine collection. It contains over 400 new recipes that do not require crazy equipment but you still need some modernist tools and appliances such as a good digital thermometer, a whipping siphon, a sous vide water bath and a high precision digital scale. Some recipes are simplified versions of the original book and others are completely new.
The book also features the famous cross-sectional photos of kitchen equipment and, unlike the first book, this one contains a dessert section. Modernist Cuisine at Home also comes with a kitchen manual made with water proof paper with all the parametric recipes of the book. Priced at $140, it is not cheap but much more affordable than the first book collection.