Down The Rabbit Hole (w/ b'Lure color changing flower extract)
This color changing two part cocktail was first served in July 2014 at The Rook, a rooftop bar in York Street, Sydney. Nominated for Cocktail List of the Year at the 2014 Australian National Bar Awards, "Down The Rabbit Hole" is the most popular dink on the menu due to the overall taste, its vibrant color and the guest's interactive experience.
This cocktail is served in two parts to the guest with instructions to pour one part into the other for a color change before their eyes.  Part one is the main cocktail served in a bespoke bottle that is citrus-yellow in color and is poured over a glass with ice cubes and a few drops of blue Butterfly Pea Flower Extract (b'Lure), a new and unique product from Wild Hibiscus Flower Company.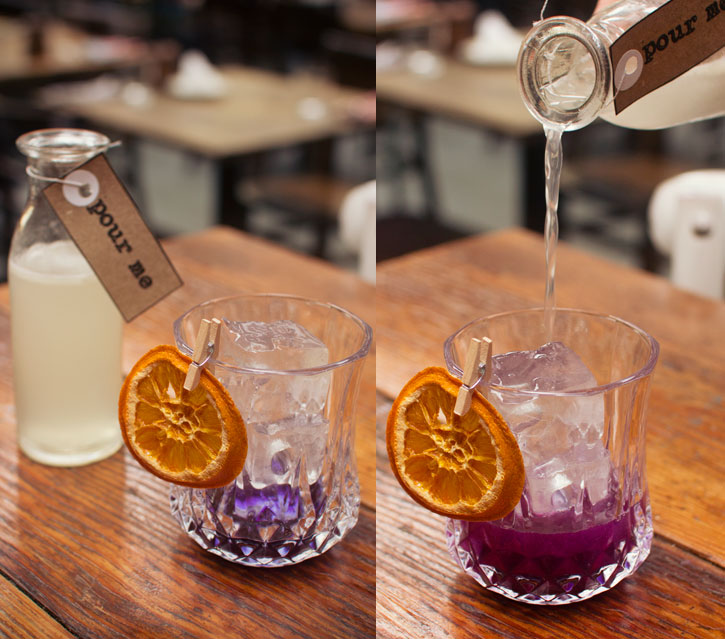 The addition of citrus (and more acidity) to b'Lure results in a bright violet colored cocktail. Whilst the flower extract is rich in natural blue colour (quite rare in nature) and antioxidants, it adds just a subtle sweetness and botanical element. The dried orange slice used to garnish the glass now perfectly complements the drinks taste and color.
The Rook is known best for its craft cocktails and its impressive selection of over 80 gins, as well as the bar team's wide knowledge on the subject.  The venue is therefore the perfect location for the Juniper Society to hold its monthly meetings where gin-lovers gather, learn and enjoy the quirky and interactive cocktails.  "Down The Rabbit Hole" is one such cocktail and the most popular drink on the latest menu.
Creating "Down The Rabbit Hole" was a team effort by Bar Manager, Cristiano Beretta, Head Bartender, Rollo Anderson and The Keystone Group's Group Bars Manager, Jason Williams. They chose the name pretty quickly as the magical cocktail conjured up images of Alice in Wonderland.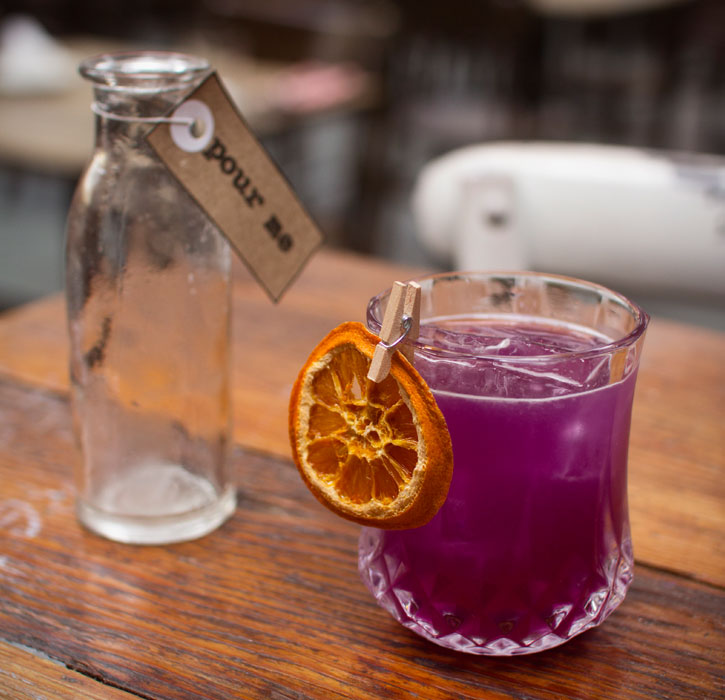 Ingredients
- 40ml Beefeater Gin
- 15ml Creme de cacao
- 5ml Solerno blood orange liqueur
- 15ml Lemon juice
- 10ml Sugar syrup
- 3 dashes Scrappy's Cardamom bitters
- 3 dashes B'Lure flower extract
Preparation
1- Fill shaker with ice and pour in all ingredients except the b'Lure flower extract.
2- Shake well and strain in little bottle.
3- In serving glass, put some ice and 3 dashes of b'Lure flower extract.
4- Serve bottle alongside glass.
5- Instruct your guests to pour the cocktail into the glass to see the color change from blue to purple.
About the team:
Cristiano Beretta
Cristiano Beretta is a veteran bartender starting his career in the 1990's in Italy and has since continued to expand on his capabilities working in various venues in London, Italy and Australia, including the award winning Black Pearl, in Melbourne, Australia.  Cristiano is now one of Australia's most well-known and respected bartenders and since becoming Bar Manager at The Rook in 2012 has ensured the continual turn-out of memorable cocktails.
Cristiano is known for adding a little theatre to his cocktails by combining his world-class recipes with different forms of presentation, textures, and techniques to enhance the customers overall experience and taste sensation.
Rollo Anderson
Rollo Anderson is Head Bartender at The Rook and was nominated in the top 10 bartenders globally at The Spirited Awards at Tales of The Cocktail, New Orleans for 2014.
Jason Williams
Jason Williams is a respected member of the Australian bartending community, combining 15 years of passion for the craft, a love for bartending, bars cocktails and dreams.
Having opened some of Australia's leading cocktail destinations in Melbourne, Sydney and Brisbane – Jason has developed his love for cocktails; introducing new flavours and old classics to his guests in any bar he has worked.
Jason won Australian Bartender of the Year in 2010, and has also been awarded ALIA Bartender of the Year in 2006 and 2008. He has represented Australia on the world stage and recently took out the Global Beefeater 24 Bartender Competition for 2013.
Jason was recently nominated for International Bartender of the Year 2014 at the Spirited Awards at Tales of the Cocktail in New Orleans.
Hailing from a family of pub owners, Jason was destined to work bars and restaurants. After earning his stripes in nightclubs running around on the floor and polishing glasses, Jason got behind the bar in 2001, and has never looked back.
Jason has since worked on national training programs,  has been a local brand ambassador for leading spirit brands and been involved with the establishment of popular institutions such as Melbourne Rum Club and Juniper Society (Sydney).
It's through his own passion and dedication to the profession of bartending that he has developed a keen interest in training and bartender culture.
Jason is now the Group Bars Manager for leading Australian hospitality operator The Keystone Group, managing extensive training, beverage and cocktail programs across 26 venues. He was just awarded Bar Manager of the Year at the 2014 Australian Bar Awards.
Jason is also passionate about spirits and spirit category education. He is an accomplished presenter and thrives on sharing his knowledge, and enthusiasm.