wd~50 by Wylie Dufresne to Close its Doors this November
After an 11 year reign, Chef Wylie Dufresne will be closing the doors of his acclaimed wd50 this November. The chef ...
CONTINUE
Modernist vs. Traditional Cooking with Chefs Dufresne and Ripert
Molecular gastronomy Chef Wylie Dufresne and traditional Chef Eric Ripert share their perspectives on their styles ...
CONTINUE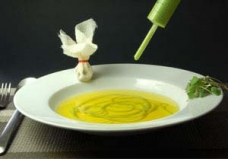 Instant Pea Parmesan Noodles in Saffron Consomme with Morel Dust
The instant noodles are formed in front of the diner eyes by injecting a pea and parmesan mix into a hot saffron co ...
CONTINUE