Scallops with Cabbage, Dill and Buttermilk
Radio restaurant in Copenhagen may be relatively new to the area but their simple yet innovative food is quietly pushing them to the forefront of the local cuisine scene. We had the pleasure of speaking with Chef Jesper Kirketerp, one of the two young chefs behind the food. In addition to insider information about what makes Radio tick, he was also kind enough to share a couple of recipes with us.
Here is one of them. Scallops with buttermilk, drops of dill oil, bread croutons, topped with thinly sliced kohlrabi, a type of cabbage, and dill. Simply delicious!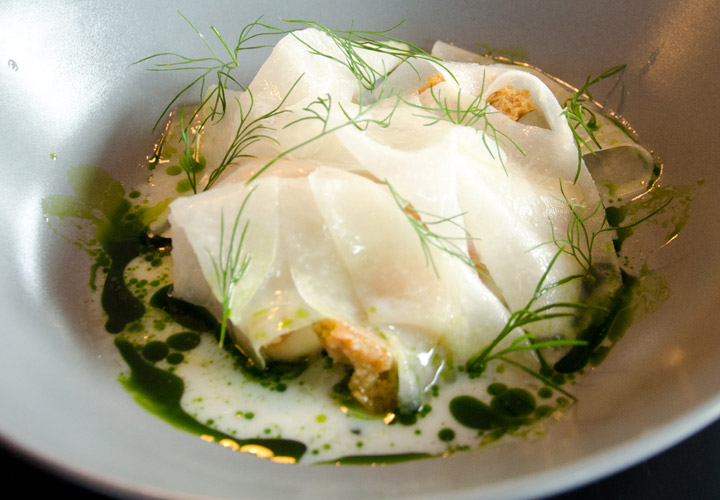 Serving size: 4 people
Ingredients
- 12 scallops
- 1 kohlrabi
- 150 g (5.29 oz.) dill
- 2 dl (6.76 oz.) grape seed oil
- 20 bread croutons
- 0.5 dl (1.69 oz.) lemon juices
- 1 dl (3.38 oz.) buttermilk
- salt to taste
Preparation
1 - Clean the scallops, and cut them into two pieces.
2 - Peel the kohlrabi and slice it really thin.
3 - Blend 130 g (4.56 oz.) of the dill with the grape seed oil until it is smooth.
4 - Sear the scallops on a hot pan just before serving.
5 - Marinate the kohlrabi with lemon juice and salt.
 Assemble and Serve
1 - Put the buttermilk in the bottom of your bowl.
2 – Add 6 of scallop pieces to each dish.
3 – Add 5 croutons to each dish.
4 – Garnish with the kohlrabi and dill.
5 - Drizzle a tea spoon of the dill oil over the top at the table.