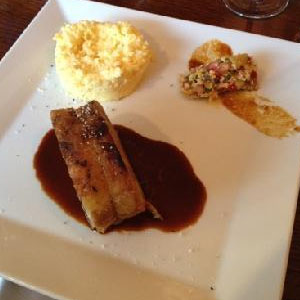 (3 votes, average: 3.67)


Loading...
Situated in a converted house, Chez Lena et Mimile is a timelessly classic bistro that's managed to leap light years ahead of its time in the kitchen while maintaining its Old World-charm exterior. Billed as the most charming bistro in Paris, the restaurant surely lives up to that title. Instead of being a tourist trap as many of the better restaurants in Paris tend to be, Chez Lena et Mimile caters mostly to locals and the foods reflect that.
Many of the options have a local flavor with a Franco-Spanish influence and all are extremely well-done. The restaurant prides itself on having an entire experimental menu that marries chemistry and food in a way that does its namesake Hervé This, one of the founding fathers of molecular gastronomy, proud. The little bistro has everything that you need for a cozy meal: great food, excellent service and affordable prices. You can choose from a traditional menu or from the special "This" experimental molecular menu. Regardless of whether you go modern or classic, sit on the terrace if you can!
Chef: Christêle Gendre
Molecular Meter: high
Awards: None yet
Address: 32, rue Tournefort, Mouffetard, Paris, France (Panthéon)
Reservations: 01 47 07 72 47
Webpage: www.chezlenaetmimile.fr