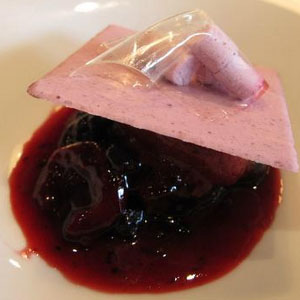 (2 votes, average: 4.50)


Loading...
Regardless of who you ask, Chef Pierre Gagnaire is a cook that marches to the beat of his own drum. His sources of inspiration are as astoundingly complex as his dishes. For example, his Parfums de Terres was inspired by the perfume, Terre d'Hermès. Music, colors, people, scents; they are all potential artistic stimulants.
The food at his Paris restaurant, named after him, is seasonal and mind-blowingly creative. The tasting menu is by far the best option because it allows you to try many different dishes instead of just one or two. Unlike many other Michelin restaurants, Pierre Gagnaire is welcoming and warm; as a matter of fact, chef visits his tables just to welcome you. Explosively creative food, top-notch service and an ambiance that welcomes you back time and again makes this restaurant a must-visit if you're in Paris.
Chef: Pierre Gagnaire
Molecular Meter: high
Awards: 3 Michelin stars
Address: 6, rue Balzac, Paris, France 75008
Reservations: (33) 01 58 36 12 50
Webpage: http://www.pierre-gagnaire.com