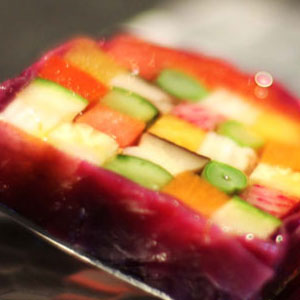 (8 votes, average: 3.00)


Loading...
Have you ever eaten in a restaurant with 2 tables? That's exactly how many there are in one of the best kept secrets in Tokyo. Even though Mr. Takazawa deplores all forms of advertising, the wait list for his little restaurant extends for months. He doesn't want to expand because he believes that if he does, he won't be able to offer his guests the service that they deserve.
If you're fortunate enough to score a table, you may choose from an 11-course dinner for around $220, a nine-course meal for $187 or a seven-course meal for about $150. He or his wife bring each course to the table and explain what it is, how it's made and how to eat it. His signature dish is a deconstructed version of the traditional ratatouille, but his other dishes show a creativity and depth that make your dining experience unique.
Chef: Yoshiaki Takazawa
Molecular Meter: high
Awards: None, and he prefers it that way
Address: 107-0052 Tokyo Akasaka, Minato-ku, 3-5-2 Akasaka Sanyo building back 2F Sanyo Akasaka Bld. 2F 3-5-2 Akasaka Minatoku Tokyo, p
Reservations: 03-3505-5062 or via email at reservation@takazaw-y.co.jp
Webpage: www.takazawa-y.co.jp