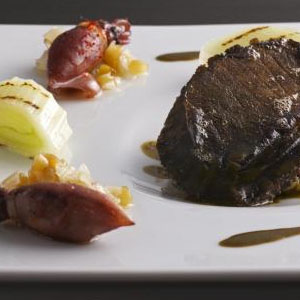 (3 votes, average: 4.00)


Loading...
Koji Shimomura, chef-owner of Edition, strives to offer every diner a combination of service, food and atmosphere that is his own "edition" of what an excellent dining experience should be. You won't get a menu because he wants to serve you what you want, not what's available. Your server will ask you what you'd like to eat, and how much of it you'd like. It's Chef's idea of haute couture cuisine and is his way of making sure that every guest leaves full and happy.
Edition uses only the highest quality European and Japanese ingredients prepared with French-Japanese techniques to create a dining experience that's modern, involved and delicious. Some of his specialties are grilled oumi wagyu with caramelized endive and a crispy John Dory wrapped in kadaif and served with lemon jam and broccoli sauce. Where else can you go to get what you want instead of choosing something from the menu? If you're in Tokyo, don't cheat yourself by skipping Edition.
Chef: Koji Shimomura
Molecular Meter: high
Awards: 2 Michelin stars
Address: T-Cube 1F. 3-1-1 Roppongi, Minato-ku, Tokyo
Reservations: 03-5549-4562 or reserve on their reservation page on their website
Webpage: www.koji-shimomura.jp