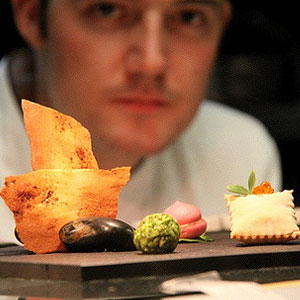 (5 votes, average: 4.00)


Loading...
Amazing molecular gastronomy dishes with Australian and Swedish influence by extremely talented, charming, warm and inspiring Chef Michael Elfwing.
Learn more about the experience at Senses here
Chef: Michael Elfwing had a culinary training experience at world famous Fat Duck 3-Michelin star restaurant by molecular gastronomy chef Heston Blumenthal in London.
Molecular Meter: medium
Awards: Senses has won several awards including the prestigious 5-Star Diamond Awards as one of the Best Restaurants in the World and Hospitality Asia Award for Best Western Cuisine.
Address: Hilton Kuala Lumpur, 3 Jalan Stesen Sentral, Kuala Lumpur Sentral, 50470 Kuala Lumpur
Reservations: 603 2264 2264, and Service Team at 603 2264 2592/2596
Webpage: Senses at Hilton Kuala Lumpur