Molecular Gastronomy by Chef Elfwing at Senses Kuala Lumpur
I was fortunate to be invited by Chef Michael Elfwing to have lunch at his restaurant Senses at the Hilton Kuala Lumpur. Not only I discovered amazing molecular gastronomy dishes with Australian and Swedish influence but I also got to know an extremely talented, charming, warm and inspiring chef. I highly recommend going to Senses if you are around Southeast Asia, even if you have to take an extra flight to Kuala Lumpur. And remember to say hi to Chef Elfwing, you won't be disappointed!
During my lunch I was delighted with 4 appetizers, 2 main courses and 3 desserts….and I ate all of it despite the good sized portions! I was served Live Oysters, Olive Oil "butter", King Crab, Smoked Tasmanian Ocean Trout, Red Gurnard & Sea Garnish, Black Angus Short Rib, Cloudberry Sorbet, Manjari Emulsion and Chocolate Tart "Michel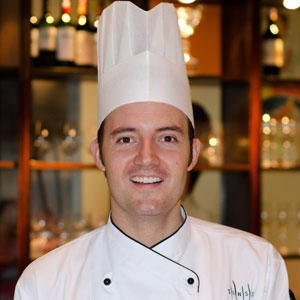 Chaudun". The good news for you is that Chef Elfwing shared some of these amazing molecular gastronomy recipes with us.
Becoming a rising star in modern cuisine
Chef Elfwing was born in Sweden and moved to Australia at the age of 16 where he had his first stint as an apprentice chef at the Little River Restaurant and Winery in Perth. Several years and restaurants later, Chef Elfwing ended up working for celebrity Chef Cheong Liew at Grange in Adelaide. "It was like starting again from zero. I learned a lot about Asian ingredients." says Chef Elfwing.
He then had a culinary training experience at world famous Fat Duck 3-Michelin star restaurant by molecular gastronomy chef Heston Blumenthal in London. "Everything is very well organized and there are sheets on the wall with precise temperatures, vacuum pressures and cuts" says Chef Elfwing. "When I was cutting Brunoise, the chef would put it on the edge of the knife, and say "No, not so good, it has to be like this" and then… Pacojet the whole thing!" Chef Elfwing asked why. "You know, if you cut some this big and some that big, they will release the flavor different." responded the Chef. "Fair enough." said Chef Michael.
Satisfying the most demanding diners at Senses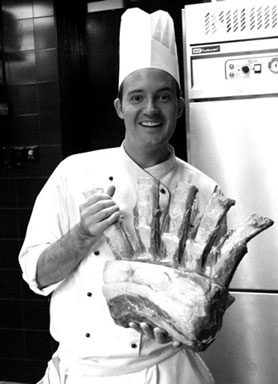 After the Fat Duck experience, Chef Elfwing started overseeing day-to-day operations for Senses, the brainchild of Master Chef Cheong Liew. Senses, located at the Hilton Kuala Lumpur, has won several awards including the prestigious 5-Star Diamond Awards as one of the Best Restaurants in the World and Hospitality Asia Award for Best Western Cuisine.
Chef Michael Elfwing serves everything that Asian customers demand including truffles, lobster, foie gras, caviar and French mushrooms. Most of his ingredients are carefully selected and imported from Australia and Europe, giving him access to a wide variety of fresh ingredients from 2 different seasons. Twice a week they receive fresh fish from Japan, Australia and Europe. The King Crab, which comes from Norway, is caught alive and put through a scanner on the boat to see how much meat the leg has and only the best ones are selected. Do I need to tell you how good the King Crab was?
One of Chef Michael's favorite dishes is "Smoking Allowed", a table smoked Tasmanian ocean trout, Nordic deep sea shrimp with sour cream and chives.  "It is simple, it is presented in a nice way with the smoke, it has the right fish and it is lightly cooked sous vide at the right temperature. It is also garnished with mustard dressing and other typical Swedish ingredients." says Chef Elfwing. It is also the most popular dish in the restaurant.
Every 4 to 6 weeks he changes 8 to 10 items on the menu. Every 10 weeks the menu will have changed about 70%.  His menu has Australian and Swedish influence but he adapts the dishes in a way he thinks the Malaysians are going to like. Lots of seafood and beef including marble score twelve Wagyu and no pork since the Hilton Kuala Lumpur is a "pork free" hotel. The menu also has several hearty soups and an incredible wine list.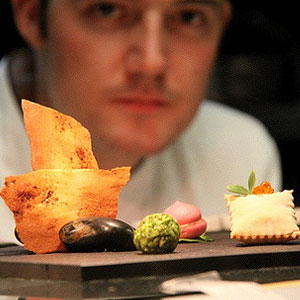 When creating a new dish, Chef Elfwing starts by selecting the best main ingredient, usually a protein. "I know what I can sell, what's in season and I am not too proud to remove it from the menu if my customers don't like it" says the molecular gastronomy Chef. He would then add some Nordic and Australian influence. The next step is to select the best cooking method:  seared, oven, charcoal grill, sous vide. He finally creates a seasonal garnish and tries to incorporate a molecular gastronomy technique to surprise the diner and create additional interest.
Chef Elfwing has a very honest book, "Cooking with Michael Elfwing", with all the details of his most acclaimed dishes. Chef Michael believes in sharing and collaborating. He made sure that every recipe in the book works as it should so no one gets disappointed. I highly recommend his book.
The amazing lunch experience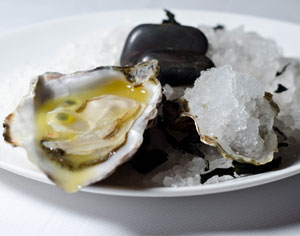 Live Oysters – Baked Kilpatrick style, Passion fruit dressing, Frozen Lemon Vodka snow
These oysters were lovely. My favorite was the passion fruit version. The frozen lemon vodka snow, made with water, sugar, lemon-infused vodka and lemon juice, was very interesting but I am not a big fan of chewing ice.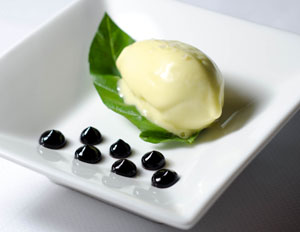 Olive Oil "Butter"
This was one of my favorites! Simple but delicious. I love to start a meal with bread and butter and a little of salt. The olive oil "butter" is not only innovative but it is also much healthier than butter because it is made with just virgin olive oil and glice. The olive oil "butter" is sprinkled with sea salt flakes and it is served with balsamic vinegar gel and a fresh bread roll.
Read Olive Oil "Butter" and Balsamic Vinegar Gel recipe.
King Crab – King Crab leg, beurre noisette, dark rye crumbs & quail eggs
The best King Crab I ever had. The garnish, definitely influenced by Chef Elfwing's Swedish heritage, was packed with flavor and multiple textures. Tart lingonberries, fennel powder, crispy dark rye crumbs and perfectly cooked quail eggs.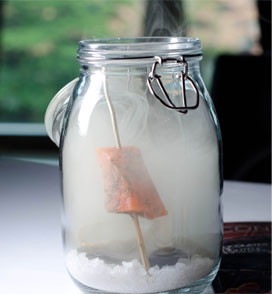 Smoking Allowed…. – Table smoked Tasmanian ocean trout, Nordic sea shrimp with sour cream & chives
The star at the restaurant. Both Chef Michael's favorite and most popular dish at Senses. I don't know where to start on this one. The outstanding presentation, the smoke aromas, the perfectly cooked Tasmanian ocean trout, the discovery of multiple flavors in the garnish and the staring of envious diners around you.
A large sealed jar is brought to the table. The jar contains two skewers with decent sized Tasmanian ocean trout pieces that have been seasoned with a gravlax mixture, dill and pepper and lightly cooked sous vide for only 20 min at 43 °C (109.4 °F). The jar, full of apple wood smoke, is opened at the table and the server places one of the skewers on the plate. Delicate smoke aromas surround you and you just stay still, enjoying everything and with a smile of complicity.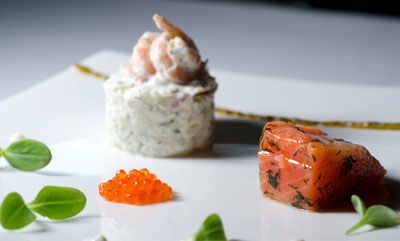 Then you proceed to give the first bite to the fish. Wow again! This was the best fish I ever had. Not cooked, not raw, just perfect texture and flavor. You want proof that this was extremely delicious? I am allergic to ocean trout and I ate it all...
The dish garnish consists of pickled cucumbers, pressed potato salad (with dill and creme fraiche), nordic sea shrimp, ocean trout roe, cucumber cress and Swedish style mustard. The fish was so good that I felt the garnish was just that, a garnish. That was until I tried the Swedish style mustard that I almost missed. Do you see that dark yellowish line on the plate? Wow again! I had no idea of what I was eating at the time but now I can tell you it is made soaking mustard seeds in water overnight, then made into a paste with some vinegar, syrup, grapeseed oil, turmeric and it is left to rest for a week before using.
Get Smoking Allowed recipe.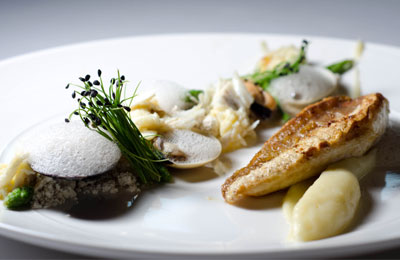 Red Gurnard & Sea Garnish – Wild caught New Zealand red gunard, smoked potato puree & sea garnish
Inspired by Heston's Blumenthal's Sound of the Sea dish, Chef Elfwing created this delicious sea garnish to accompany the Red Gurnard with smoked potato puree. I actually think the Red Gurnard was the garnish to a delicious seafood dish that invites the diner to explore and discover different flavors in every bite.
The sea garnish has edible sand, sea foam, Boston Bay blue mussels, a seared Scottish scallop, clams, butter cooked crab meat, French wild asparagus, rock chives, oyster leaf and maji leaf. The best part? Hard to say but I was astonished by the flavor of the edible sand. I just loved it but couldn't figure out where the taste was coming from. Fortunately, Chef Elfwing shared his magic recipe with us. It contains konbu seaweed, maltodextrin, tuile biscuit made with rendered chicken fat instead of butter, crispy fried panko, crispy fried shirasu and miso oil.
Read Sea Garnish recipe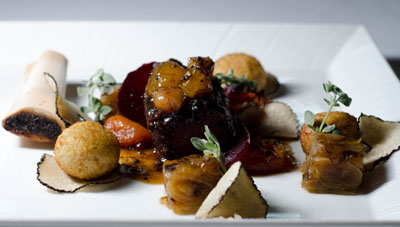 Black Angus Short Rib – Sarawak black pepper glazed Black Angus short rib served with garnish of roasted sweet onions, slow cooked organic tomato & crispy croquettes
Being a beef and truffles lover, I was delighted by this dish. Packed with flavor and sweetness, this dish was a perfect ending before I moved on to try Chef Elfwing's desserts.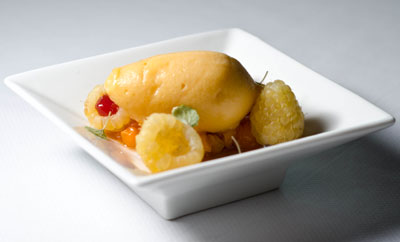 Cloudberry Sorbet with Arctic Berries
A good palate cleanser after the hearty and sweet short rib dish. It was a little too tart for me but actually I really appreciated it after the previous dish. I learned from Chef Michael that each plant only delivers one cloudberry...a delicacy exceeding supply.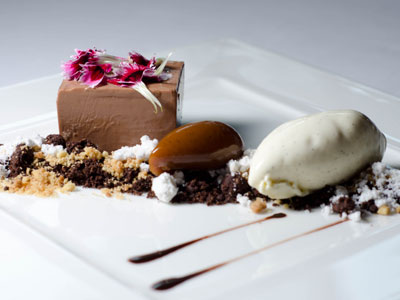 Manjari Emulsion – Smooth Manjari chocolate emulsion, chocolate soil, Murray River pink salt caramel, pure cocoa oil
It looks like a traditional chocolate dessert but it is actually very different and surprising. The chocolate Manjari emulsion is ultra smooth and very light since it is made by mixing high quality Manjari chocolate with water and some Iota and Kappa carrageenan. The caramel, on the contrary, is heavy and very sweet but it has a decent amount of Murray River pink salt making it very salty to balance the sweetness. The first bite feels a little too salty and unexpected but it then starts to make more sense and you go for the second, third and fourth bite...The powder is made with french sable (French butter cookie), coconut milk powder and chocolate cookies imitating Oreo cookies. "I am a big lover of Oreos and I tried to get close to their flavor" says Chef Elfwing. The last component of the dish is a traditional vanilla ice cream.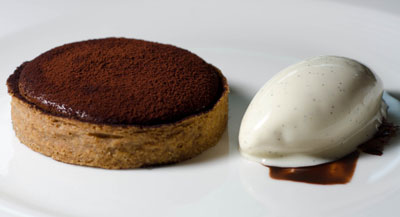 Chocolate Tart "Michel Chaudun" – Exclusive to Senses by Parisian chocolatier Michel Chaudun.
This handmade chocolate simply transformed into a light & warm chocolate tart with vanilla ice cream.
3-Michelin Star Chef Mathieu Pacaud of L'Ambroisie in Paris cooked at Senses during a French Fair organized by Hilton Kuala Lumpur, titled "Douce France" that ran from the 21st -27th May 2010. The week long extravaganza celebrated French cuisine, lifestyle and culture. It was then when Chef Elfwing was inspired to create this chocolate tart.
At L'Ambroisie they serve the famous Chocolate Tart by Michel Chaudun, a slice of a large tart made of dark chocolate sabayon, dusted with cocoa powder and sitting on crumbly, crusty pastry and accompanied by Bourbon vanilla ice cream. The sabayon is whipped for 45 minutes and it is let to rest for one and a half hours before serving. Timing is critical and a little complicated for a restaurant so Chef Elfwing came up with a simpler version that tastes delicious!
He named it the one-minute chocolate tart. It is an individual tart instead of being a slice of a large tart. The crust is made of a coffee sable. An egg, sugar and chocolate mix is put into an ISI Whip siphon. At the time of serving, the tart crust is filled using the ISI whip, it is baked for 1 minute and it is covered with chocolate soil. The final wow! An excellent way to end the meal. Do I need to tell you that I skipped dinner that day?
Thank you Chef Michael for a wonderful experience and for sharing your recipes with MolecularRecipes.com. I will definitely visit you again!