Get Your Favorite Song Flavorized
UPDATE: we are not taking more songs at the moment. SORRY! Please listen to the flavorized songs submitted by others below.
Submit your favorite song to be "flavorized" by the algorithm developed by the "Taste of Music" researchers into four versions representing each of the four taste sensations. Send us your favorite song and in a few days we'll post on our website your original song plus a sour, bitter, sweet and salty version!
If you are not yet familiar with the findings of this research project you can read more about it in this posting: "Music That Can Generate The Taste Association of Sour, Bitter, Sweet and Salty"
How to submit your song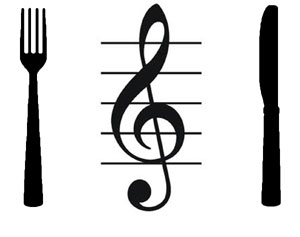 1- The song needs to be in MIDI format for the algorithm to process it. There are several websites from which you can download MIDI files for free. Here are a few: http://mididatabase.com/ , http://www.musicrobot.com/ and http://www.findmidis.com/
2-  Contact us via the web form using the subject "Flavor my song" and tell us the name of the song and the band in the body and your ideas on how to use music to offer diners a new experience based on these research findings. You will then receive instructions on how to send the MIDI file to us.
3- After a few days, your song and 4 other versions representing each taste will be posted in this article.
Thanks everyone for submitting your favorite song!!!!
Isn't She Lovely by Stevie Wonder
Unflavored Original
Sour: high pitch, short duration, high dissonance
Bitter: low pitch, low articulation (legato)
Sweet: long duration, low dissonance, low articulation, and soft (low loudness)
Salty: short duration and high articulation (staccato)
Death Waltz by John Stump
Sour: high pitch, short duration, high dissonance
Bitter: low pitch, low articulation (legato)
Sweet: long duration, low dissonance, low articulation, and soft (low loudness)
Salty: short duration and high articulation (staccato)
Imagine by John Lennon
Sour: high pitch, short duration, high dissonance
Bitter: low pitch, low articulation (legato)
Sweet: long duration, low dissonance, low articulation, and soft (low loudness)
Salty: short duration and high articulation (staccato)
Jeremy by Pearl Jam
Sour: high pitch, short duration, high dissonance
Bitter: low pitch, low articulation (legato)
Sweet: long duration, low dissonance, low articulation, and soft (low loudness)
Salty: short duration and high articulation (staccato)