Smoking Allowed (Table Smoked Tasmanian Ocean Trout)
Smoking Allowed is a signature dish from molecular gastronomy Chef Michael Elfwing of Senses at the Hilton Kuala Lumpur. This was one of my favorite dishes when I was delighted by Chef Elfwing with a 9-course meal. Outstanding presentation, smoke aromas, perfectly cooked Tasmanian ocean trout, the discovery of multiple flavors in the garnish and the staring of envious diners around you.
A large sealed jar is brought to the table. The jar contains two skewers with decent sized Tasmanian ocean trout pieces. The jar, full of apple wood smoke, is opened at the table and the server places one of the skewers on the plate. Delicate smoke aromas surround you and you just stay still, enjoying everything and with a smile of complicity.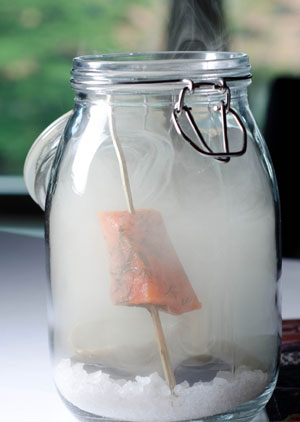 Smoking Allowed is a table smoked Tasmanian ocean trout with pressed potato salad with sour cream and chives, Nordic deep sea shrimp, ocean trout roe and Swedish style mustard.  "It is simple, it is presented in a nice way with the smoke, it has the right fish and it is lightly cooked sous vide at the right temperature. It is also garnished with mustard dressing and other typical Swedish ingredients." says Chef Elfwing. It is also the most popular dish in the restaurant. The taste and texture of the ocean trout, which is lightly cooked sous vide at very low temperature for just 20 minutes, is incredible.
Ingredients for Ocean Trout sous vide
- 600 g (22 oz) ocean trout fillet
- 2 tbsp gravlax mix, (2 parts sugar + 1.5 part fine salt)
- 2 tsp dill, finely chopped
- A pinch white pepper
- Vacuum pack bag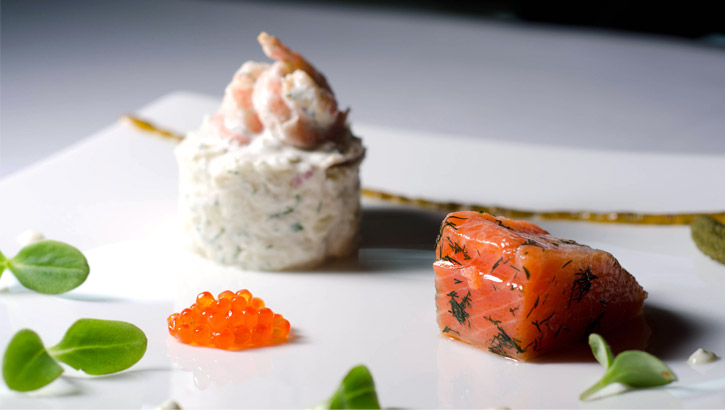 Ingredients for Swedish Style Mustard
- 150 ml (5 oz) yellow mustard seeds
- 50 ml (1.7 oz) brown mustard seeds
- 100 ml (3.4 oz) grape seed oil
- 4 tbsp red wine vinegar
- 4 tbsp sugar syrup
- 1 tsp English mustard powder
- 1 tsp turmeric powder
- Salt and white pepper
Ingredients for Pressed Potato Salad
- 500 g (18 oz) new season potatoes, such as French Noirmountier
- 100 g (3.5 oz) Sour cream
- 100 g (3.5 oz) crème fraiche
- 3 medium shallots
- 3 spring onions
- 50 g (1.8 oz) dill
- 25 g (0.9 oz) chives
- 1 tsp lemon zest
- Salt & white pepper
- Cucumber cress / Borage cress
- 100 g (3.5 oz) Nordic sea shrimp
- Ocean trout roe
Preparation
Ocean Trout Sous Vide
1-Season the fish with gravlax mixture, chopped dill and white pepper.
2-Place the fish in a vacuum bag and seal to 100%, cook sous vide for 20 minutes at 43 °C (109.4 °F).
3-Once 20 minutes is up place the fish in ice water and allow to cool.
4-If you do not have access to a sous vide machine, you can bake the ocean trout fillet in an oven set at 43 °C (109.4 °F) until the internal temperature of the fish is 43°C (109.4 °F).
Swedish Style Mustard
1-Soak the mustard seeds in just enough water to cover.
2-Leave to soak at room temperature overnight.
3-Place the mustard seeds in a blender, add the vinegar and syrup. Blend until a rough paste then slowly drizzle in the oil. If the paste is too thick, some more water can be added.
4-When all the oil is incorporated add the turmeric, English mustard powder and season with salt and pepper to taste.
5-Keep the mustard in clean and sterilized jars and leave for one week before using.
Pressed Potato Salad
1-Boil the new season potato in their skins in salted water with dill stems and a small knob of butter.
2-Let the potato cool down completely in the fridge, (this can be done one day in advance).
3-Cut the shallots into fine cubes, slice the spring onions and chives finely, chop the dill tops.
4-Mix the sour cream & creme fraiche with the onions and herbs, season with salt & white pepper.
5-When the potato is cold crush it with your hands to release the starch and make it creamy, stir in the sour cream mix and mix well.
Assemble and Serve
1-Using a 5 cm ring mold, press the potato salad into a perfect circle 3 cm high on a plate. Place a few Nordic sea shrimp on top.
2-Using a squeeze bottle, make a thin line of Swedish style mustard on one end of the plate.
3-Place a spoon of ocean trout roe on the plate.
4-Insert a skewer into each piece of ocean trout.
5-Place two skewers in a large glass jar with lid. For decoration, you can put some sea salt rocks and some stones in the bottom of the jar.
6-Using the smoking gun or similar device loaded with applewood chips, fill the jar with smoke and close the lid.
7-At the table, open the jar and place one skewer on the plate with the rest of the ingredients.