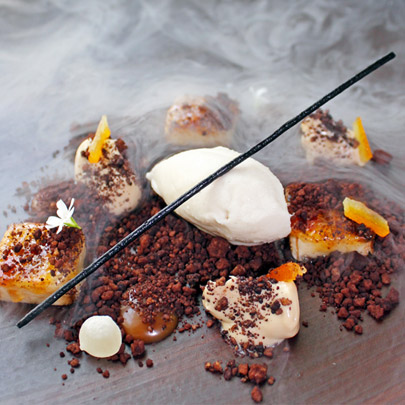 (5 votes, average: 4.40)


Loading... ABaC Restaurant Chef Jordi Cruz has accomplished quite a bit in his few short years. ABaC is definitely one of his best accomplishments. Chef Cruz and his staff combine creativity and tradition for a superb menu of delicious food with gastronomy at its core. You'll find ABaC a serene and tranquil setting, with crisp white décor and large windows combined with unique lighting to add an air of sophistication and class to the atmosphere. It's located in a newly constructed pavilion, part of the ABaC Hotel,  and can seat up to 56 guests.
Chef Cruz is a Barcelona native, having studied at the prestigious "Escola Superior de Hostelería Joviat." At 24, he was the youngest Chef in Spain and second youngest in the world to receive a Michelin Star. In May 2010, he took over at ABaC and quickly made it the premier gastronomy restaurant in all of Spain.
The most beloved dishes include smoked steak tartare, seasoned snow-like beef, cooked egg yolk, and veil of mustard and pepper bread brittle.
Chef: Jordi Cruz
Molecular Meter: high, 13 course tasting menu, 135€
Awards: The restaurant awarded with 2** Michelin, Best Restaurant of Catalonia 2011 by the Catalan Academy of Gastronomy
Address: Av. Tibidabo, 1 - 08022 - Barcelona (Spain)
Reservations: +34 93 3196600
Webpage: http://www.abacbarcelona.com/