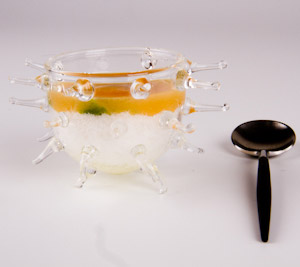 (4 votes, average: 4.50)


Loading...
Innovation, investigation and illusion are the ingredients of this Mediterranean molecular gastronomy restaurant inspired by the sea at the small fishing village of Llanca, in Costa Brava.
Chef: Paco Pérez
Molecular Meter: high, 9 course Tasting Menu and much more.
Awards: Apart from several acknowledgements, Miramar exhibits a 2 Michelin Star award, and the other restaurant where Paco Pérez is Creative Chef has also received a Michelin Star.  Such the case of Enoteca Restaurant, Barcelona.
Address: Passeig  Marítim  7 – 17490 Llanca, Girona.
Reservations: 972 380 132 / reservas@restaurantmiramar.com
Website: http://www.restaurantmiramar.com