Molecular Gastronomy Tasting Menu at Aramburu Buenos Aires
It is great to see how molecular gastronomy is becoming more popular around the world and chefs are combining the techniques and cooking styles learned from iconic chefs with their local products and dishes. When I was in Buenos Aires, I was invited by Chef Gonzalo Aramburu to experience his 12 course exquisite tasting menu. Very few chefs can execute a molecular gastronomy tasting menu that takes the diner beyond the food and transforms it into a memorable experience. Chef Aramburu is one of them and if you ever go to Buenos Aires, don't miss the opportunity to experience it yourself.
Molecular gastronomy Chef Gonzalo Aramburu worked with some of the best chefs in Europe, New York and Chicago including Charlie Trotter, Daniel Boulud, Joël Robuchon and Martín Berasategui before coming back to Argentina and opening his restaurant Aramburu. Chef Aramburu's experience definitely shows in the perfectly executed tasting menu.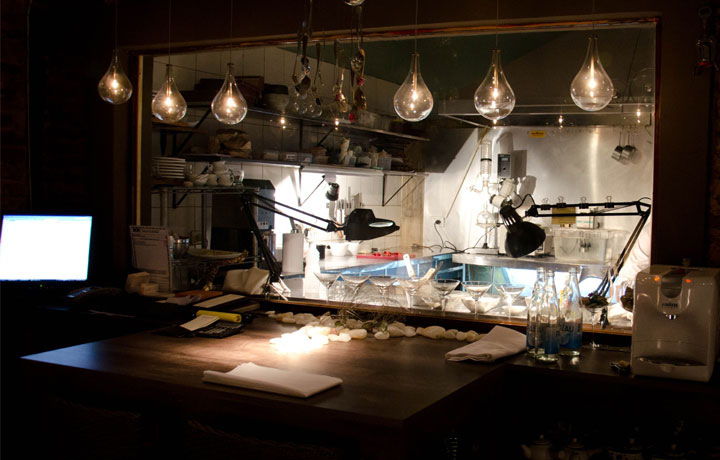 Aramburu serves molecular gastronomy dishes with Argentinean influence and local products. The kitchen is well equipped with liquid nitrogen, a rotovapor, ISI Whips, sous vide circulator, smoker and other molecular gastronomy equipment but none of the techniques used dominate any dish. I found that all courses were well balanced, flavorful and artistically presented in original service ware.
The menu changes every season. I was served 12 courses, of which one of them consisted of 4 amuse bouche. The wine list is outstanding and packed with great Argentinean wines. The restaurant is small, nicely decorated and has an intimate atmosphere. The kitchen is completely visible from the dining room through a large glass window. If you want to watch the action in the kitchen while you are dinning, ask for the two seat tall table facing the kitchen (shown in picture above).
The only inconvenience is that Aramburu Restaurant is not located in a very safe neighborhood but not a major problem if you take the right precautions. Take a taxi to get there and after you enjoy the incredible molecular gastronomy journey, ask them to call a taxi for you and wait for it inside the restaurant. When you get there, keep in mind that the restaurant is all painted in black, there are no lights, windows are covered and you need to knock the door to get in. You haven't been duped! You are in the right place.
Chef Gonzalo Aramburu and Benjamin Stoessel are sharing some of their best recipes with MolecularRecipes.com . Stay tuned!
The Molecular Gastronomy Journey
Grissini and Vitello Tonnato Cones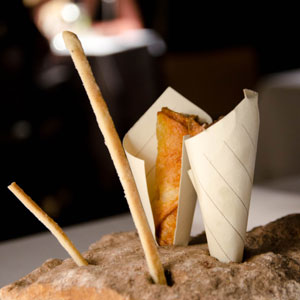 As soon as we sat at the table, we were served the first course of the night. Grissini and Vitello Tonnato Cones presented in a rock.
The grissini is an Italian bread stick which is long, thin and crunchy. The most traditional and neighborhood restaurants in Argentina serve grisines (grissini in Spanish) before starting a meal. In this case, Chef Aramburu made the grissini with phyllo dough instead of the traditional recipe.
The cones are made of potato slices and are filled with vitello tonnato sauce. If you are not familiar with vitello tonnato, it is also an Italian dish consisting of cold sliced veal with a creamy sauce made with canned tuna processed with a kind of mayonnaise made of olive oil, anchovies, egg yolks, cayenne pepper, lemon juice and capers. I love vitello tonnato so the taste was wonderful but the problem of this dish was that the potato cone was not as crunchy as I was expecting as it had been in contact with the sauce.
The next course was a tray with 4 amuse bouche.

Avocado and Orange Soup
The avocado and orange soup served in a shot glass was smooth and delicious. I loved the combination of avocado and orange.
Goat Cheese Waffle
Just a fresh hot waffle with goat cheese.
Fried Olive Stuffed with Smoked Cheese
Loved this one. Very crunchy and smooth smoked cheese filling.
Frozen Mojito Sphere
Frozen mojito with liquid nitrogen and shaped in a hemi-sphere. Very refreshing!
Seasonal Salad – Passion Fruit Vinaigrette and Goat Cheese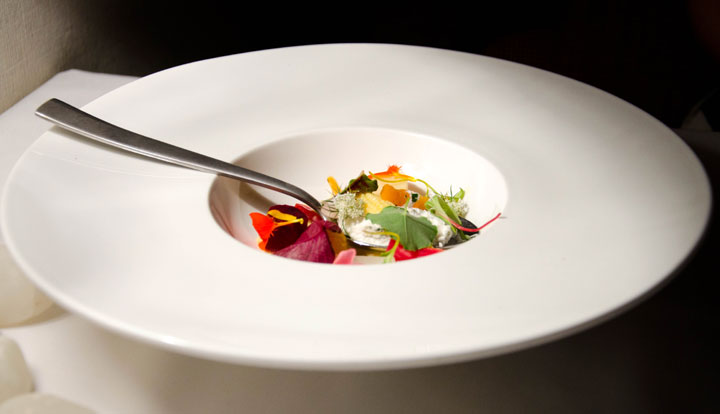 Very colorful greens and flowers with a tangy passion fruit vinaigrette and creamy goat cheese. Delicious!
Mushrooms and Scallops Smoked at The Table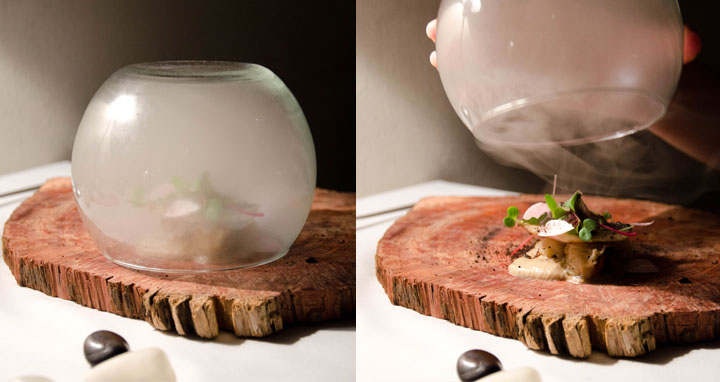 This was one of my favorites! Very nice presentation for an earthy dish. The mushrooms and scallops are served on a raw wood plate and covered in a glass bowl filled with apple wood smoke. As the glass bowl is lifted at the table, the smoke is released and the aroma surrounds you and gets you in the mood for this incredible dish. Sliced shiitake mushroom, scallops, garlic cream, sprinkled with carob (long bean-like pods from the carob tree are cooked for a short time or roasted and then grounded. Tastes similar to chocolate).
Prawns in Kataifi Crust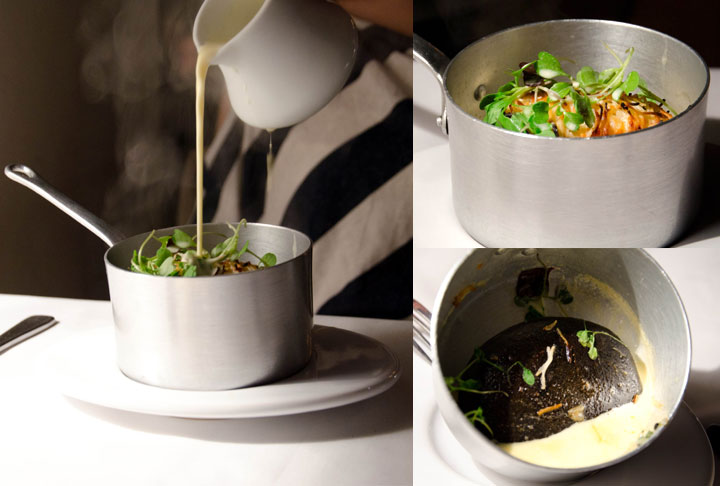 Another favorite of the night! The prawns are wrapped in a crispy Kataifi pastry (Middle Eastern pastry made with shredded phyllo dough). The prawns are served in a small individual pot over a hot lava stone which is at the bottom of the pot. At the table, the server pours prawn cream into the pot and as it gets in contact with the hot lava rock, it starts bubbling and releasing a very aromatic steam. In the pot there are also some baby broccoli and chard leaves. The prawn was really crunchy and paired perfectly with the creamy sauce. Wonderful presentation, creative way of releasing the dish aromas, perfect combination of flavors and textures.
Salmon with Andean Caviar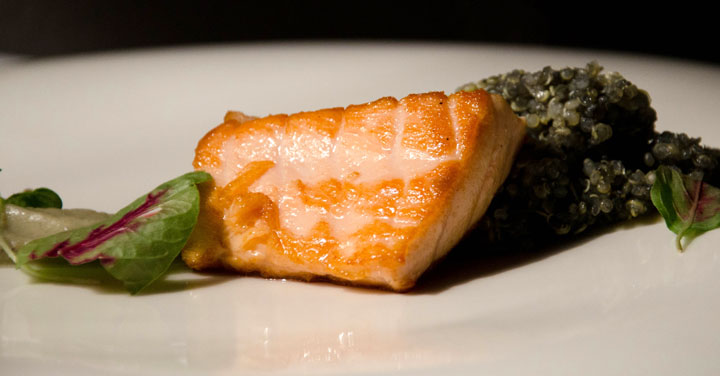 Flawlessly cooked salmon with grilled eggplant puree and quinoa with squid ink. I love the idea of combining quinoa with squid ink.
Pork Confit with Cotton Candy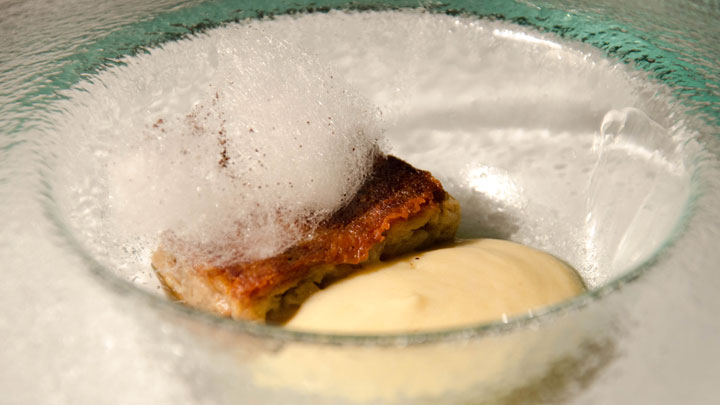 This dish was simple but I really enjoyed it. Pork confit that melts in the mouth, lime cream, cotton candy and sprinkled with coffee. The sweetness of the pork confit and the cotton candy was balanced perfectly by the lime cream. Another favorite of the molecular gastronomy journey at Aramburu!!
Egg and Croissant Foam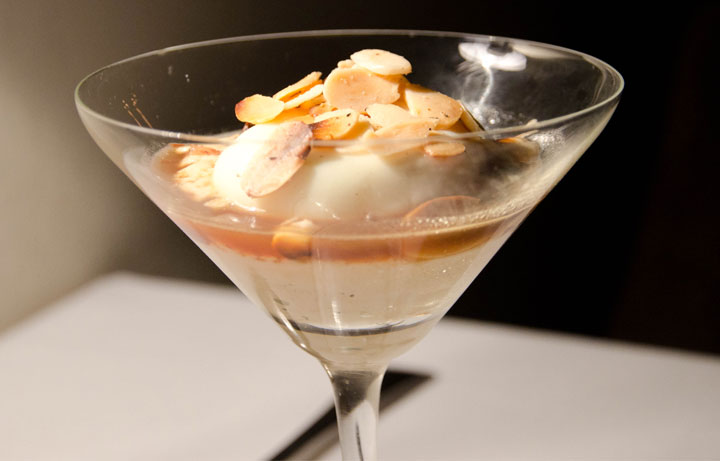 Served in a martini glass: poached egg, croissant foam, lamb pan sauce, toasted sliced almonds and bacon. A real molecular gastronomy breakfast! Get a variation of this recipe here.
Ribeye with Potato Textures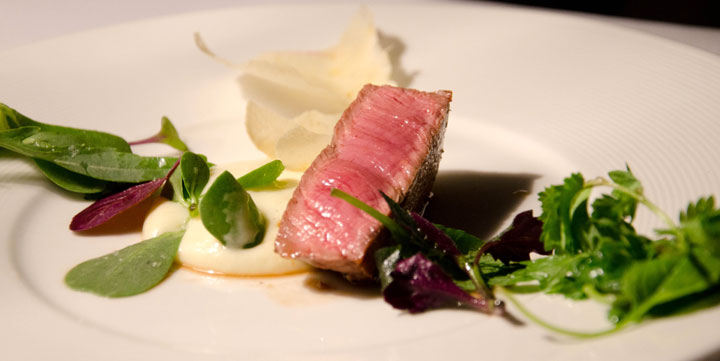 Ribeye cooked sous vide with greens and potato in two textures: dried potato film and potato foam.
Apple Crumble, Yogurt, Ginger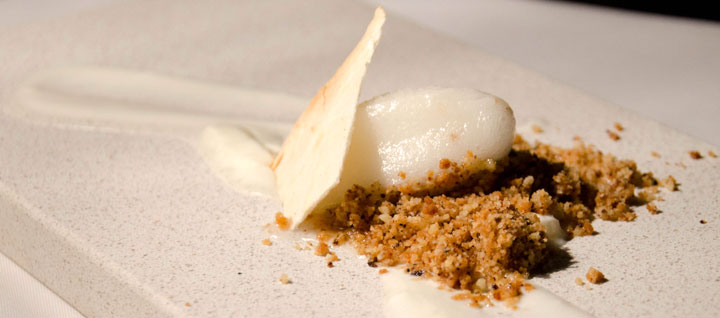 Pre-dessert with yogurt, yogurt gel, ginger and milk meringue sheet and lemon sorbet. Very refreshing!
Chocolate and Berries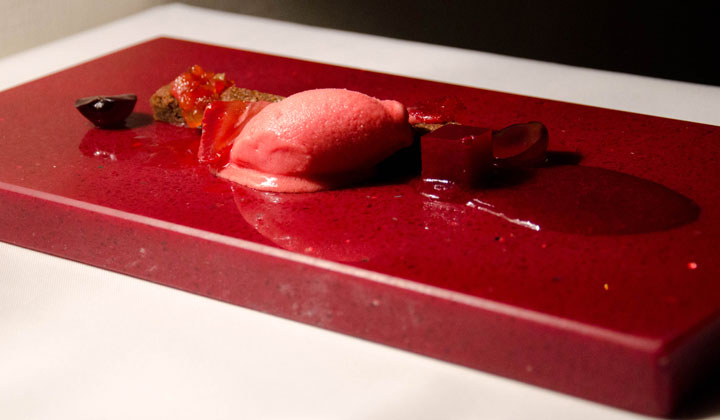 Chocolate sponge cake, raspberry sorbet, raspberry jelly, cherry gelatin, strawberries and cherry liquor.
Desserts in a Shoe Box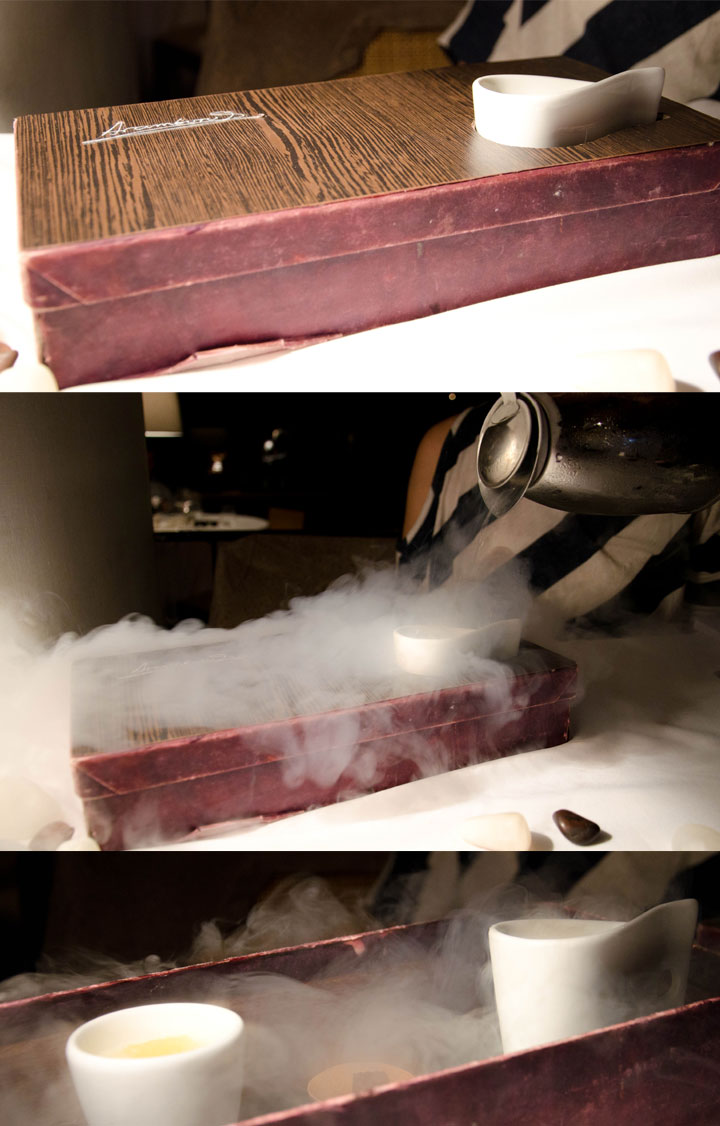 A great way to end the meal! Three mini desserts in a shoe box and 'smoking' liquid nitrogen at the table. A custom shoe box is brought to the table and one of the ceramic cups comes out through a hole in the lid. The server then pours some liquid nitrogen into the cup creating a dramatic 'smoking' effect on the table. In the cup there is coffee foam that is being frozen by the liquid nitrogen.
When you open the lid, there are two additional small desserts. One is yacaratia wood. Yes! You've read right. This is just wood with very little treatment. The wood is soft, soaked in syrup and fibrous. The yacaratia tree is 15 meters high, grows in inner Parana forest in Argentina and it is mostly made up by cells which act as water and nutrient deposits. Great source of fibers and minerals. Very interesting! The other dessert in the box is passion fruit and mint granite.
Thank you Chef Aramburu and Chef Stoessel for a wonderful experience and for sharing your recipes with MolecularRecipes.com. I am looking forward to visit you again and taste the new menu!
Aramburu Restaurante
Tuesday to Saturdays from 20.30 to 23.00h
Salta 1050 :: C1074AAV
Ciudad Autónoma de Buenos Aires
T. +5411 4305 0439
reserva@arambururesto.com.ar