Elderflower Mojito Cocktail Gel
A cocktail gel with floral print? This is probably a first in molecular mixology. Only Michelle Palm from Jelly Shot Test Kitchen can come up with such a beautiful and tasty edible cocktail. This was the resulting gelatin cocktail after Dolce & Gabbana asked JSTK about creating a jelly shot for their luxury magazine Swide.com! And best of all, this cocktail gel is made using my favorite liquor, St-Germain elderflower liquor.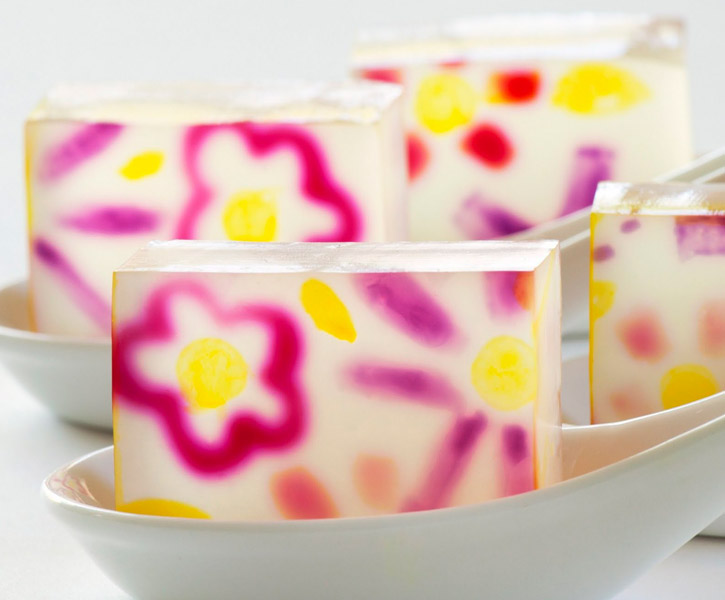 Ingredients
- 1 package fresh mint (3/4-ounce/21 g package about 50 mint leaves)
- 1/2 cup/120 ml white rum
- 1/2 cup/120 ml St-Germain Elderflower Liqueur
- 1/3 cup/75 ml fresh lime juice
- 1/3 cup/75 ml water
- 1/3 cup/75 ml simple syrup or agave nectar
- 2 envelopes plain gelatin (about 4 tsp gelatin powder)
Preparation
1- Lightly muddle mint in a small bowl. (Gently crush the mint with the back of a spoon if you don't have a muddler!)
2- Add the rum and elderflower liqueur to the bowl and set aside.
3- Combine lime juice, water and simple syrup/agave in a small saucepan. Sprinkle with gelatin, and allow the gelatin to soak for a minute or two.
4- Heat over low heat, stirring constantly, until the gelatin is dissolved (about 5 minutes). Remove from heat.
5- Strain the mint-infused liquor into the pan and stir to combine.
6- Refrigerate until fully set, several hours or overnight.
7- A few hours before serving, "paint" a floral pattern on the surface of the jelly shots with a paintbrush and food coloring. (Michelle uses natural colors – while the colors are limited, she loves to mix her own custom shades!)
8- Return pan to fridge to allow the food coloring to set, about 2 hours.
9- Cut into desired shapes to serve. Makes 12 to 18 jelly shots.
Read more about the cocktail gel technique to obtain perfect results here!