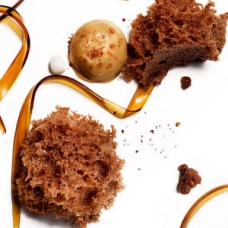 Espresso Pasta & Foam with Chocolate Sponge Cake
This espresso and chocolate dessert combines three techniques developed by Chef Ferran Adria at el Bulli: gel pasta ...
CONTINUE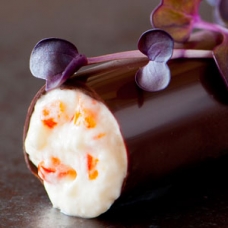 Sakura Cress, Chocolate, Yogurt, Red Pepper, Cayenne
A beautiful dessert with interesting combination of flavors designed by the scientific method of food pairing. Saku ...
CONTINUE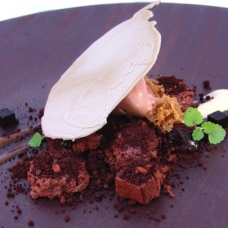 Belgium Ale – Chocolate, Coffee, Black Olives
Black olives, beer and chocolate ice cream in the same dessert? Can that be right? It certainly can, if you're ta ...
CONTINUE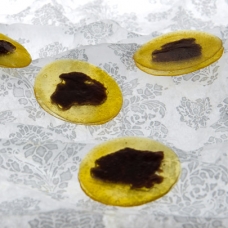 Chef Ferran Adria delights us with a great pairing of mango and black olive in interesting textures. Using what he ...
CONTINUE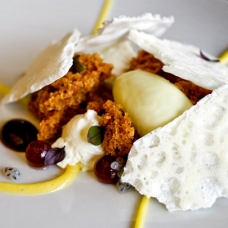 Goat Cheese Mousse, Grape Jelly, Yuzu Curd, Basil Ice Cream
A modernist dessert that pairs airy goat cheese mousse with grape, yuzu and basil. Flavors are presented in multipl ...
CONTINUE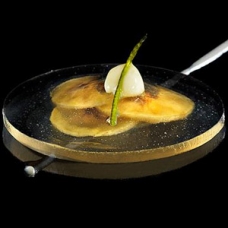 Banana, Lime and Priprioca Caramel Ravioli
Priprioca is one of Chef Atala's favorite Amazonian ingredients. It has a scent reminiscent of patchouli and tast ...
CONTINUE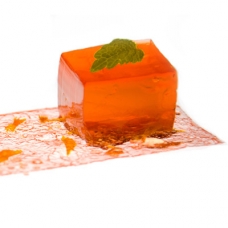 Aperol, Rosemary, Honey, Scotch Paper and Gel Cocktail
A fantastic edible cocktail combining two molecular mixology techniques: cocktail papers and cocktail gels. The str ...
CONTINUE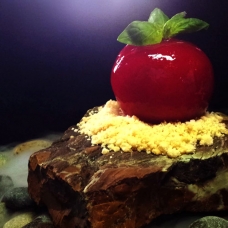 Strawberry Ice Cream Cheesecake, Bell Pepper Jelly
Cheesecake ice cream covered in roasted red pepper jelly, caramel sand and strawberry 'smoke' by community member R ...
CONTINUE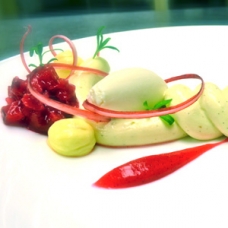 Cheesecake – Rhubarb, Lemon, Bay Leaf
Modernist Chef Russell Karath delights us again with an incredible cheesecake with great presentation and flavors. ...
CONTINUE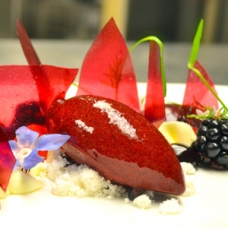 Blackberry in Textures by Chef Russell Karath
This extraordinaire dessert by Chef Russell Karath features blackberry cremeux, mascarpone cheese, blackberry gel, ...
CONTINUE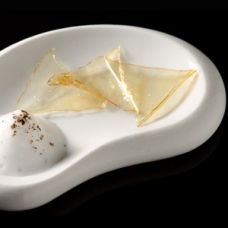 Sweet Corn Glass Chips with Tomato Foam
Transparent glass chips with an intense flavor of sweet corn paired with a light tomato water foam. The sweet cor ...
CONTINUE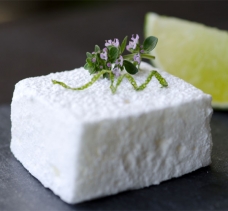 Pisco Sour Cocktail Marshmallow
The trend of converting a classic cocktail into a marshmallow was started by molecular mixologist Eben Freeman with ...
CONTINUE