Strawberry Ice Cream Cheesecake, Bell Pepper Jelly
Recipe from our community member Ryan Patrick Dimapilis, Executive Chef at Two Seasons Resorts Philippines. Thank you for sharing this creative dessert!
Recipe yields 36 servings
Ingredients
Cheesecake
- Cream cheese 470 g
- Sugar 1 ¼ cup
- Cream  500 g
- Sour cream 400 g
- Xanthan gum  1 tsp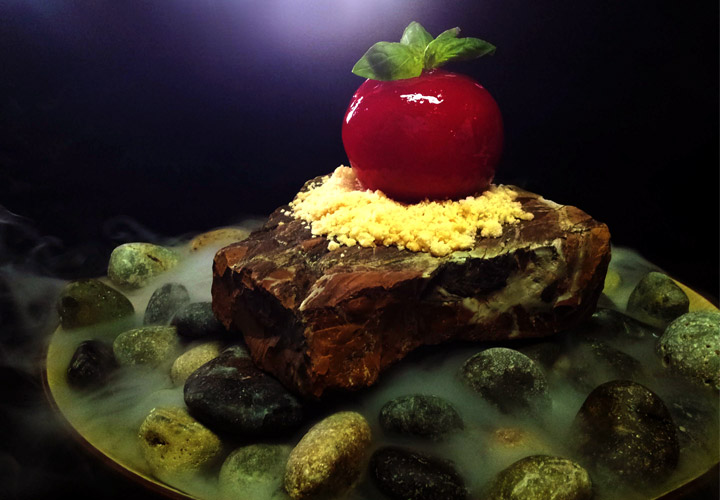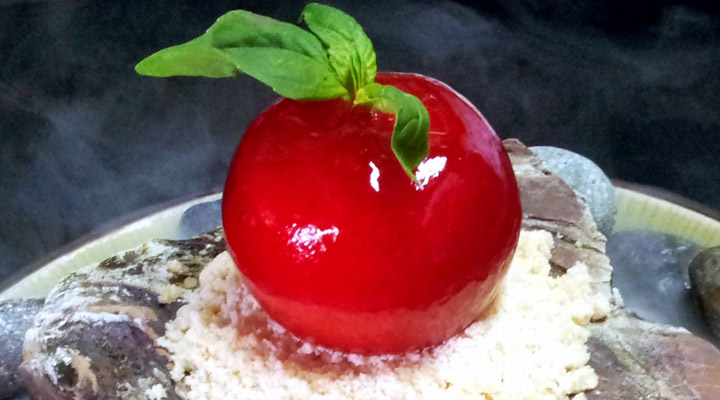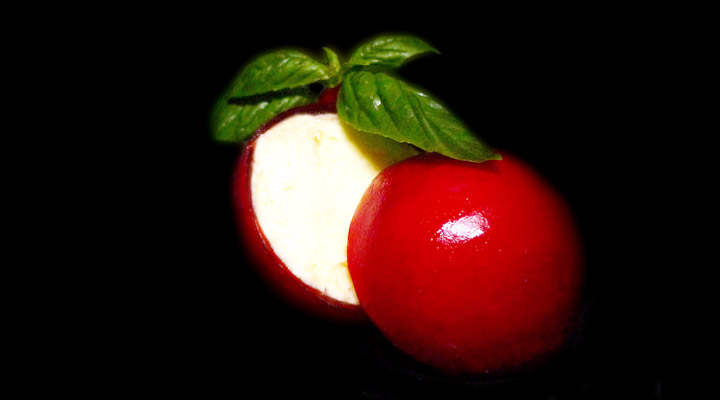 Pepper Jelly
- Roasted Red Bell Pepper 140 g
- Grenadine syrup 1 cup
- H2O  1 ½ cup
- Knoxx  gelatin – 4 sachet + 4 tbsp cold water. 8 grams per sachet
Caramel Sand
- 11 g Caramel Syrup
- 20 g Tapioca Maltodextrin
- 5 g Crushed Graham
Smoke Flavor
- 1 tsp Strawberry Extract flavor
- 1 cup H2o
- Dry Ice pellets
Preparation
Cheesecake
1- In a sauce pan mix cream, sugar and sour cream simmer until sugar is dissolved.
2- Add cream cheese, mix using hand blender, blend until mixture is fully incorporated, smooth and no lumps.
3- Off heat, add xanthan gum and let it cool over an ice bath while continue mixing with hand blender.
4- Pour the mixture in a 1 oz / 1.75 inch (4.445 cm) half sphere silicon mould mat, level off the top of the mould with spatula to make them smooth.
5- Cover with plastic wrap then freeze until solid.
6- Unmold the cheese cake mixture. Gently heat the half cheese cake sphere with blow torch to slightly melt and press two half gently together.
7- Put it back in the freezer to set the halves into a ball shape. Stick it with bamboo skewer for dipping.
Pepper Jelly
1- In a pan simmer roasted bell pepper water and grenadine syrup for 30 minutes. Puree.
2- Sprinkle the Knoxx gelatin evenly with cold water then add to pureed mixture, mix until incorporated.
3- Warm mixture to 40 °C.  Then start dipping the frozen cheese balls. Dip 3 times.
4- Store in freezer.
Caramel Sand
1- Mix all ingredients until powdery stage
 Assemble and serve
1- In a clean and dry bowl put dry ice pellets, cover the pellets with pebbles and top with another stone where you will place the caramel sand.
2- Lay the ice cream cheese ball on the sand, garnish the ball with basil leaves.
3- For the strawberry smoke effect, serve then pour the smoke flavor mixture into the bowl at the table.