Banana, Lime and Priprioca Caramel Ravioli
Priprioca is one of Chef Atala's favorite Amazonian ingredients. It is a root that's often used in cosmetics but is now finding its way to your plate. Priprioca has a scent reminiscent of patchouli and tastes earthy and hempy. When combined with the sugar, banana and lime, it lends an intriguing, exotic flair to a dish that would already be delicious. In addition to a burst of flavor, you also get a scent explosion that really takes this dish to another level. This recipe will raise eyebrows and be the topic of discussion for weeks after you serve it. Plus, who doesn't love bananas and caramel? Thanks Chef Alex Atala, for sharing!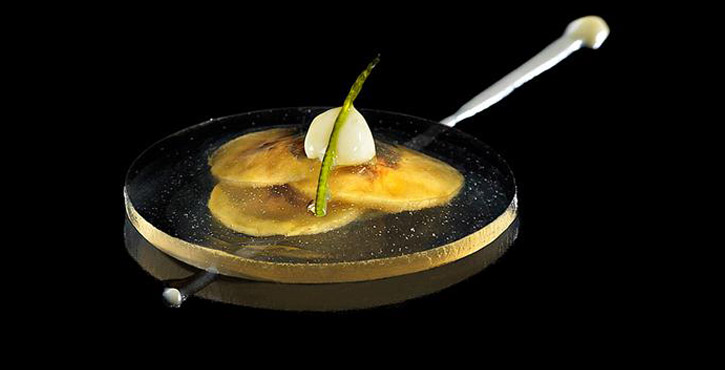 At his D.O.M. restaurant he sometimes serves this ravioli with a small priprioca scented flan as shown below.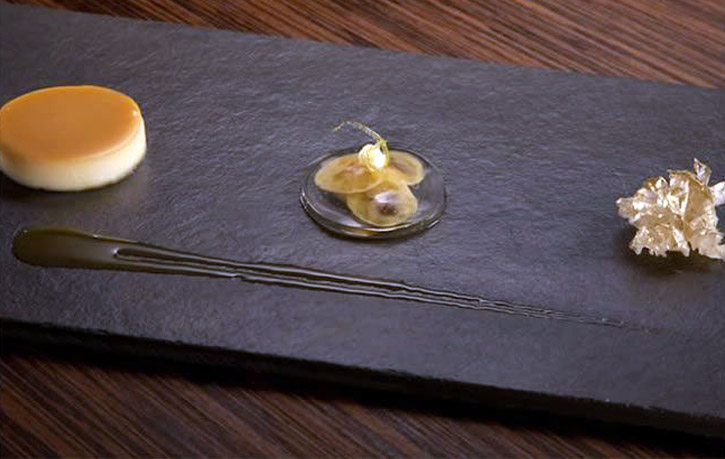 Ingredients
For the Priprioca Caramel
- 160 g (5.64 oz.) confectioner's sugar
- 80 ml (2.71 oz.) water
- 10 ml (0.33 oz.) priprioca essence (if not available you can replace with a patchouly food essential oil for example)
For the Pastry Cream
- 40 g (1.42 oz.) pasteurized egg yolk
- 40 g (1.42 oz.) confectionarer's sugar
- 8 g (0.28 oz.) wheat flour
- 200 ml (6.76 oz.) milk
For the Lemon and Banana Ravioli
- 300 g (10.58 oz.) banana
- 175 g (6.173 oz.) confectioner's sugar
- 175 ml (5.92 oz.) water
- 100 ml (3.38 oz.) lime juice
- 2 g (0.07 oz.) agar agar
- 20 g (0.07 oz.) gelatin sheets
For the Lemon Zest
- 500 g (17.64 oz.) confectioner's sugar
- 500 ml (16.91 oz.) water
- Zest from 2 limes, cut in long thin strips using serrated peeler
Preparation
Priprioca Caramel
1 - Make a caramel with the sugar and half of the water until it reaches 190°C (158°F).
2 - Add the other half of the water and the priprioca essence.
3 – Set aside.
Pastry Cream
1 - Whisk the egg yolks, sugar and flour in a bowl.
2 - Boil the milk, just to a simmer.
3 - Add the milk to the yolks slowly while whisking, to temper the eggs.
4 - Strain the mixture and cook on low heat, stirring constantly for about five minutes.
5 - Transfer it from the heat to a bowl and let it cool in an icy bain-marie.
6 - Cover the cream with cling film, placing it against the surface, so it will not form a crust.
Lemon and banana ravioli
1 - Cut the banana in fine slices keeping their round shape.
2 - Boil all the ingredients, except the gelatin and bananas.
3 - Add the hydrated gelatin sheets.
4 - Put the jelly on a tray, spreading it with a thickness of approximately 2 mm and allow to set.
5 - Once set, cut the jelly into circles with a round ring, 5 cm in diameter.
Caramelized Lemon Zest
1- Heat the water and sugar and whisk until all sugar is dissolved.
2- Add lime peels and bring to a boil.
3- Reduce the heat to a low simmer and cook for about 30 minutes or until the peels are transparent and easy to bite.
4- Strain the peels and let them cool on parchment paper. Reserve in sealed container.
Assembly
1 - In your serving dish, add one layer of jelly, a drop of pastry cream, three round slices of banana and another layer of jelly on top.
2- Drop some priprioca caramel on the plate, making a line next to the ravioli.
3- Garnish with caramelized lime zest.
4- Serve and enjoy!