In sous vide cooking, temperature control is essential. Sous vide cooking requires a temperature controlled water bath and a means to vacuum seal the foods to be cooked to ensure uniform cooking at the desired temperature of doneness. There are several devices suited for cooking sous vide depending on your needs and budget.
Sous vide equipment in the past few years has become more affordable and easier to use making it a great tool for the home cook and small restaurant. For home cooks, temperature controlled water baths, such as the SousVide Supreme and the Sous Vide Immersion Circulator, are a simple and affordable solution. For restaurants, the more expensive immersion circulators are a better alternative since they are more durable, versatile and have larger capacity.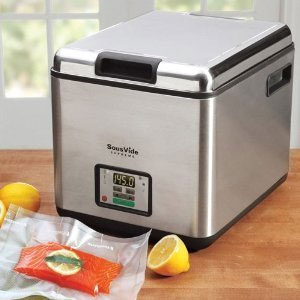 Sealing foods for sous vide cooking requires nothing more than a common kitchen clamp-style vacuum sealer, such as a FoodSaver, and food grade plastic vacuum/seal bags, approved for cooking. These work well for recipes with little or no liquid in the pouch. Many restaurants use expensive chamber-style vacuum sealers which allow for pressure control and are suitable for liquids.
What to Consider Before Buying
- Water Bath Capacity: water bath capacities of sous vide equipment can range from 5l to 120l. Keep in mind that you need to keep free space between the food pouches to allow the water to circulate. As a rule of thumb, you should fill no more than half of the water bath with food pouches. The capacity is determined by the power of the device, its size and water pump to circulate the water in the bath to ensure even distribution of heat.
-Water Bath Container: some sous vide systems include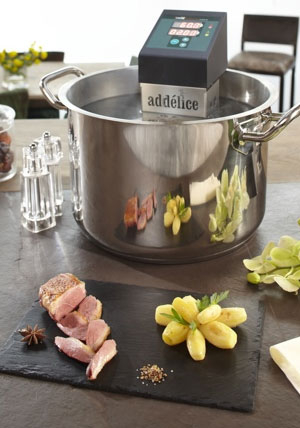 the water bath container and others don't. The water bath containers designed for sous vide have superior insulation to save energy and a lid that reduces water evaporation, very important when you are cooking for over 18 hours… Other sous vide devices, such as immersion circulators, are versatile because they can be used with almost any cooking pot but these are not insulated and have no lid that can accommodate the equipment in the pot.
- Temperature Stability: a temperature change of 1 °C can make a big difference in sous vide cooking. The best sous vide equipments have a temperature stability of ± 0.05 °C. Immersion circulators excel at maintaining stable temperatures thanks to their electronics and their water pumps that circulate water in the bath.
- Equipment Size: space is always valuable in your kitchen and countertops. Look at required space when in use and for storage. All in one temperature controlled water baths are bulky even when not in use. On the other hand, immersion circulators can be relatively small since they can be used with regular cooking pots. The Sansaire has a big plus because you can store it on the counter standing up without much space or cluttered look.
- Heating Power: this will determine the time it takes for the sous vide equipment to heat up the water to the desired temperature to start cooking.
- Safety: water evaporates during sous vide cooking and it is very important to make sure the food pouches are always immersed in the water bath. Some devices have lids to reduce water evaporation; others measure the water level and trigger an alarm and/or shut down the device if the water level is too low. Another important safety device for immersion circulators is the protective shield to prevent the cooking bags from touching the heating coil and pump.
- Maintenance and cleaning: temperature controlled water ovens tend to be the easiest to clean because there are no exposed parts and the containers are sometimes coated with a non-stick surface.
- Price: range from $200 to over $1000. Professional immersion circulators are the most expensive.
Immersion Circulators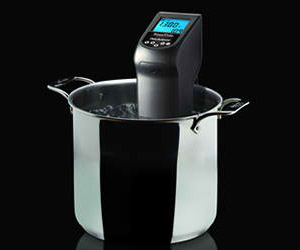 Immersion circulators are the ultimate sous vide equipment. Thanks to the water circulation pumps, these machines ensure that the heat is evenly distributed in the water bath at all times. Immersion circulators are very versatile because they can be used with stockpots of various sizes. Keep in mind that immersion circulators not only have a maximum capacity but they also have a minimum capacity. They are also small and can be easily stored when not in use. Immersion circulators also may have a float to detect low water levels to shut down the device and trigger an alarm.
In the past, immersion circulators started at $500 but the majority of them were around $1000. In our test kitchen we use the Sansaire immersion circulator which is slick and easy to use, has great water circulation and heating powder, is easy to clean and can be stored standing up on the counter unlike all other low cost immersion circulators.
Today, startup devices such as the Nomiku, Anova, and Sansaire promise professional-quality sous vide cooking at a price point under $300.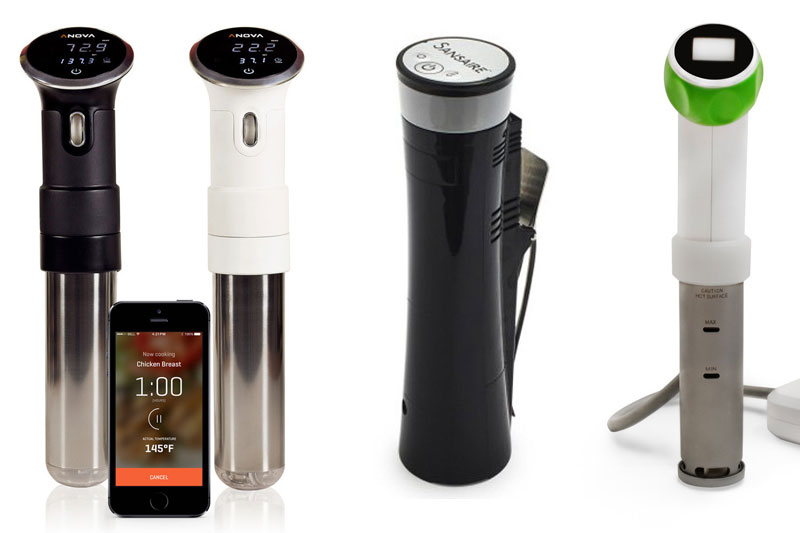 These consumer devices are designed for simplicity and are targeted at the home cook. They won't run large amounts of water, but can handle up to four gallons with ease---plenty for most home applications. Popular food blog Serious Eats tested the three most popular models and found that each had its strengths and weaknesses.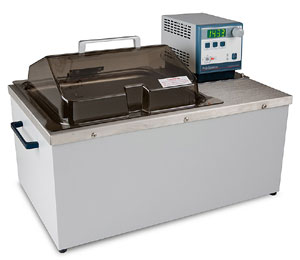 If used in a standard cooking pot, all immersion circulators suffer from heat loss and water evaporation. To solve this problem, there are sous vide thermal circulating bath systems that have an insulated water bath and a lid that is cut to fit the immersion circulator.
Rice Cookers with External Controllers (PID controllers)
It is possible to cook sous vide using a rice cooker and a temperature PID controller. A PID controlle calculates an "error" value as the difference between the measured temperature and a desired target temperature. The controller attempts to minimize the error by adjusting the heater. The PID controller has a temperature probe that is placed in the rice cooker filled with water and will turn on and off the rice cooker to maintain the temperature. The PID controllers cost around $150.
There are a few issues with this method and I don't recommend it unless you already have a PID controller and you just want to try sous vide before buying a device made for sous vide cooking. This may have been a good solution when you had to spend over $1000 for an immersion circulator but now there are more affordable alternatives.
First, you need a large rice cooker which is probably not the one most of you already have. It needs to be large enough to fit the food pouches and allow for easy water circulation.
Second, the heat distribution is not even. Rice cookers have the heating device located at the bottom of the container and rely on natural convection to distribute the heat. This can result in significant temperature differences in the water bath.
Third, there is no water level control and the PID controller will continue heating even if there is no water in the bath. Since sous vide cooking often requires several hours, it is not uncommon to experience low water levels as water evaporates.
Temperature Controlled Water Baths
These sous vide machines consist of a water bath with integrated heating element, safety features like overheating protection and temperature controller. These devices start at $300 and are very convenient for home use.
The main issue is that they are a little bulky and take considerable countertop space when not in use. They are similar in size to a bread machine or large slow cooker. They also have limited capacity which makes them unsuitable for commercial use. These devices distribute the heat more evenly than a rice cooker with a PID controller but they still do not circulate the water so there may be some slight temperature differences in the water bath. This hasn't been a problem for me and I have obtained great results with evenly cooked food.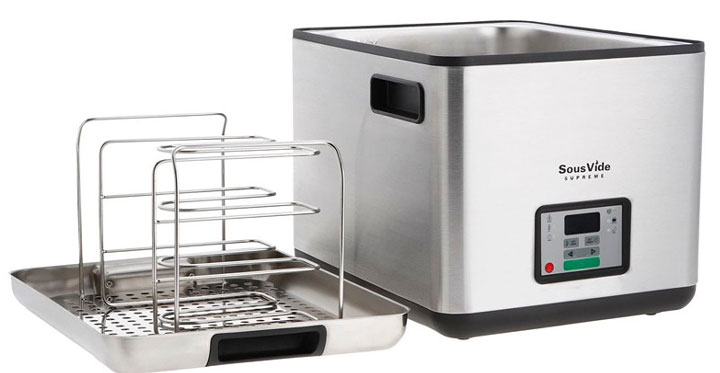 The most popular temperature controlled water baths for sous vide are the SousVide Supreme and SousVide Demi. Both the SousVide Supreme and the SousVide Demi are extremely easy to use and deliver great results. Either SousVide Supreme unit will allow you to cook all your food to perfection. The main differences are cooking capacity, footprint size and exterior finish (see chart below).
I've been testing the SousVide Demi for a few months and I think it is a great device for home use or a small restaurant. It is very easy to operate and to clean as there are no exposed parts. The interior of the water container is coated with a non-stick surface making cleaning even easier. It comes with a very convenient stainless steel rack that is used to ensure that the food pouches stay immersed in the water and to keep them separated to allow even heat distribution.
The sous vide water bath has a digital display, a timer and temperature control that is easy to operate. Just press up/down arrows to set target temperature, press on and the water bath will be ready in minutes. I usually fill it with warm water to speed up the heating process. The SousVide Demi has precise temperature control to 1 degree Fahrenheit (0.5 degrees Celsius) and is very quite (very important considering that it may be running for 18 hours to get your food ready!)
SousVide Supreme
SousVide Supreme Demi
Cooking capacity
20 four-ounce portions of food
12 four-ounce portions of food60-80% cooking capacity of the SousVide Supreme for single food pouches: leg of lamb, roasts, etc.
Dimensions & Weight
11.4"H, 11.4"W, 14.2"LAbout the size of a bread machine.13 lbs
11.3"H x 10.96"W x 12.99"LAbout the size of a Crock-Pot®.9.8 lbs
Exterior
Stainless steel shell with brushed stainless finishStainless steel lid
Coated steel shellAvailable in 5 colors: black, gray, white, cobalt blue and red.Polished aluminum lid.
Interior
Stainless steel
Anodized aluminum interior
Working Capacity
10 liters/2.6 gallons
8.7 liters/2.3 gallons
Accessories included

Detachable power cord

Perforated bottom grill designed to generate thermal turbulence

User Manual, Recipe book with 16 delicious recipes, and cooking temperature and time chart

Instructional DVD

Stainless steel universal pouch rack may be used in three positions to separate cooking pouches and ensure food remains completely submerged for even cooking

Insulating lid blanket

Sample selection of SousVide Supreme  Seasoning Blends

Detachable power cord

Perforated bottom grill designed to generate thermal turbulence

User Manual, Recipe book with 16 delicious recipes, and cooking temperature and time chart

Instructional DVD

Stainless steel rack to elevate food pouches from the bottom. (The larger universal pouch rack contained in the SousVide Supreme may be purchased separately.)

Insulating lid blanket

Price - suggested retail
$399.00
$299.00
Parts of this course were adapted from Sous Vide Cooking: An Introduction by Douglas Baldwin