Dispersing Aromas with Dry Ice "Vapor"
Releasing aromas in the atmosphere to complement a dish is a common technique used by molecular gastronomy chefs Heston Blumenthal and others to bring sensory experiences to diners. It is believed that as much as 80 percent or more of what we perceive as taste is actually aroma.
Molecular gastronomy chefs use multiple techniques to disperse aromas in the dining room including smoking, vaporization, direct burning of an element (bay leaf, oak leaf, rosemary or cinnamon stick), using a simple atomizer or by using dry ice "vapor".
Dispersing aromas with dry ice "vapor" consists of pouring a warm infusion with the desired essential oils or aromatic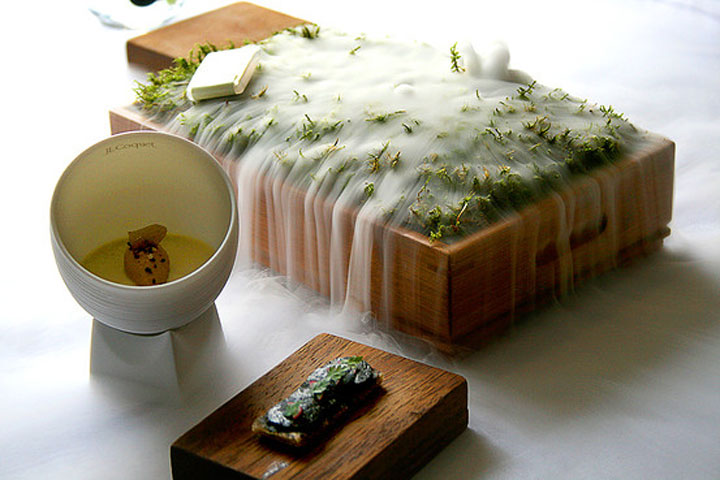 ingredients over dry ice in a container at the table.
Dry ice is simply frozen carbon dioxide. As the dry ice is heated, it evaporates back into gaseous carbon dioxide carrying the aromas of the warm infusion. The resulting aromatic vapors are used to tease the gustatory nerves and to inspire the sense of taste of diners.
Molecular gastronomy Chef Heston Blumenthal applies this technique in the Jelly of Quail dish (shown above) which includes a langoustine cream, parfait of foie gras, truffle and oak toast and scented moss. A wooden box with a piece of oak moss is brought to the table. The waiter pours a mixture of oak moss essential oil, alcohol and hot water on to the box, causing cold vapor to billow out of the moss and over the table, carrying with it a wonderful aroma of damp wood to complement the dish.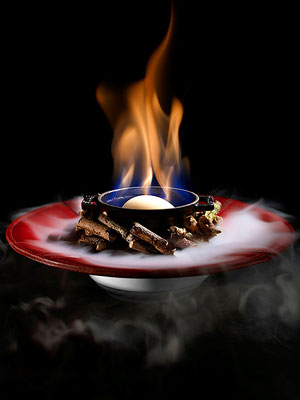 In Heston's famous Flaming Sorbet dish, the waiter pours a mixture of warm water and a specially designed scent over a block of dry ice at the table, dispersing smells of wood smoke, wood paneling and old leather to mingle with the sorbet's flavors and aromas.
In another example, molecular gastronomy chefs have used the dry ice "vapor" to evoke the fall season. A bowl with dry ice and fall ingredients such as pumpkin, apple and hay is placed on the table to enhance and complement a dish.
We used this aromatization technique in a great morel mushroom dish. Get "Stuffed Morels, Thyme Air, Port Gel, Oak Moss Dry Ice Vapor" recipe here.
Safety: read Safe Handling of Dry Ice before handling dry ice.