Chef Digilio Brings El Bulli Style to Buenos Aires
Chef Alejandro Digilio, with over 17 years of experience and his training at Spain's El Bulli, delights diners with an amazing 16 course tasting menu in his wine bar "La Vineria de Gualterio Bolivar" in Buenos Aires, Argentina. Digilio's dishes are inventive and unusual, toying with textures and flavour combinations. His creativity has brought him international recognition and in May 2009, the American Food & Wine Magazine published a list of 20 new restaurants in the world that offer 'a unique and exciting experience on the planet', among which La Vineria de Gualterio Bolivar is listed.
Chef Digilio shares with us his story, the challenges of opening a molecular gastronomy restaurant, his inspiration, creative process and step by step recipes of his most acclaimed dishes. I even had the opportunity to watch him improvise a new dish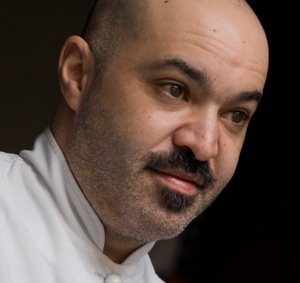 for his upcoming menu based on an idea he had in mind.
Becoming Chef Digilio
Chef Digilio and his family always loved cooking and eating. His father used to travel as a salesperson for a manufacturer and when he arrived back home, Chef Digilio would run to his car and open the trunk in search for the toys. The toys were regional food specialties like sausage, dulce de leche and cheese from the different towns his father had visited during his trip.
When he was 19, he moved to Bs As to study Science Communication. After a year and a half he decided to start working at a restaurant and got hooked with gastronomy for the rest of his life. He then went through good and terrible kitchens which taught him what to do and what not to do.
When he graduated from culinary school in 1995, he had several opportunities to work abroad but he declined all of them waiting for the right opportunity at a 3-star restaurant.  In 1999, he travelled around Europe to 5 countries visiting markets and working at several restaurants of various styles. In 2000, he finally receives the call and he is invited to work at El Bulli, an inflexion point in his culinary career.
"I Never Went to Military Academy But I Went to El Bulli"
After 15 days of arriving to El Bulli to start the season, Chef Digilio wanted to be back home. He says he never went to military academy but that he went to El Bulli. "El Bulli is like a royal brigade with a chain of command headed by the demanding Ferran Adria", he says.  But in the end he loved it. He made friends, learned techniques and how to work in a challenging environment.
The first day everyone arrived, they did nothing in the kitchen and instead they all had to place pebbles on the dirt road leading to the restaurant. They then had to unpack everything given that El Bulli had been closed for 6 months.
Without any new training and just relying on previous knowledge, everyone needs to start cooking and plating the first day El Bulli opens to the public. Chef Digilio got the chance to rotate through different stations in the kitchen but "you are basically assigned the task that you do best", he says. "If they notice that you are doing an amazing job when slicing bread, you'll end up slicing bread the rest of the season."
The experience at El Bulli was a great one and the beginning of the learning process in molecular gastronomy for Chef Digilio. Spherification and other techniques were created by Ferran Adria after his journey through el Bulli and he learned those techniques on his own, practicing and making mistakes. He then had formal training in Sous Vide given the health risks of the technique. He also purchased many famous cooking books but he admits that he never opened them and they are just a decoration in his house. He does read chemistry books and what he calls the bible of molecular gastronomy, "On Food and Cooking" by Harold McGee.
Chef Digilio prefers not to read recipes because that limits his creativity and without wanting he ends up copying parts of those recipes thus reducing the originality of his dishes. When he does copy an idea from another Chef on purpose, he mentions that on his menu and it is like a tribute to that famous dish and Chef.
"If I Wanted a High Profit Restaurant, I Would be Cooking Pasta"
Chef Digilio owned other restaurants in the past but La Vineria de Gualterio Bolivar, which opened in 2007, is his dream come true. The first molecular gastronomy restaurant with tasting menu in Buenos Aires serves an amazing 16 course degustation menu for under US$ 70. "It is a very difficult task to start a restaurant with such a different value proposition and convince the public to let you serve them what you want", says Digilio. Finding the right molecular gastronomy ingredients and equipment in Argentina was also a challenge.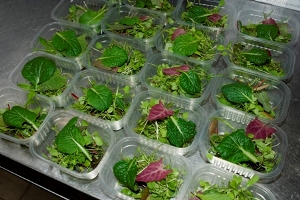 Chef Digilio has been doing an awesome job with the restaurant that has been opened for 3 years without the help of external investors. But he does admit that if he wanted to have a restaurant based on profitability he would have started a pasta or pizza restaurant. But this is more than making money for him, it is about the passion he has for molecular gastronomy. He uses the best quality ingredients and his menus have between 250 and 350 ingredients. He says his menu is really filling. He serves 900 g (32 oz) to 1.1Kg (38 oz) of food per person which is what it is normally estimated for parties while a normal menu is about 650g (23 oz).
His customers are mostly foreigners who travel around the world eating at famous restaurants. But Chef Digilio says, "The local public is the most difficult to please".
In addition to taking care of the restaurant he also teaches in culinary school, has a small class at his restaurant on Saturdays and he is always ready for new projects. He recently started a project with two physics, one chemist and one musician and mathematician. The name of the project is "The taste of music" and they study the associations between primary tastes and certain musical patterns. (read about "The taste of music")
"A Menu is Like a Song With Intro, Chorus, Verse and Bridge"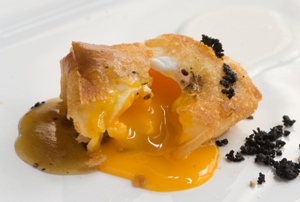 Chef Digilio changes the 16 course tasting menu at La Vineria twice a year to create what he calls the Autumn/Winter and Spring/Summer collections. I had the pleasure of working with Chef Digilio in the kitchen improvising a new dish for his new menu based on an idea he had in mind (read about this new dish New Ocean and Mountain).
He serves appetizers, a salad, an egg dish, 3 or 4 fish and seafood dishes, 3 beef dishes, 3 desserts and petit fours. He changes the dishes but the structure is always the same and he tries to make it coherent from the beginning to the end. Chef Digilio used to be a musician and he compares creating the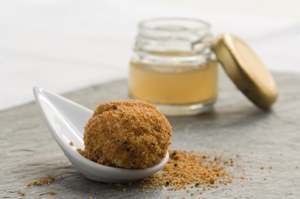 menu with writing a song with an introduction, chorus, verse and bridge. Before deciding on the final menu he usually first comes up with 3 menus that end up in the trash. When creating his latest menu, he ended up trashing a menu and starting all over again 3 days before the release.
The creativity and inspiration comes from working hard every day: thinking, talking, writing, drawing, observing and going to the market. He says it is essential to go to the market to get inspired by what's fresh, the colors, the aromas and ideas start popping. The menu composition process is completely egocentric and he does not share it with anyone. He does share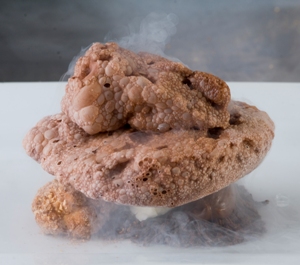 the execution with the rest of the team.
All of his dishes have a story and reflect his own life. The most acclaimed dish is the "Egg, Bread, Truffle", a runny egg yolk wrapped in thinly sliced bread and pan-fried. He plans to keep it in the menu until he can come up with a better egg dish. Today, this is not his favorite dish because he is bored of it. His two favorites are "Truffle of Sauce Grande", a garlic foam covered in bread crumbs - his latest creation- and "Ocean and Mountain", a controversial dish that some customers love and others don't: mousse of lamb tongue cooked Sous Vide wrapped in a thin film of blanched pumpkin, dehydrated scallop powder, seaweed salad and a consommé of fish and seaweed poured at the table. Strong plate with excellent concept and Asian influence.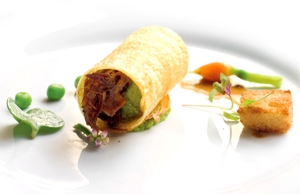 Pere Castells (scientist and contributor to the research team of El Bulli Taller, Ferran Adria's creative workshop and Head of Fundacion Alicia's research department) visited Chef Digilio's wine bar and for the first time ever in a restaurant of this type he asked to repeat his favorite dish, "Lamb without Lamb". The dish is inspired on a lamb stew that Chef Digilio's father used to make when he was a child but in this case he removes the lamb and serves it inside a tube of a very thin slice of potato that is made by tying it around a metal tube and deep frying it at medium temperature. The stew has an amazing lamb taste but there is no lamb in it. When I asked him "what do you do with the lamb?" he smiled and replied "What do you think? I take it home and eat it."
His favorite technique is Sous Vide after he plays and has fun with liquid nitrogen. "Sous Vide is an unlimited technique that allows to cook for serving and preserving food", Chef Digilio says. He also has fun with Gelification and Spherification but he says it is critical to keep a balance and don't overuse any technique. "The food needs to taste great. I first know how to stew and then I do the rest", says Chef Digilio.
Next time you visit Bs. As., I definitely recommend going to La Vineria de Gualterio Bolivar and enjoying an extraordinary 16 course menu with amazing Argentinean wines. Stay tuned for  step by step recipes of his most acclaimed dishes!
La Vineria de Gualterio Bolivar - email: lavineriadebolivar@gmail.com / web: www.lavineriadegualteriobolivar.com