Eneko Atxa: Sustainable Cuisine, Lab, Greenhouse, Winery
Whether you're speaking with Chef Eneko Atxa or enjoying his food, you can't help but notice that his love of the land is a driving force behind all that he does. His restaurant, Azurmendi, is rapidly becoming a model for sustainable restaurants and chefs who strive to showcase local ingredients. Perched upon a hillside in the Gorka Izaguirre winery, the glass-walled Azurmendi is part restaurant, part winery, part greenhouse and part science lab, all working together to bring forth the best food that the Basque Country in Spain has to offer.
Atxa, who was recently awarded his third Michelin star at only 35 years old, thinks of Azurmendi as his home and ensures that all of his guests feel completely welcome as well.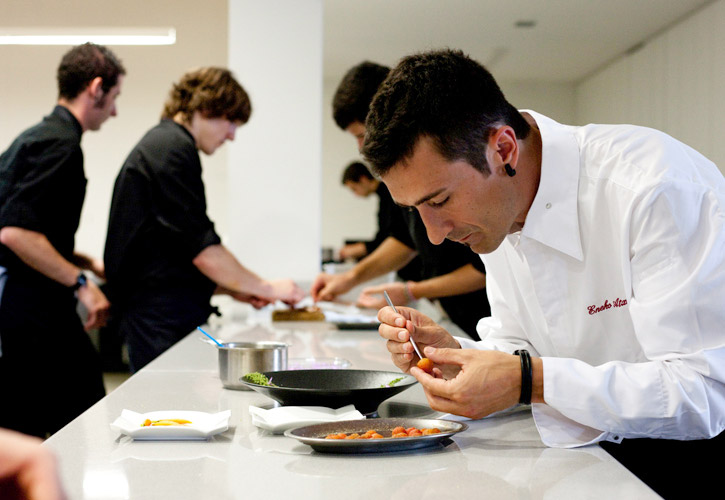 You won't just eat at his restaurant, you'll get a full tour of the facility that helps you to understand exactly how important sustainability, quality, and supporting the local eco-scape are to Eneko Atxa.
Azurmendi: the Restaurant, Lab and Greenhouse
Though the restaurant is located on a hill next to a major highway, the experience isn't dampened by road noise or views of passing cars since it's located so much higher than the actual road. The glass-encased building looks like a cube with a grass roof, which is pretty much what it is.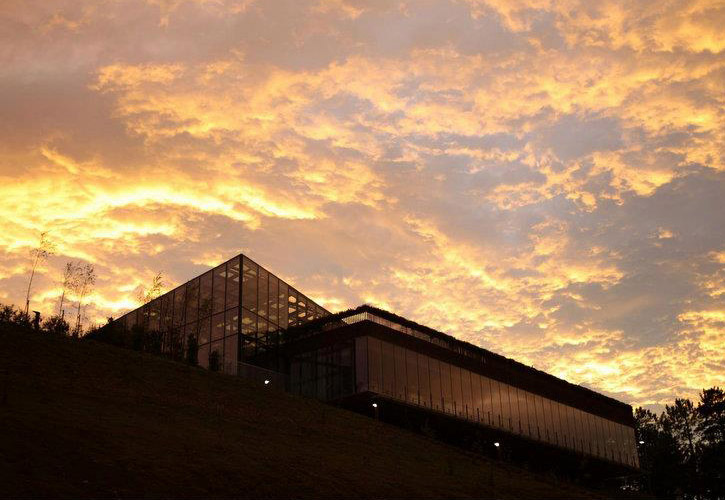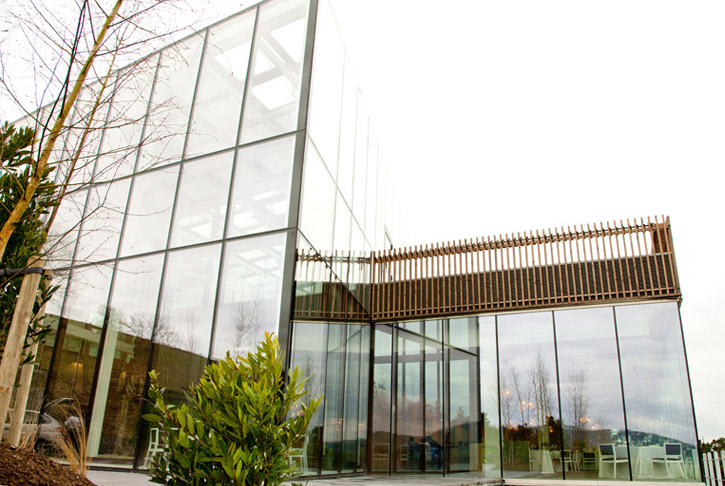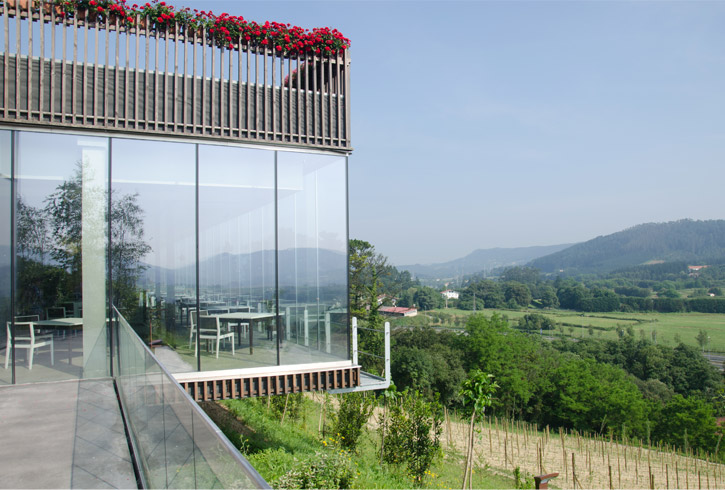 During the building process, sustainability was central to the design. Solar panels generate much of the power used in the restaurant and rain water is recycled for water needs. The building is heated using geo-thermal energy and there are electric car chargers for guests.
The rooftop of the building holds a garden and greenhouse that showcase about 35 varieties of local produce and herbs. There are also a variety of plants meant to create an accurate local geoscape in order to attract the right insects and just make it as close to natural as possible. Though it appears to be a standard greenhouse, it's actually a state-of-the-art facility that has computers monitoring the climate and ensuring that temperatures, humidity and plant nutrition are exactly ideal for each individual plant.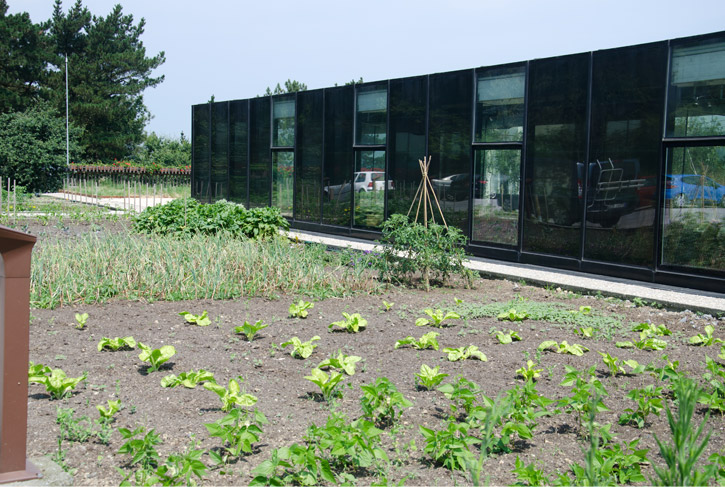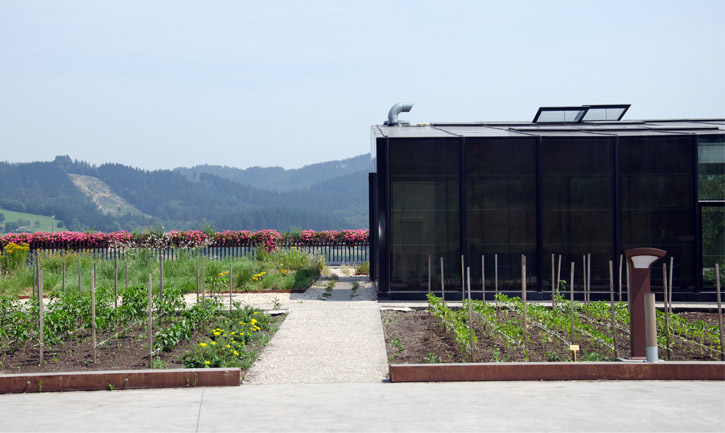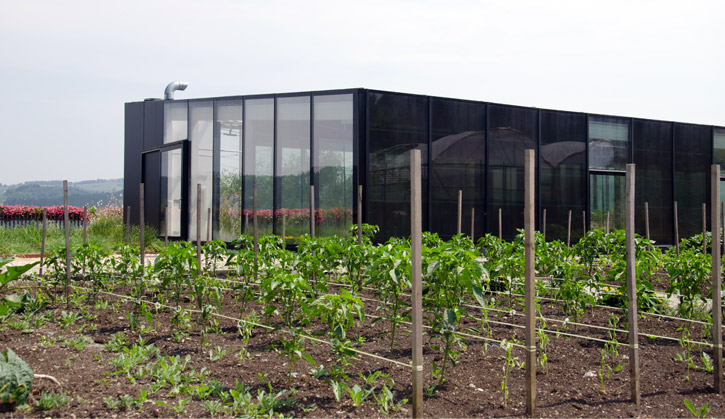 A separate building houses the center of investigation, which is essentially a modern gastronomy lab. This is where different techniques are explored and where many of Chef Atxa's ideas come from. Just as the greenhouse is state-of-the-art, so too is this lab. Cutting edge processes such as ultrasound are being used to take molecular gastronomy to the next level using local produce and a holistic approach to eating.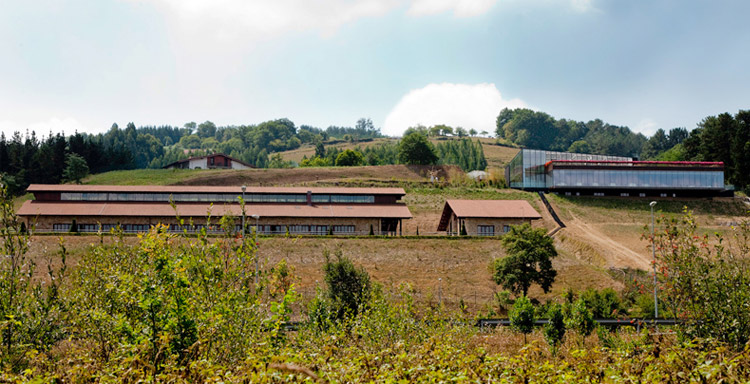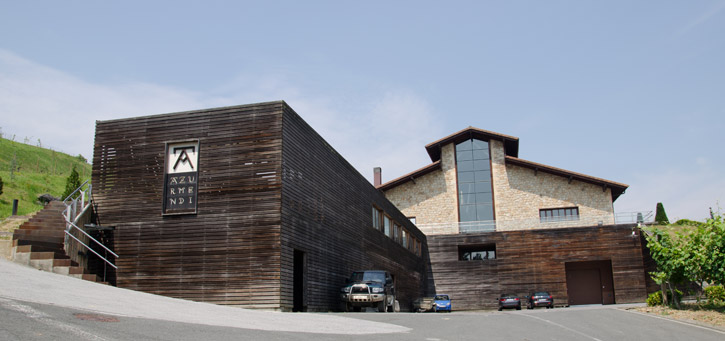 Chef Atxa strives to create a dining experience that respects the origins of the food and believes that scent and sight are just as important as flavor as means to that end. He has discovered ways to use ultrasounds to infuse oil in 45 minutes instead of months and to bring the scent of the sea tableside to pair with his seafood dishes. Centrifuging is also used to separate stocks into three distinct parts: the fats, the clarified liquid and the dehydrated, intensely flavorful particles. Though research is intense, no artificial flavors are created; the focus is always on getting the most natural flavor from each ingredient.
Eneko Atxa: Chef and Environmentalist
Azurmendi is situated on family land and is where Eneko Atxa is from. He began cooking in local restaurants at the age of 15 and earned his chef's certificate by 17. He's studied under some of the world's greatest chefs and has used the knowledge that he gained to create dishes that represent who he is and who he wants to be. Chef Eneko Atxa has passed through the kitchens of Mugaritz, Martin Berasategui, Baserri Maitea, Asador Zaldua, Andra Mari and Etxebarri.
If you ask 35-year-old chef Eneko Atxa what his cooking is, he'll give you an incredibly succinct answer. "I understand gastronomy as a universal language that talks about who we are, where we were born, what we want to do, what we want to show the world, and where we want to get to." In essence, his cooking is a culmination of every one of his life experiences and his dreams up to this point. His close affinity for the land shines through via Azurmendi. The unique location allows them to highlight the offerings of both land and sea throughout the seasons, and that is exactly what they do.
Though the restaurant is one of the most sustainable restaurants in Europe, the gardens at Azurmendi produce only a small sampling of vegetables and herbs.  In Chef Atxa's mind, sustainability also involves working with local producers in order to keep the traditions alive and to keep production at the local level healthy and thriving. From farmers to wine producers, he shares the results of his research as well as his insight with them in order to keep the local economy thriving. He uses his greenhouse partly to showcase local produce and partly to experiment and find ways to improve the food that is central to each of his dishes.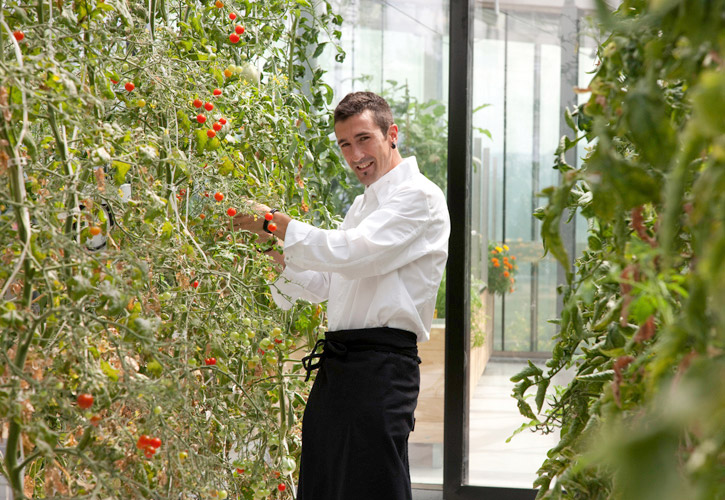 While we were visiting, we had the pleasure of attending a meeting with Chef Atxa and a local young cheese maker. We received a wonderful bit of information about the cheese making process and the different flavors that develop as the cheese ages during the first two months.  We learned about the fermentation process and the different bacterias used and just basically got a detailed explanation of the process from animal to table.
We also got to witness Chef's creativity and motivation at work. He asked the cheese maker what the flavor changes were at 3 months. When the man replied that he didn't know because he sells them before then. "OK," Eneko says. "We'll do it ourselves." He then ordered his staff to make a purchase for experimental purposes.
Next: What inspires Chef Atxa to create new dishes, the techniques and the experience at Azurmendi.