Molecular Gastronomy at Harvard
The Harvard School of Engineering and Applied Sciences ("SEAS") and the Alícia Foundation, a nonprofit organization devoted to food and science, developed a new general education science course, "Science and Cooking: From Haute Cuisine to the Science of Soft Matter", debuting in the Fall of 2010. The course used food and cooking to explicate fundamental principles in applied physics and engineering.
Limited to currently enrolled Harvard undergraduates, the class brought together eminent Harvard researchers and world-class molecular gastronomy chefs, including Ferran Adria (El Bulli), Jose Andres (The Bazaar, Minibar, Jaleo), Wylie Dufresne (wd-50) and Dan Barber (Blue Hill), as well as food scholar and writer Harold McGee, one of the leading authorities on kitchen science.
The molecular gastronomy class has drawn unprecedented

interest, according to Michael Patrick Rutter, communications director of the Harvard School of Engineering and Applied Sciences. About 700 students applied for the 300 or so spots. The university then held a lottery to determine who would be admitted; some students wrote essays and appeals in the hopes of aiding their chances.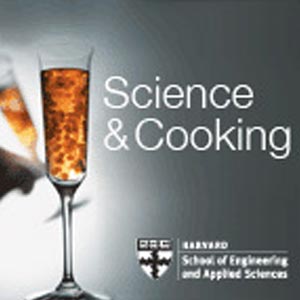 The class consisted of the following 12 lectures and all of them are publicly available on YouTube for free. I will be adding summaries and main takeaways of these lectures to this blog to help you decide if you want to take the time to view the full lecture. Most of them are between 1.5 and 2 hours long.  
1- Science and Cooking: A Dialogue. Speakers: Harold McGee, Ferran Adria (elBulli), José Andrés (minibar by josé andrés, Jaleo, The Bazaar) with commentary/moderation from Professors David Weitz and Michael Brenner (Harvard). Read Molecular Gastronomy 1: Science and Cooking
2- Sous-vide Cooking: a State of Matter. Speaker: Joan Roca (El Celler de Can Roca). Read Molecular Gastronomy 2: Sous-vide Cooking
3- Brain Candy: How Desserts Slow the Passage of Time. Speaker: Bill Yosses (White House Pastry Chef).
4- Olive Oil & Viscosity. Speaker: Carles Tejedor (Via Veneto).
5- Heat, Temperature, & Chocolate. Speaker: Enric Rovira.
6- Reinventing Food Texture & Flavor. Speaker: Grant Achatz (Alinea).
7- Emulsions: Concept of Stabilizing Oil &Water. Speaker: Nandu Jubany (Can Jubany).
8- Gelation. José Andrés (ThinkFoodGroup, minibar, Jaleo).
9- Browning & Oxidations. Carme Ruscalleda (Sant Pau, Sant Pau de Tòquio).
10- Meat Glue Mania. Wylie Dufresne (wd~50).
11- Cultivating Flavor: A Recipe for the Recipe. Dan Barber (Blue Hill).
12- Creative Ceilings: How We Use Errors, Failure and Physical Limitations as Catalysts for Culinary Innovation. David Chang (momofuku).