Quay – Australia's Most Awarded Restaurant
Recently, I had the enlightening opportunity to interview Peter Gilmore, head chef of Quay and one of the most respected chefs in Australia. Located in The Rocks just in front of the iconic Opera House and the Sydney Bridge, Quay has one of the best locations in Sydney and in the last few years has gained quite a bit of recognition in the global culinary scene.
Voted best restaurant in Australasia and number 48 in the 2013 World's 50 Best Restaurants by San Pellegrino, Quay's forward-thinking tactics have helped to place it on the map. They have also been awarded the title, "The Best Restaurant in Australia" for the last 3 years by Australia Food and Traveller's Guide.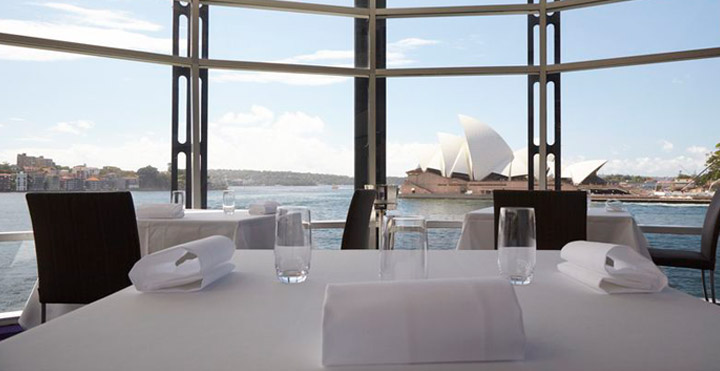 "To maintain this level, the consistency in food and service is important but the biggest thing is the constant innovation. As a chef you can't ever sit still, you have to keep reinventing to keep your customers, critics and mainly yourself excited", says Gilmore.
Peter Gilmore's food has a unique style, both in flavor and appearance, that's not easy to find today. As he explained, Australia is a young country formed by many different cultures. "Here you grow up eating great Chinese, Thai, Italian and Lebanese food. During my apprenticeship, I was not strongly influenced by any particular chef or food style. Today in the restaurant, I have the freedom to use a Chinese master stock combined with a French technique with other ingredients."
As his book says, Chef Gilmore's food truly is "Inspired by Nature". This philosophy started 7 years ago when he moved to a new house with a big backyard and he started growing vegetables and herbs for his family.
"There I realized how important it was to be in touch with the plant's life cycle and I discovered that there are hundreds of great products that we normally don't see in the markets. And really the discovery of this diversity has made me change my whole approach to cooking," says the chef.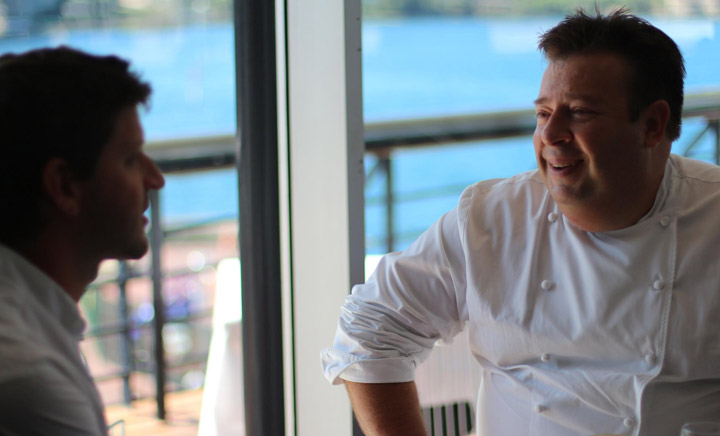 Gilmore is probably the first chef in Australia to embrace this idea of food and today Quay has two farms outside of Sydney with extensive gardens full of fresh fruits, vegetables and herbs grown just for the restaurant.
Although Quay is not a 'molecular' restaurant, the style is modern in its own way because of the interesting flavor combinations and elegant presentation of the dishes. Chef Gilmore admits that molecular techniques can be very good, and they use some ingredients such as xanthan and agar agar to enhance and adjust the textures of the great produce they use.
The chef shared a very simple but great recipe with us that uses different textures to create an interesting and delicious dish. Stay tuned for the Smoked and Confit Pig Cheek with shiitake, shaved scallop, Jerusalem artichoke, juniper and bay.
Desserts by Chef Peter Gilmore at Quay
Snow Egg
One of Quay's most heavenly desserts, the Snow Egg is a poached meringue egg, with a "yolk" of custard apple ice-cream, coated in a crunchy golden praline maltose shell, sitting on a bed of guava granita and a slick of guava fool. The fruit used changes with the season. As Peter Gilmore has said, "The snow egg, really, is my favourite dessert". Watch the creation of the Snow Egg, the way Peter Gilmore does it.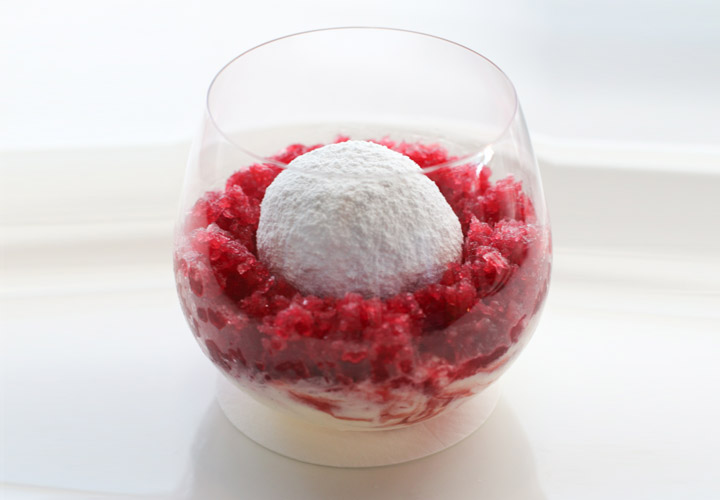 Andalucia Citrus and Almonds
This dessert is  inspired by a recent trip to southern Spain and resembles a flamenco dancer's skirt. It has a great combination of flavors including almond cake, almond nougat and almond biscuit with lemon-scented almond creme fraiche, lemon curd, orange, bergamot marmalade and roasted-almond ice-cream.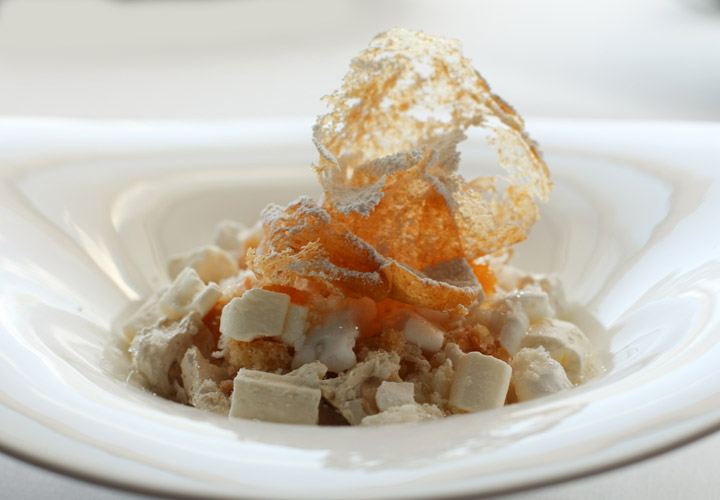 Jersey Cream, Salted Caramel, Ethereal Sheets, Prunes, Walnuts
At the bottom there is a Jersey cream that is topped with thin shards of pulled caramel, chocolate and vanilla milk skin.