Radio Restaurant – simple, creative, locally-driven food
We recently had the pleasure of speaking with former Noma sous chef Jesper Kirketerp, who now co-owns Radio Restaurant in Copenhagen with Chef Rasmus Kliim and Noma co-owner Claus Meyer. Quickly becoming known for using only the freshest local ingredients, Radio is serving up simple, creative, local cuisine based upon what's fresh that day.
Utilizing local ingredients may sound normal or even trendy until you consider the fact that Copenhagen's temperatures drop below freezing for most of the year, at least at night. Not exactly ideal growing temperatures but Radio adapts with finesse and skill to stick to their ideal of keeping it local.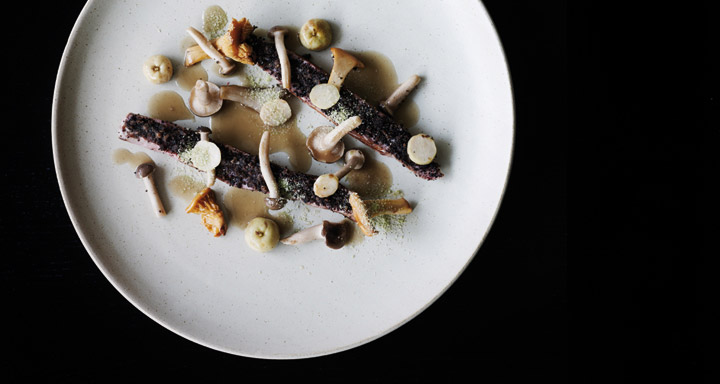 Located just 200 meters from the Lakes of Copenhagen, Radio sits unassumingly beside its namesake, the old Radio House. Chef was kind enough to take time out of his day to share with us the goals, visions and concepts that brought Radio Restaurant into existence. We tried some fantastic dishes and we'll be sharing the recipes of a couple of them.
The Restaurant
Radio Restaurant is a simple affair both in appearance and in ideology, but the flavors are anything but ordinary. The food, though creative and delicious, is simple and easy to prepare because the staff is small. There are just two chefs, Rasmus and Jesper, in the kitchen and three waiters to take care of the entire place. It's small, but does a brisk business and anything overly complicated would disrupt the flow of the kitchen as well as deviate from Radio's simplistic goals.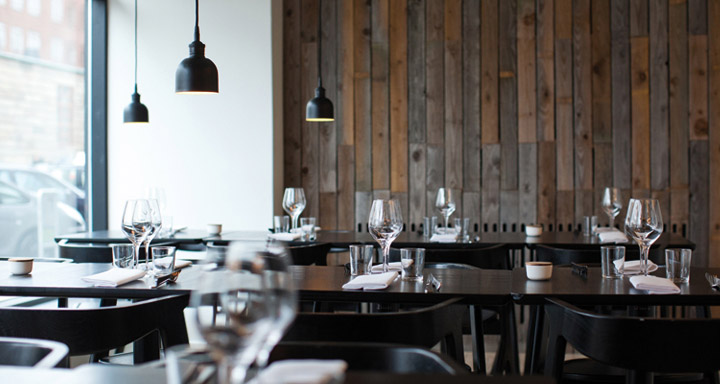 Radio doesn't have an ala carte menu; instead, they have a 5-course menu with the first two courses being fish or shellfish, then a vegetable dish, then a meat dish and finally a sweet dish. You can also choose just to have 3 of those courses and you may add one of their ever-changing dishes of the day. The reason that the menu isn't set is because it's determined by what local foods are fresh right then.
Cooking methods vary throughout the courses and are determined by what works best with each ingredient. They use many modern techniques including foams, low temperature cooking and sous vide cooking. Each method is chosen because it's the best for the dish, not because it's fancy and modern.
Chef Jesper summed up the concept of their restaurant when he told us, "We haven't said it's a Nordic kitchen; our restaurant here was opened up to offer local cuisine. We try to get the best ingredients from the local producers and that's what we want to do. You can find many of our ingredients in Nordic food, but this is local cuisine."
To that end, they use as many local growers, fishermen and farmers as possible in order to keep everything on their menu fresh and local. They also pride themselves on simple yet creative dishes that highlight the ingredients rather than the methods.
The Chefs
Chef Jesper Kirketerp (left) gained his experience in several different distinguished restaurants throughout Europe. One of the more notable places that really influenced Radio was Noma. He was sous chef there for two years and, where Noma perhaps caters to a more sophisticated crowd by pushing the creative boundaries of cooking with fresh ingredients, Radio simplifies the concept and serves innovative dishes that everybody will love and understand. Chef Jesper has also been head chef at Restaurant MR and most recently the assisting head chef at one of the hottest restaurants in Denmark, Geranium.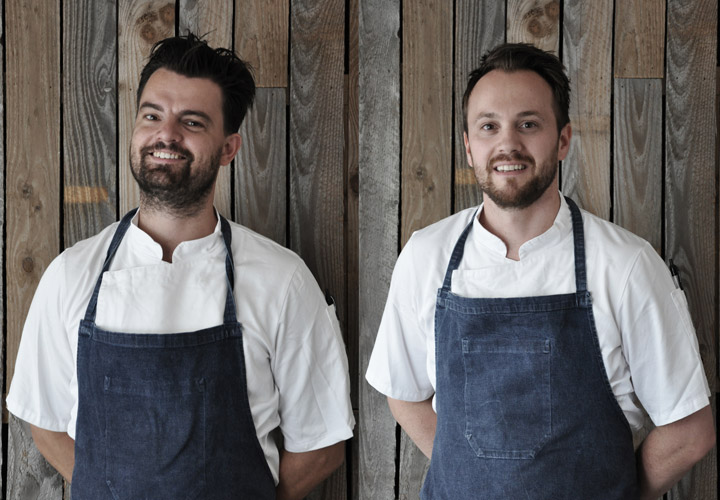 When asked what advice he has to offer to aspiring chefs, he keeps it simple: get as much experience in as many environments as possible. "Go out into the world and see how other people do things and what they're doing. Get experience, especially when you're young and don't have a ton of commitments. For the at-home cooks, go to new restaurants and try new things. Get inspired. If you put your passion into it, you'll go a long way."
Chef Rasmus Kliim (right) has gained experience from working at international and Danish top restaurants including Restaurant Paustian with Chef Bo Bech, positions at Alkimia in Barcelona, Restaurant MR on Kultorvet and most recently he was assisting head chef at Geist.
The Farm
A year prior to Radio even opening, a garden was established on a 2-hectare plot of land that has been used to grow organic produce only for the last 20 years. More than 80 crops are grown there to be used at Radio. Through the season, 99% of the vegetables that are used at Radio come from Myer's farm. Chef expounds that one of the good things about growing their own vegetables is that they can decide exactly how they want them and then grow what they need.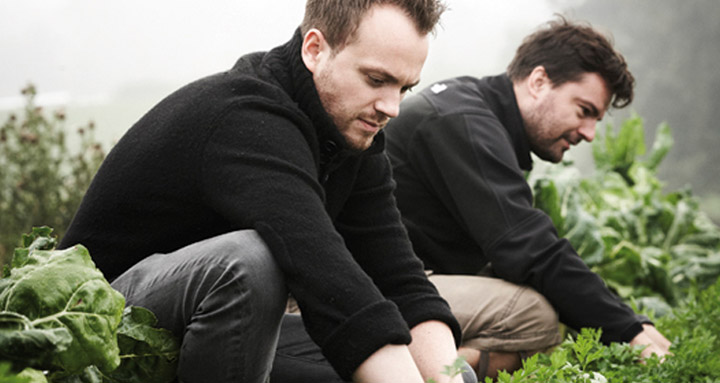 Copenhagen has a wonderful grower's network that works closely together to maintain a good supply of quality produce. Chef Jesper acknowledges that they are a great resource when Radio needs either growing advice or vegetables to supplement what's available from the farm.
Radio's menu is determined largely by what's available right then so that the ingredients are always at their peak of freshness. To that end, fruit is shipped in fresh throughout the week from the island of Lileo. Grains and leguminous fruits unique to Per Grupe's fields are also special-ordered.
But what about in winter? How does a restaurant that depends on local produce survive? Chef admits that it's more difficult, but not impossible. "There are still root vegetables, and vegetables you can keep over wintertime like onions and some mushrooms," says chef.
The Dishes
Pan-fried turnips - vinaigrette foam - mustard seeds - sunflower seeds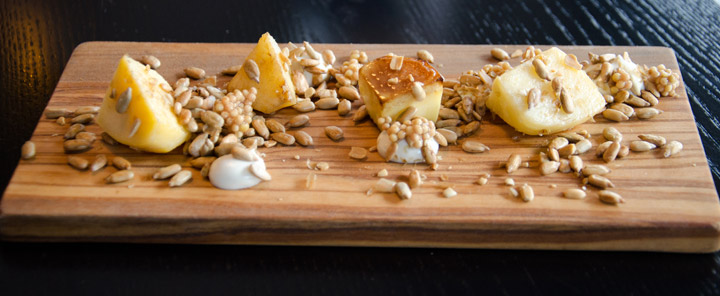 Bread - whipped butter with caramelized onions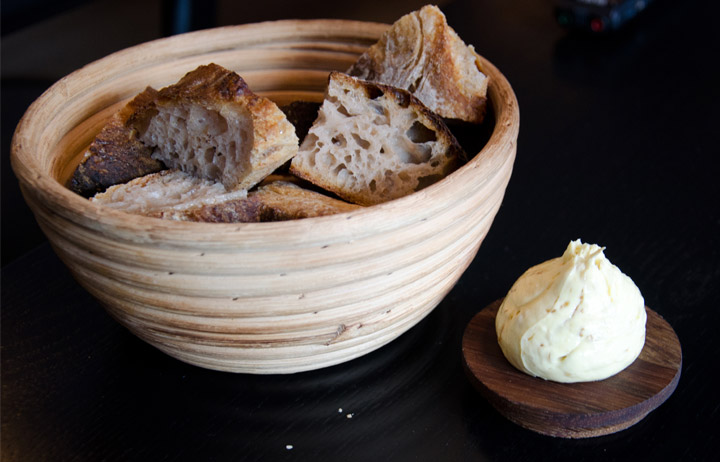 Turbot - cucumber - mussels – elderflower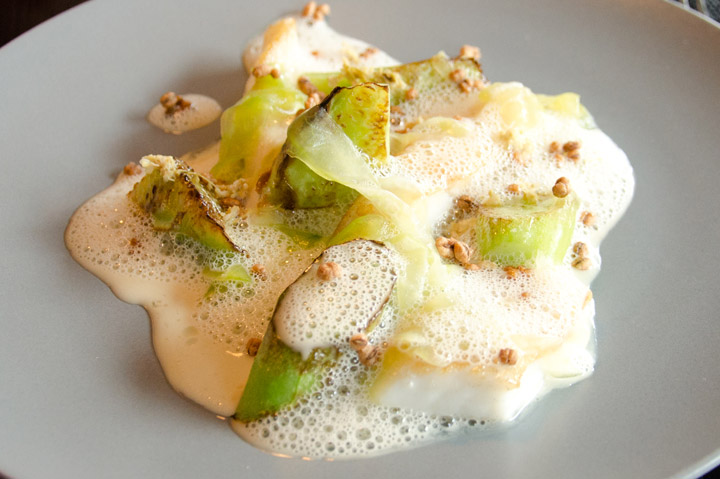 Scallops - dill - cabbage - buttermilk (recipe coming soon)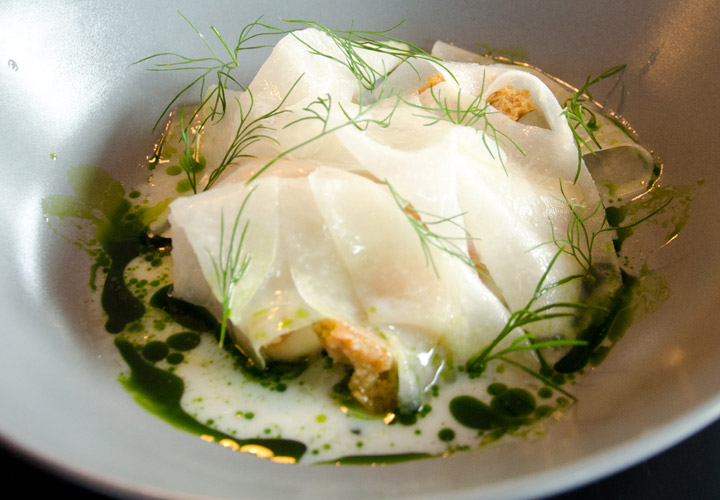 Potato - peas - smoked cheese (recipe coming soon)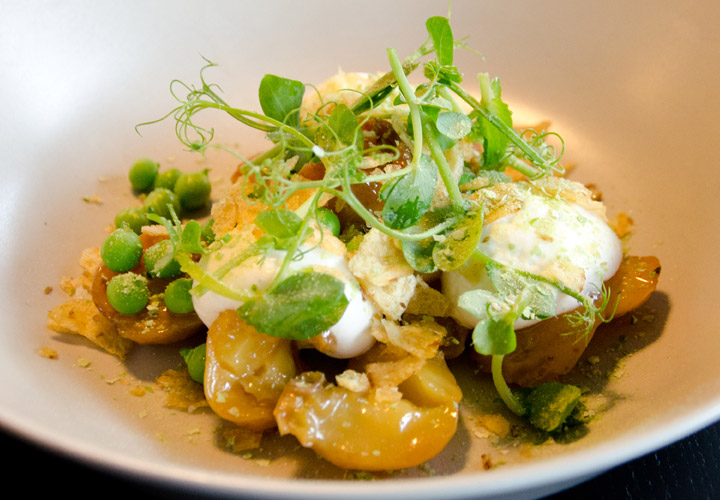 Chicken - gooseberries - lettuce - herbs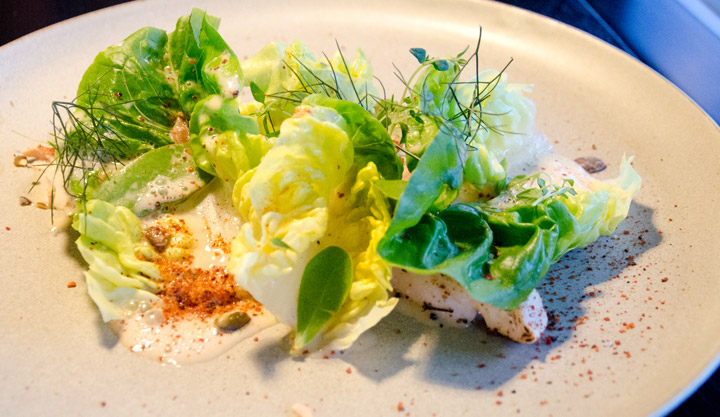 Strawberries - white chocolate – spruce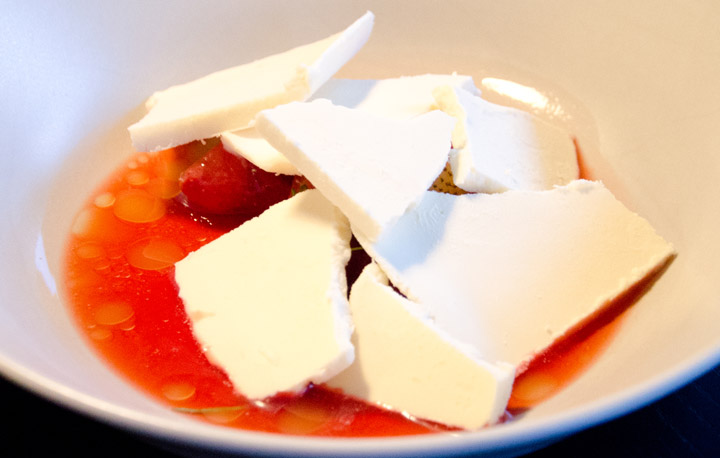 The Goal
The bottom line is that regardless of when you go, Radio is going to serve up innovative, deliciously simple dishes that allow the locally-fresh produce to shine. Their goal is to please you with their cuisine; when asked what his long-term goals for Radio are, Chef Jesper responded, "I just want to have happy people in and out for many years to come!" With the path that Radio is on, that goal seems entirely possible!