Potatoes and Peas with Smoked Cheese Foam
This was one of my favorite dishes at Radio restaurant in Copenhagen. Perfectly cooked potatoes, delicious peas and smoked cheese foam. Easy to make and delicious. Requires an iSi Whip to make the foam.
Serves 4 people
Ingredients
- 400 g (14.11 ounces) new small potatoes
- 100 g (3.53 oz.) peas
- 1/2 l (16.91 oz.) chicken stock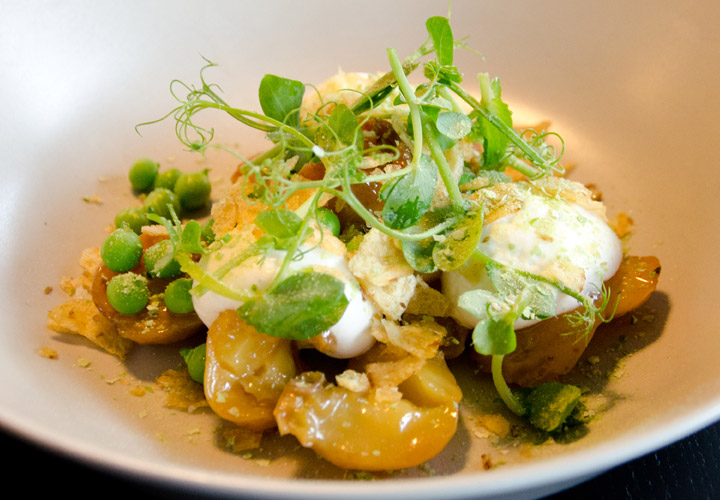 - 150 g (5.29 oz.) smoked cheese
- 150 g (5.29 oz.) egg whites
- 1 tablespoon butter
- 1 lemon, juiced
 Garnishes
Handful of all-natural plain potato chips, crushed
- 1 tablespoon pea powder
- 12 pea sprouts
Preparation
1- Boil the potatoes until tender and slice them in halves.
2- Bake them in the oven at 125°C (275°F) for about 6o minutes.
3- Blend the smoked cheese and egg whites together.
4- Add salt to taste.
5- Strain using the iSi Funnel and Sieve and put it in a iSi Whip bottle, then heat in a water bath to 60°C (140°F).
6- Clean the peas and the pea sprouts.
7- Reduce the chicken stock to a glacé.
8- Add the potatoes and the butter to the glacé.
9- Add salt and lemon juice to taste.
10- Blanch the peas in a pot with a little water.
 Assemble and Serve
1 - Put equal amounts of the potatoes in the bottom of each bowl.
2 - Sprinkle the peas around on top of the potatoes.
3 - Add 3 dots of the hot smoked cheese with the iSi Whip siphon.
4 - Garnish with crushed potato chips, pea sprouts and pea dust and serve immediately.