Levitation and Monkeys at Tru Restaurant
Chef Anthony Martin impresses with innovative presentations at one Michelin Star restaurant Tru in Chicago. Beautiful modern decor, superb and friendly service, good flavors but disappointing main dish in tasting menu.
Chef Anthony Martin has accumulated four Michelin stars and has been named Chef of the Year (2010) by Chicago Tribune. Chef Martin has worked as sous chef for Guenter Seeger and as executive sous chef for Joel Robuchon at the MGM Grand in Las Vegas before joining Tru.
Tru has a modern minimalist decor, white walls, high ceilings and several art pieces. Well spaced tables and somewhat noisy room gives you privacy. Excellent service, staff very knowledgeable and attentive but at the same time friendly and relaxed to make you feel comfortable.

The presentation of all dishes was artistic and innovative but in some cases I thought Chef Martin was trying too hard to be different and didn't work out well. It may be considered art but I am not a big fan of using mirrors and monkeys to serve food. I don't think they were elegant enough for such a restaurant but I appreciate the fact that every dish was presented in a very different way creating a unique experience.
Overall, the food was very good but there were few things memorable from a flavor standpoint. I was particularly disappointed by the main dish, jidori chicken, leaving the menu without a climax. It was not at the level it should be for a restaurant of this caliber. I really liked the lemon sorbet with geranium consomme and the mirgandises.
Grand Collection Menu
Levitating Amuse-bouche
Before we even got a chance to see the menu, a tall structure made of mirrors was placed in front of each of us. A few minutes later Chef Anthony Martin showed up to explain that we were going to experience a levitating plate. "It is a play on temperatures" he said. Chef Martin then freezes a small black disk in liquid nitrogen and he carefully places it on top of the structure with tweezers. The disk stays floating above the metallic top of the structure by about half an inch. He then prepares an amuse-bouche with potato crisp, creme fraiche and Kaluga caviar on top of the disc. As the disk approaches room temperature, it starts descending and lands softly on the metallic surface. You then grab it with your hands and eat it. I thought this was too gimmicky.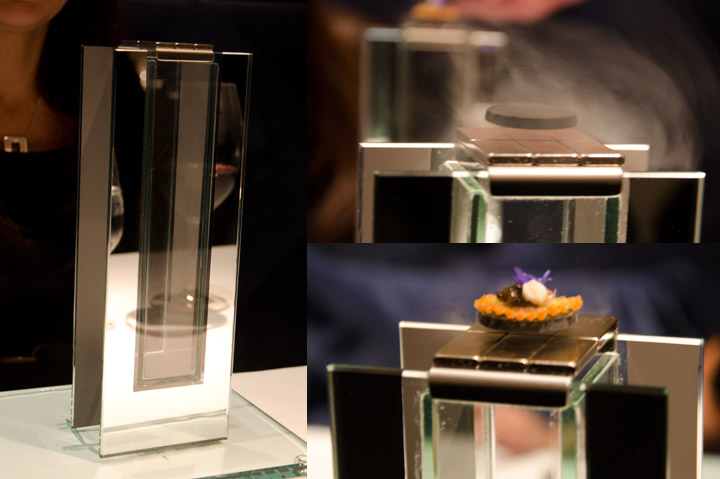 Lemon vanilla mousse, fennel puree, black olive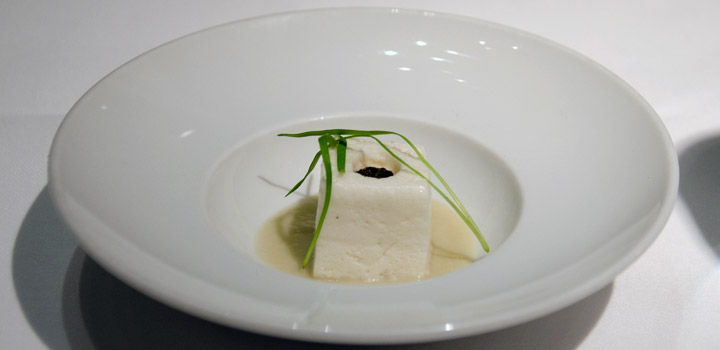 White sturgeon "caviar", avocado, hazelnut
Faux caviar made with smoked sturgeon, milk and cream on top of avocado mousse served with hazelnut crackers.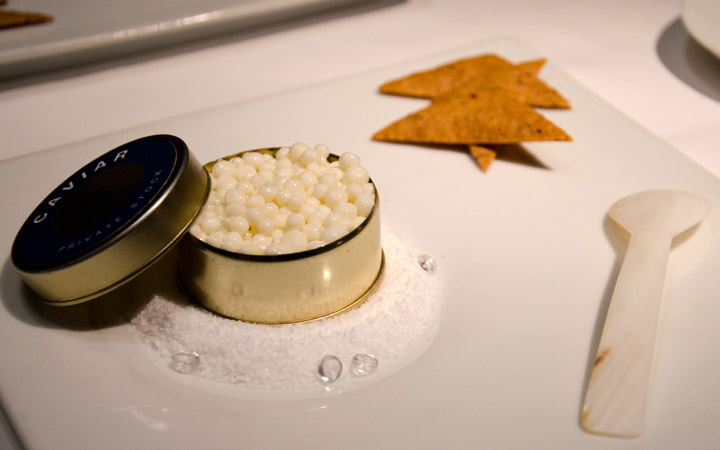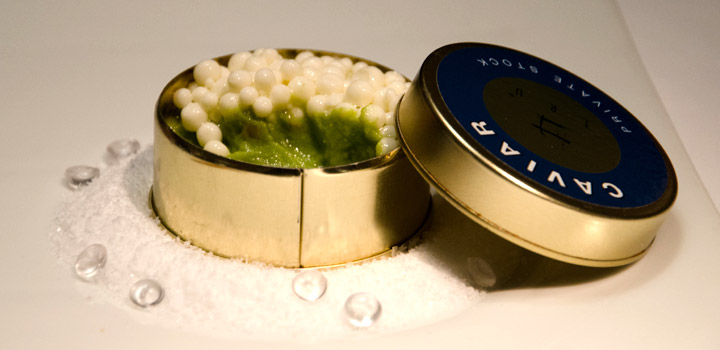 Summer tomato salad, basil
Several varieties of tomatoes, blanched and sized, with whipped white mousse and tomato gelee. In the tube there is tomato water, coriander and basil oil.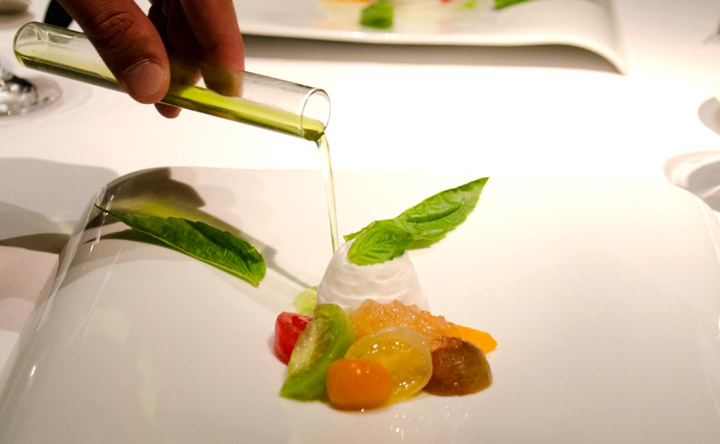 Floral artichoke, barigoule sauce, orange
Braised artichokes in white wine, mirepoix, bacon and olive oil.  Sauce made with a reduction of the braising liquid and orange. Topped with crispy artichokes and a few drops of parsley oil.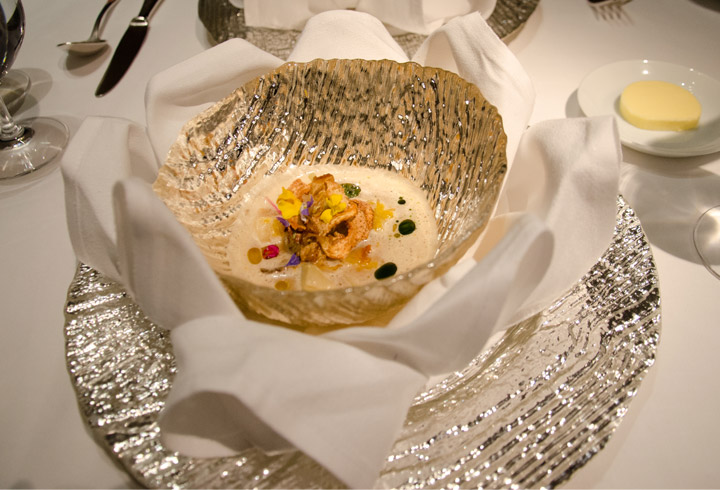 Alaskan halibut, coconut + apple, twilight pepper
Alaskan halibut served in a coconut with an emulsion of coconut milk and lemongrass with green apple, radish and chili pepper on top. Thyme coconut water in a glass to extinguish the heat.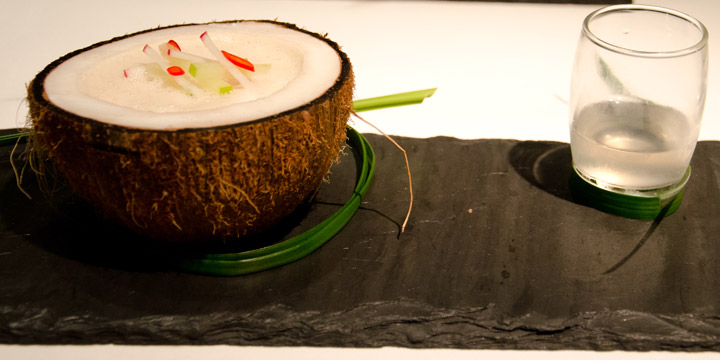 Jidori chicken + rosemary, asparagus, foie gras, black truffle
Chicken breast cooked sous vide with rosemary, foie gras creme and asparagus, mushroom duxelle, shaved black truffle on top.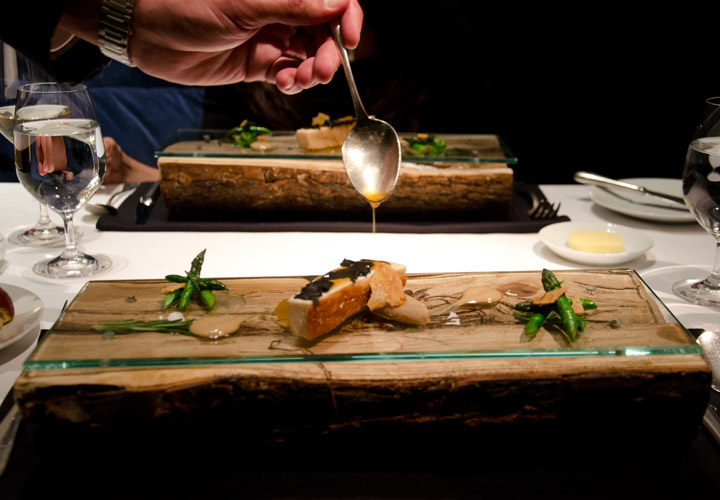 Linens out to dry
Dehydrated fruit strips: Gammy Smith apple with Aleppo pepper and pear with fennel.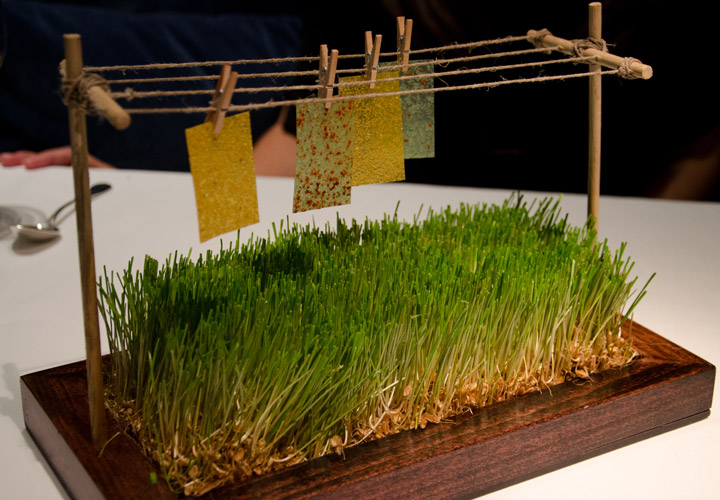 Lemon sorbet, geranium consomme
Simple but incredible flavor!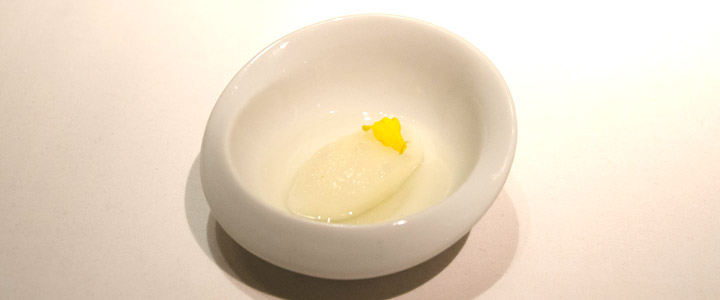 Vanilla parfait, compressed pineapple, banana compliments of George
The monkey is holding two banana desserts. In the bowl there is rolled banana leaves for decoration and the circular mirror with the banana parfait is placed on top. I really didn't like the presentation of this dish. It also seems that they don't have enough monkeys so before you finish the dish, they take the monkey so they can serve another table.
The banana parfait is placed on top of compressed pineapple and it is garnished with dried orange and almonds. The other dessert is banana ice cream with banana bread pudding.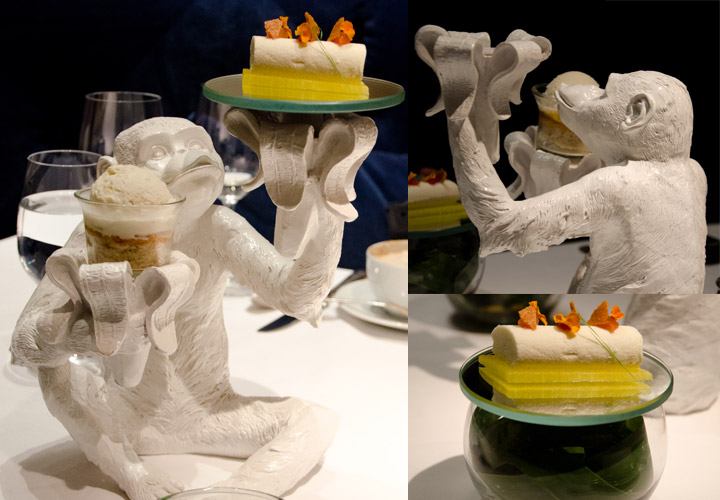 Mignardises
White chocolate macaroons, yuzu, chocolate truffle, elderflower marshmallow, lemon custard, churro covered in chocolate, cannoli, blood orange gel.
Exploding Chocolate Truffles
White chocolate filled with liquid passion fruit juice. Very delicate, explode in the mouth releasing the juice.