Nikko Spring – Carbonated Oba Cocktail
Refreshing carbonated cocktail by molecular gastronomy chef Ryan Clift from Tippling Club restaurant in Singapore.  Served in a labeled bottle, the Nikko Spring is packed with refreshing Asian flavors of oba leaf, yuzu, shochu and a touch of Lillet Blanc.
Tools Needed
- Perlini Shaker (could be replaced with ISI Whip charged with CO2)
- Blender
- Superbag (alternatively you can use a sieve lined with cheesecloth)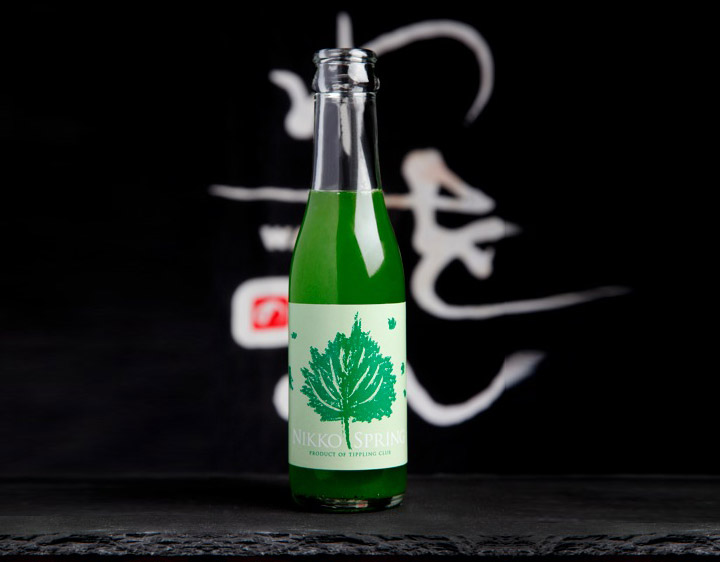 Oba Syrup (Makes ½ liter)
- 50 g (1.8 oz) Oba Leaf
- 500 g (17.6 oz) Water
- 300 g (10.6 oz) Sugar
Nikko Spring (Makes 1 Serve)
-50 ml (1.7 oz) Kinmiya Shochu
-10 ml (0.34 oz) Bijofu Yuzu (Yuzu Liqueur)
-10 ml (0.34 oz) Lillet Blanc
-15 ml (0.5 oz) Oba Syrup
-15 ml (0.5 oz) Lime Juice
Preparation
Blanched Oba leaves
1- Bring water to the boil on the stove, blanche the oba leaves in the water for 3 to 5 minutes  until the leaf color is bright green.
2- Take out leaves and submerse in an ice cold water bath.
3- Chill water used to blanche oba leves.
Oba Syrup
1- In a thermo mix or other blender add 300 g (10.6 oz) of chilled water used to blanche oba, 300 g (10.6 oz) sugar, blanched and chilled oba leaf.
2- Blend on speed 7 (medium high speed) for 10 minutes.
3- Strain through a superbag or alternatively pass through a fine sieve lined with a double layer of cheesecloth.
4- Refrigerate in sealed bottle.
Nikko Spring
1- Add all ingredients to a Perlini shaker, add 2 scoops of crushed ice. Alternatively you can use an ISI whip charged with CO2 but make sure you release all the extra CO2 before opening it.
2- Seal the shaker, charge with CO2 and Shake hard.
3- Repeat this process 3 times.
4- Let sit for 1 minute before opening to let the CO2 settle. If using ISI Whip release the extra CO2 while holding the container upright before opening.
5- Strain into labeled 150 ml bottle. Cap if necessary.