Goat Cheese, Bronte Pistachios and Strawberries
The tang of the goat cheese combines beautifully with the tartness of the strawberries, milk and white chocolate crumble, black pepper tuile, slight saltiness of the pistachios and the sweetness of the ice cream and meringue to make this a dessert that everybody will love. Though it looks whimsical and fun, the flavors and textures are complex; you get something new in every bite!
This recipe was generously shared with us by Christina Bowerman of Glass Hostaria in Rome. Situated in Trastevere just a short walk from the Piazza Trilussa, Glass is a modern yet welcoming place that, in typical Italian style, loves to delight each guest with magical flavors.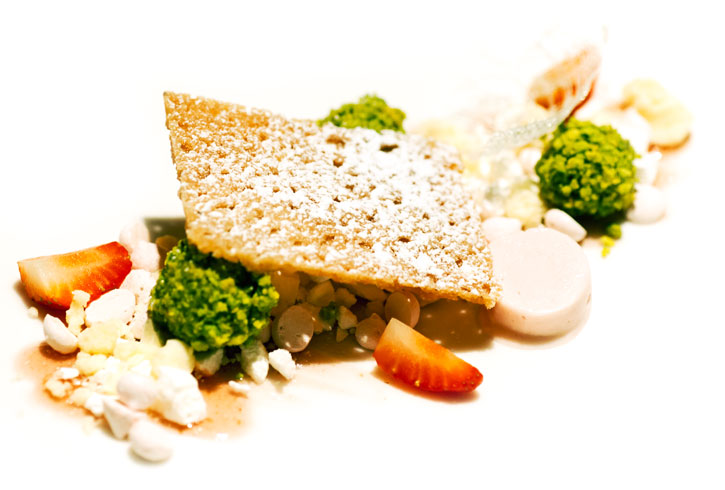 However, Glass adds a twist; inside the beautiful, ultra-modern restaurant, science melds with tradition. Using local ingredients and a genius cultivated by a love of food and modern cuisine, Christina creates contemporary, light cuisine that pairs beautifully with the wines stored in their well-stocked cellar. This dish represents the best of the old, paired with the magic of modernist techniques. Thanks Christina!
Ingredients
Yields about 6 servings
Milk Crumble Ingredients
- 55g (2oz) powdered milk
- 12g (0.42oz) cornstarch
- 35g (1.24oz) sugar
- Pinch of salt
- 50g (1.76oz) flour
- 50g (1.76oz) butter, melted
- 25 g (0.88oz) powdered milk
- 95g (3.35oz) melted white chocolate
Strawberry Ice Cream Ingredients
- 100g (3.53oz) milk
- 900g (31.74oz) cream (brought to a boil and cooled)
- 400g (14oz) strawberries (blended)
- 80g (2.82oz) glucose
- 20g (0.71oz) sugar
-1 tablespoon cold soluble gelatin
Meringues (pink and white) Ingredients
- 150g (5.29oz) egg white powder, divided in half
- 150g (5.29oz) sugar, divided in half
- 75g (2.65oz) red turnip juice
- 75g (2.65oz) water
Black Pepper Tuile Ingredients
- 100g (3.53oz) butter
- 125g (4.41oz) confectioners' sugar
- 125g (4.41oz) extra fine sugar
- 50g (1.76oz) sifted pastry flour
- Black pepper to taste
Garnish ingredients
- 30g (1.06oz) sliced strawberries cut into pieces
- 2 tablespoons strawberry syrup (simple syrup into which we add strawberry juice)
- 100g (3.53oz) goat cheese (strained)
- 50g (1.76oz) chopped pistachio nuts
- Several edible flowers, your choice
- 1 edible silver sheet
Preparation
Milk Crumble Preparation
1 - Preheat the oven to 120°C (248°F).
2 - Mix all of the first five ingredients together in a medium bowl, mixing well.
3 - Add the melted butter, using a spatula to combine.
4 - Spoon ingredients onto a baking mat and spread into a thin layer.
5 - Place in the oven and bake for 20 minutes.
6 - Cool down completely.
7 - Put the powdered milk in a clean bowl.
8 - Pour the white chocolate into the powdered milk and stir til the chocolate sets, making a crumble.
9 - Keep in the fridge or freezer until ready to use (for a month max).
Strawberry Ice Cream Preparation
1 - Mix all ingredients together and pour into an ice cream maker.
2 - Process until it becomes a soft ice cream.
3 - Put in pastry bag.
4 - Put it in a blast chiller or freezer for a few minutes to harden it up a little.
5 - Using an open bag, cut into round coins as you squeeze it out of the bag.
6 - Place in a single layer on a baking sheet and store in freezer.
Meringue Preparation
1 - Place each half of the egg white powder and sugar into a bowl.
2 - Add the beet juice to one bowl of egg white mix and the water to the other bowl of egg white mix.
3 - Whip each batch to stiff peaks.
4 - Spread on a baking sheet.
5 - Bake in the oven at 70°C (158°F) for 3 hours to dry.
6 - Crumble into pieces and store in a cool, dry container.
Black Pepper Tuile Preparation
1 - Whip butter and sugar first together in a medium bowl.
2 - Stir in the granulated sugar, flour and pepper.
3 - Spread on baking sheet.
3 - Bake in oven at 120ºC (248°F) for 7/10 minutes.
4 - Cut in squares or circles while warm.
5 - Allow to cool.
Assembly
1- Shred your edible silver paper and clean your edible flowers well. Set both aside.
2 - Spread a few strawberry slices around the plate.
3 - Drizzle with a tablespoon of strawberry syrup.
4 - Sprinkle a couple of tablespoons of each meringue and milk crumbles onto the plate.
5 - Roll goat cheese into pea-sized balls, roll in pistachios, and scatter several over meringue mixture.
6 - Arrange 3-5 ice cream coins on top of the meringue and milk crumbles.
7 - Top with a pepper tuile.
8 - Add a few edible flowers.
9 - Sprinkle some silver paper shreds over the entire plate.
10- Serve immediately.