Ferran Adrià's 5-City North American Book Tour Is Here!
Phaidon announces that Ferran Adrià's long-awaited book tour is kicking off in March of 2014. The tour dovetails nicely with the proposed groundbreaking of the new elBulli restoration project set to begin this fall.
Beginning in Vancouver and continuing through Seattle, Toronto, NYC and Chicago, the award-winning chef's tour will be a series of cocktail receptions, book signings, talks and special events designed to promote Ferran Adrià's magnum opus, elBulli 2005-2011.
The gargantuan 7-volume set chronicles the famous avant-garde restaurant's final, most creatively productive years.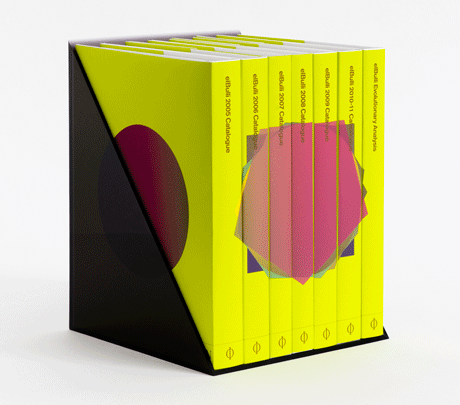 The first six volumes are devoted to each of elBulli's final years, offering honest documentation, color photographs and analysis of the restaurant's growth throughout those years. Recipes and in-depth descriptions of the creative process behind each dish explain the logical progression of elBulli's metamorphosis and eventual closing at the peak of its success.
The seventh and final volume in the collection is called Evolutionary Analysis and objectively focuses on the evolution of elBulli. It explains key discoveries and reveals the forces that influenced the methods that served to move the cutting-edge restaurant toward the next step in its evolution.
Weighing in at a whopping 40lbs, the 2720 pages contain glossy pictures, detailed recipes, and a glorious insight into the creative process that helped elBulli define avant-garde cuisine as we know it. For $625, you get 7 hardcover books in plexiglass slipcases.
If you'd like to catch Chef Adrià at one of his North American locations, here is the schedule:
VANCOUVER, BC
Saturday, March 8
2:00 pm
Ferran Adrià: A Legacy of Innovation
Intimate Lecture and Champagne Reception
The Vancouver Club
915 W. Hasting Street
Tickets: $700 (includes a copy of elBulli 2005-2011, $625)
4:00 pm
Best of Vancouver Afterparty with Ferran Adrià
Featuring tastings by local Vancouver chefs from Maenam, Blue Water Café, Tojo, Pear Tree, Vancouver Club, Thomas Haas Chocolates and Patisserie, and Vij's
The Vancouver Club
915 W. Hasting Street
VANCOUVER, BC
Barbara Jo's Books to Cooks
1740 West 2nd Avenue
To RSVP contact ptittiger@phaidon.com
SEATTLE, WA
Sunday, March 9
5:30 pm (Reception)
7:00 pm (Public Lecture)
Ferran Adrià: A Legacy of Innovation
Private Cocktail Reception Followed by Public Lecture
Food by The Walrus and the Carpenter
Wine by Gramercy Cellars and a'Maurice Cellars
Town Hall Theater
1119 8th Avenue
Tickets: $700 with reception (includes a copy of elBulli 2005-2011, $625)​
TORONTO, ON
Monday, March 10
5:45pm (Reception)
7:00pm (Public Lecture)
Indigo presents: Ferran Adrià: A Legacy of Innovation
With Special Thanks to Terroir Symposium
Private Cocktail Reception Followed by Public Lecture
Canapés by Momofuku Shōtō
Glenn Gould Theater
252 Front Street West
Tickets, $725* with reception (includes a signed copy of elBulli 2005-2011, $625)
$25* lecture only
*Ticket price subject to additional taxes and fees
NEW YORK, NY
Thursday, March 13
12:30 pm
Lavazza presents: Ferran Adrià
Public book signing
La Scuola Grande
Eataly NY
200 5th Avenue
7:00 pm (Reception)
8:15pm (Public Lecture)
Ferran Adrià: A Legacy of Innovation
Private cocktail reception followed by public lecture
92nd Street Y
1395 Lexington Avenue
Tickets, $650 with reception (includes a signed copy of elBulli 2005-2011 $625, and preferred lecture seating)
$29 lecture only
CHICAGO, IL
3:00 pm
Lavazza presents: Ferran Adrià
Public book signing
Eataly Chicago
43 East Ohio Street
Saturday, March 15
8:30 am
Lavazza presents: Ferran Adrià: A Legacy of Innovation
Lecture and book signing
International Association of Culinary Professionals Conference
Marriott Magnificent Mile
540 North Michigan Avenue
Open to registered IACP Conference Attendees
www.iacp.com
​
11:30 am (VIP Reception)
12:30 pm (Lecture and book signing)
Ferran Adrià: elBulli 2005-2011: A Legacy of Innovation
VIP Reception. Lecture and Book Signing
Balena
1633 N. Halstead Street
Tickets, $695 with VIP Reception (includes a copy of elBulli 2005-2011, $625)
$95 lecture and signing (includes a copy of A Day at elBulli, $59.95)