Dry Caramel with Sea Salt
The dry caramel is a molecular gastronomy powder created with Tapioca Maltodextrin. This recipe, is based on the molecular gastronomy technique of converting a high-fat liquid into powder using Tapioca Maltodextrin. It works really well with olive oil, hazelnut oil or any other flavored oil too.
Ingredients for Caramel Base
- 350 g (12.3 oz) sugar
- 365 g (12.9 oz) glucose
- 500 g (1lb 1.6 oz) heavy cream
- 100 g (3.5 oz) butter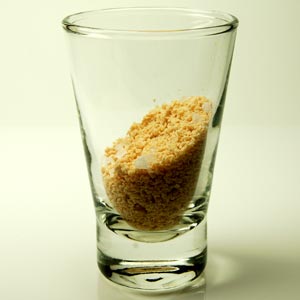 Ingredients for Dry Caramel with Salt (8 servings)
- 200 g (7.4 oz) caramel base
- 65 g (2.3 oz) Tapioca Maltodextrin
- 10 g (0.4 oz) Maldon sea salt
Preparation of Caramel Base
1- Line sheet tray with silicone mat.
2- In saucepan heat all ingredients over medium heat until it reaches 110 ˚C (230 ˚F).
3- Pour onto prepared sheet tray.
4- Let it cool down to room temperature.
Preparation of Dry Caramel with Salt
1- In food processor combine caramel base with Tapioca Maltodextrin and process until caramel base is completely absorbed. Add more Tapioca Maltodextrin if needed.
2- Divide dry caramel in 8 small glasses.
3- Season with Maldon sea salt.
Serving Suggestions
- Sprinkle bananas with dry caramel