Seared Ahi Tuna with Wasabi Air Recipe
Molecular gastronomy meets Japanese cuisine in this variation of the classical seared tuna dish. The wasabi air is not as strong as I would like but it is still a nice complement to the dish. You could make it a little stronger by adding more wasabi powder but the wasabi air starts getting a powdery texture that I don't like. If anyone knows how to improve it, please comment on this post. Thank you!
Wasabi Air Ingredients
- 300 g (10.6 oz) water
- 60 g (2.1 oz) rice vinegar
- 9 g wasabi powder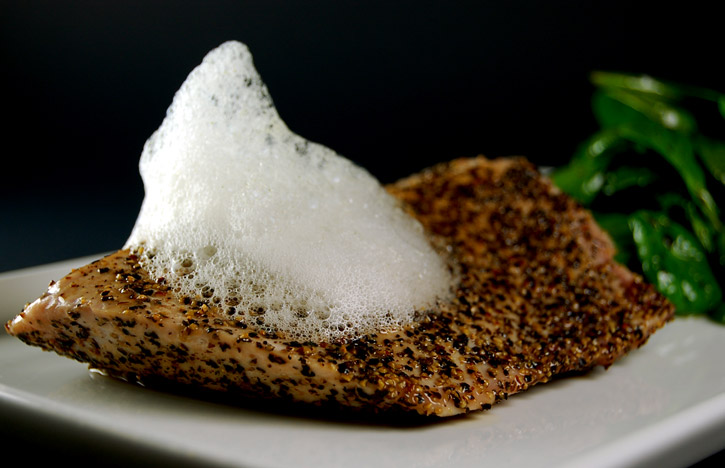 - 1.9 g lecithin powder
Seared Ahi Tuna Ingredients
- fresh ahi tuna steaks
- coarsely ground black pepper
- salt
- 2 tbsp ponzu sauce (or soy sauce and lemon juice)
- 1 tbsp Wasabi oil (or wasabi powder and canola oil)
Preparation
Start by preparing the mix for the wasabi air. Mix the wasabi powder with a spoon of water to create a paste. Using an immersion blender, mix the wasabi paste, the water and the rice vinegar in a high container wide enough to collect the air (about 25 cm). Add the lecithin powder and mix well. To produce best results, the mix needs to be cold. Place it in the fridge until one minute before you are ready to start plating and then produce the wasabi air.
To produce the wasabi air, you will have to lift the blender to the upper part of the liquid surface to incorporate as much air as possible so that a foam forms on the surface. Once you have enough foam on the surface, let it rest of 1 minute so that the foam sets and the excess of liquid is eliminated. Proceed to remove the foam with a slotted spoon and serve.
Lay the tuna steaks out on a plate, and coat them with ground pepper on both sides. Press gently with your hands so that the pepper adheres to the surface. Sprinkle some salt on both sides.
Place a thick-bottomed frying pan, or cast iron skillet, on med-high heat, until very hot. Add a few drops of oil, and sear the tuna steaks for about 2 minutes per side, or until desired doneness is reached.
Mix the wasabi oil with the ponzu sauce. Place the tuna steaks on the plate and brush them thoroughly with the wasabi oil and ponzu mix. Add a spoon of wasabi air on one of the edges of the tuna steak.
Serving Suggestions
- Serve with your favorite green salad.
- Slice the tuna steaks and serve the slices on top of a fried wonton and top with wasabi air.
- Sprinkle toasted sesame seeds or chopped chives on top