Beetroot, Dark Chocolate, Raspberry and Black Olives
We know chocolate mousse as an all time classic, but adding some surprising ingredients can take your traditional dessert to a whole new level. Did you know that beetroot shares woody notes with chocolate and floral aromas with raspberry or even matches olives?
This dessert combines all its ingredients based on the the scientific method of Foodpairing. This method is based on the principle that ingredients combine well when they share key aromas. Read more on the science behind Foodpairing or go to the Foodpairing Tool to discover pairings yourself.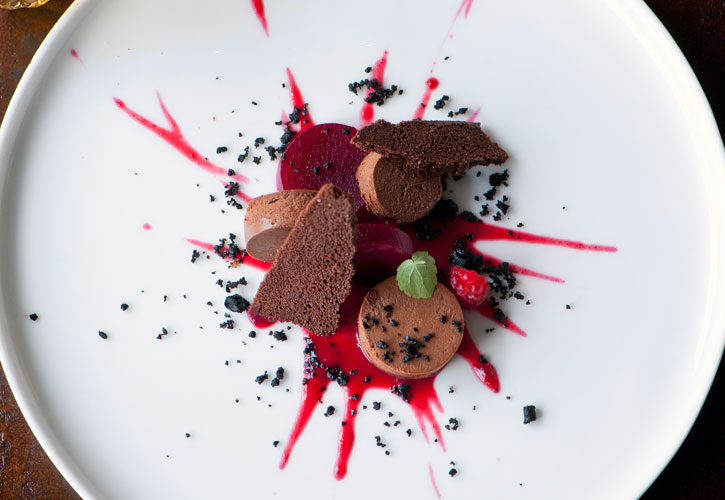 Below you can see the Foodpairing® tree used to create this recipe with Beetroot, dark chocolate, raspberry and black olives.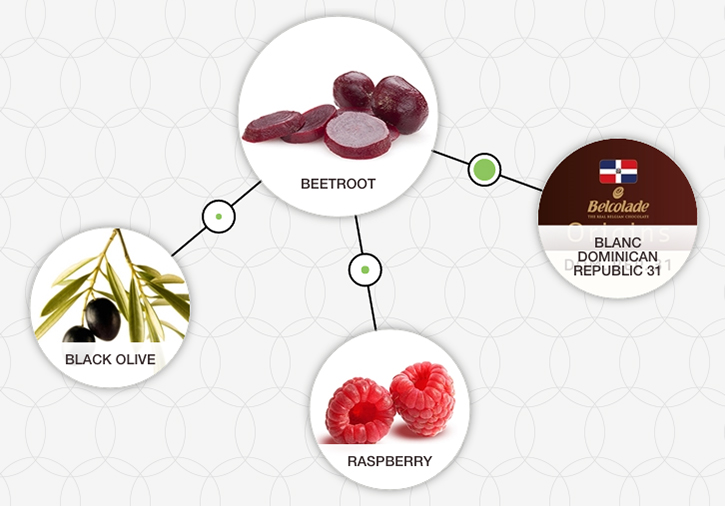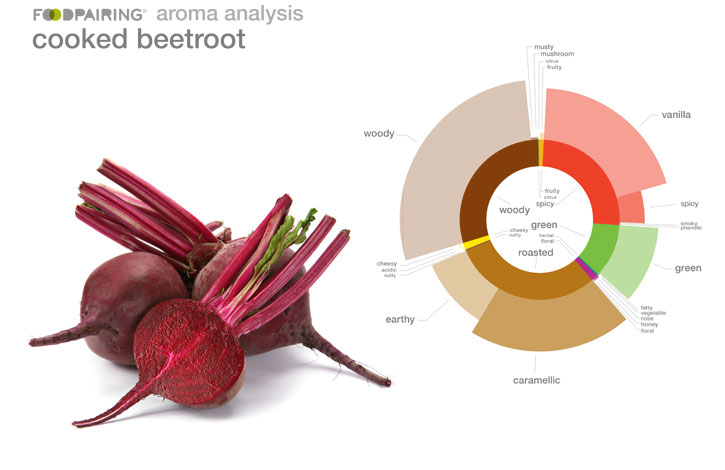 This recipe consists of five different components with different flavors and structures.
Ingredients (6 servings)
Chocolate parfait
- 55 g White sugar
- 25 g Water
- 40 g Egg yolk
- 250 g Dark chocolate , molten
- 300 g Cream , whipped
Black olive crumble
- Black olives
- 60 g White sugar
- 300 g Water
Beetroot and raspberry coulis
- 75 g Raspberry puree
- 50 g Beetroot , puree
- 10 g Sugar syrup
- 1 dash Sherry vinegar
- 1 pinch Salt
Chocolate mousse
- 105 g Milk
- 155 g Dark chocolate
- 2 g Gelatine leaf , pre-soaked
- 250 g Cream , whipped
Cooked beetroot
- 1 Beetroot , cooked
Preparation
Chocolate Parfait
1- Mix the sugar with the water and the yolks. Whisk until you obtain a sabayon. Whisk cold.
2- Fold in successively the chocolate and the whipped cream.
3- Divide into the desired shape. Place in the freezer.
Black Olive Crumble
1- Put the olives in a pan. Cover with cold water. Bring to a boil.
2- Allow to boil for 1 minute. Rinse cold.
3- Blend the olives with the water and the sugar.
4- Bring to a boil and reduce at low heat.
5- Dry the olives in a dehydrator at 60°C for at least 24 hours.
6- Allow to cool and mix finely.
Beetroot and Raspberry Coulis
1- Mix all the ingredients for the beetroot and raspberry coulis
Chocolate Mousse
1- Bring the milk to a boil. Dissolve the gelatin in it.
2- Pour the chocolate and mix until homogeneous.
3- Allow to cool to 37 ° C.
4- Stir in the cream.
5- Allow to set. Spread on a plate and dry at least 14 hours at 68 ° C.
Cooked Beetroot
1- Cut the beetroot into the desired shape.
Assemble and Serve
1- Place all the preparations above on each plate as desired. Look at the picture for inspiration!