Jerusalem Artichoke Foam with Porcini Powder
Another great application of the versatile iSi Gourmet Whip. A delicious airy soup made of Jerusalem Artichokes and garnished with porcini powder and artichoke crisps. Recipe from Chef Abraham Tan from Singapore.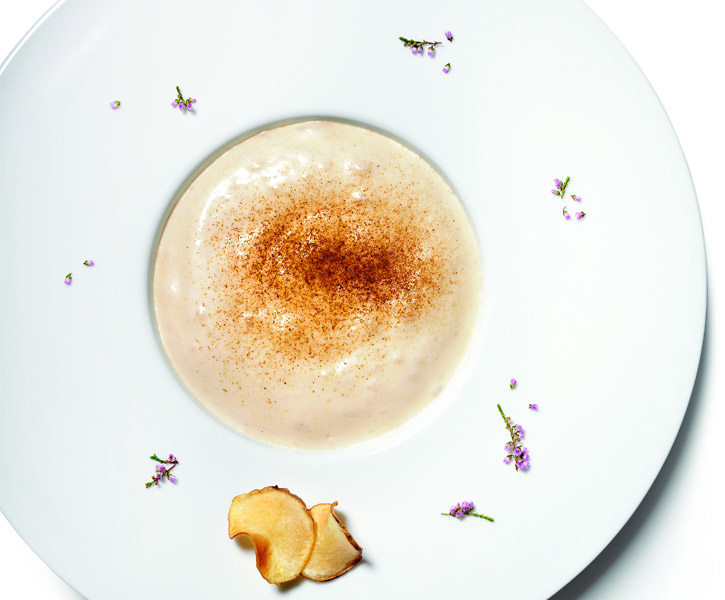 Ingredients
- 375 g (13.2 oz) Jerusalem Artichoke
- 75 g (2.65 oz) leek
- 125 g (4.4 oz) white onion
- 250 ml (8.5 oz) UHT cream
- 0.5 l (17 oz) water
- 0.5 l (17 oz) milk
- salt
- 2.5 g (0.09 oz) thyme
-1 bay leaf
Garnish
-Porcini powder
-Artichoke crisp
Preparation
1- Roast the artichoke in the oven until soft. Remove the skin and cut into small pieces. (Roast a few pieces in a pan with some oil in the oven to make crisps to be used as garnish.)
2- Saute all vegetables until fragrant and add the herbs.
3- Pour in all liquid ingredients and bring to the boil. Add in the artichoke and simmer until all vegetables turn soft. Remove bay leaf and blend.
4- Season to taste. Pass through the iSi Funnel and Sieve directly into 1L iSi Whipper. Screw on 1 iSi cream charger and shake vigorously. Repeat process with a second charger.
5- Keep hot in the iSi Gourmet Whip at 65 °C (150 °F) in a bain-marie or in a water bath. Shake well before serving.
Assemble and Serve
1- Pump foam into dish.
2- Garnish with porcini powder and artichoke crisps.