Saffron Tagliatelle of Consomme Recipe
These original saffron tagliatelle of consommé are another molecular gastronomy creation of Ferran Adria and El Bulli team. The delicate aroma of saffron and crystal clear pasta will delight your diners. This dish is not only visually appealing but also tastes great.
The tagliatelle are made using the technique invented by Ferran Adria of producing a thin film of a jellified liquid using Gellan and then cutting it in stripes using a pasta cutter.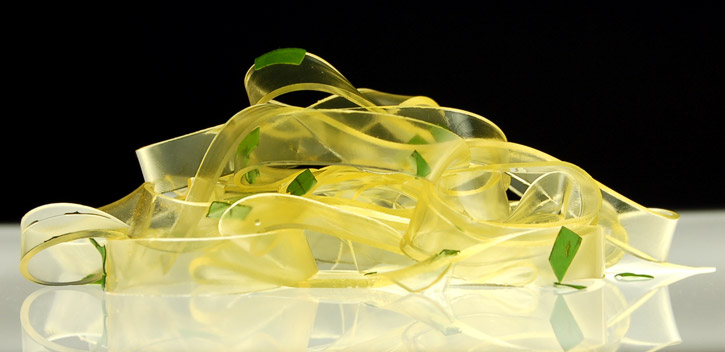 Ingredients for Consommé
- 500 g (16 oz)  of unsalted chicken or vegetable broth
- 14 g (1/2 oz) of unflavored gelatin powder (if using gelatin filtration)
Ingredients for Saffron Tagliatelle (4 servings)
- 250 g (8 oz) unsalted consommé (see above)
- 10 saffron threads
- 4.8 g Gellan
- White truffle oil
- White truffle salt
- Minced Parsley
Preparation
1. Prepare the consommé using your favorite technique or the gelatin-filtration technique created by Harold McGee.
2. Combine the consommé, saffron and Gellan in a pot and bring to a boil.
3. Pour the liquid on a flat tray of about 25 cm x 18 cm (10 in by 7 in) and quickly spread it all over the tray. Tilt the tray to get rid of any excess of liquid to obtain a very thin even film of about 1 mm. Do it fast or the liquid will gel before you get rid of the excess. This may require some practice but worst case scenario you may obtain a thicker film which is not so terrible.
4. Allow to gel completely in the flat tray for a few minutes.
5.  Cut into 0.5 cm thick strips with a pasta cutter (roller type) to make tagliatelle. I didn't have a pasta cutter so I used a rolling herb mincer which resulted in wider tagliatelle but it worked. If you have patience you can also use a knife and a long ruler to help you get straight cuts. In any case I recommend getting a ruler to get straight cuts.
6. Place a few tagliatelle on each plate, add some white truffle oil, sprinkle some white truffle salt and minced parsley on top.
Serving Suggestions
- Ferran Adria serves the Saffron Tagliatelli at El Bulli restaurant with an Alfredo sauce and shaved white truffle on top ((Tagliatelle of consommé – carbonara). This dish usually follows a dish which he calls "Tartuffo glass". For this dish, which is not really a dish, the waiter brings a huge white truffle to the table and shaves some of it into a wine glass for the diners to smell it. The waiter then extracts from the glass some white truffle shavings with a pair of tweezers and places them on top of the saffron tagliatelle of consommé.
- Saffron pairs well with seafood so adding some seafood to the saffron tagliatelle could make a great combination.